Semi-Final Sunday full of thrills at Dixon Cup Playoffs
February 15, 2021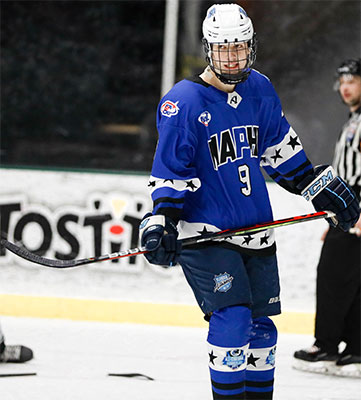 The North American Prospects Hockey League (NAPHL) Tier 1 Dixon Cup Playoffs and Championship, along with the Showcase Division Playoffs and Championship, both continued on a busy Sunday in North Texas. Sunday featured plenty of action as the round-robin portion of the event came to a close and Quarter-final and semi-final match-ups took place. The event runs from from February 12-15, 2021. The Dixon Cup annually crowns the playoff champions of the NAPHL.
The NAPHL will crown seven champions on Monday.
The event and games are taking place at various Children's Heath StarCenters throughout North Texas, including the Comerica Center in Frisco, TX, and various games will also be held at the NYTEX Sports Centre, home to the NAHL's and NA3HL's Lone Star and Texas Brahmas.
18U Tier 1 Schedule - 16U Tier 1 Schedule
15U Tier 1 Schedule - 14U Tier 1 Schedule
18U Showcase Div. Schedule - 16U Showcase Div. Schedule - 14U Showcase Div. Schedule
*Schedules subject to change
Download the NAHL App to keep up to date with NAPHL scores (iOS - Google Play)
Day 3 Recaps
18U AAA: Eight quarterfinalists duked it out on Sunday and only two teams now remain in contention for the 18U Dixon Cup. NorthStar eased past Team Maryland 8-0 in the first matchup, while elsewhere New Jersey edged out Meijer 5-3. Philadelphia knocked out Tri-State 2-1 in a shootout as Frank Jirak got the deciding goal, and Esmark rounded out the semi-finalists with a third-period comeback to toppled Carshield 2-1. In the final-deciding matchups, NorthStar once again advanced to the championship with a clinical 5-0 shutout of Esmark, while Philadelphia punched its ticket with a 5-3 victory over New Jersey. NorthStar and Philly will compete for the 18U Dixon Cup in Monday's championship.
18U Showcase: As pool play drew to a close in the morning games, Littleton, Naperville, Clearwater, Denver East, PHA Icemen, Texas Tigers, Tri-Valley and Anaheim each qualified for the afternoon's quarterfinals. Naperville was the first to punch its ticket to the semi-finals with a 5-2 win over Littleton, before the PHA Icemen rode Alex Erlain's shootout heroics to a 4-3 win over the Texas Tigers. Clearwater was on its game early and often in an 8-3 win over Denver East, and Anaheim rounded things out with an inspired 6-3 victory over Tri-Valley. In tomorrow's championship-deciding matchups, Naperville will take on Clearwater, while Anaheim will battle the PHA Icemen for the two spots in the championship game at 1:15 in McKinney.
16U AAA: Quarterfinal battles highlighted Sunday's 16U AAA action, as teams fought for a shot at the 16U Dixon Cup. NorthStar cruised past Des Moines 6-0 in the first matchup, followed by Esmark outpacing Arizona 5-2, Florida Alliance hammering Madison 9-2 and Carshield riding a Nick Jones OT winner to knock off Indy, setting up NorthStar/Esmark and Florida/Carshield semi-final duels. The semi-final round featured a number of thrilling affairs. NorthStar and Esmark played a classic, 3-2 shootout tilt that saw eight skaters from each team take a turn in the breakaway contest before Nathan Huntington won it for NorthStar. Florida Alliance continued to show the same dominance we've seen for much of the year, topping Carshield 6-3 on the back of Jake Richard's two tallies. NorthStar and Florida Alliance will compete in the Dixon Cup Championship on Monday.
16U Showcase: The Showcase division saw quarterfinal matchups set and completed as pool play turned into elimination contests on Sunday. The Affton Americans, California Wave, Texas Tigers, Highland Park Falcons, Chicago Jets, Littleton Hawks, Chesterfield Falcons and Chicago Hawks filled the eight available spots in the quarterfinals with solid performances across the first three days of competition. Affton sealed its place in the semi-finals with a 3-1 win over California, after scoring twice in the third period for the win. The Jets posted three unanswered goals in the middle frame of their tilt with Littleton en route to a 4-2 win, and Highland Park slammed the door on Texas with a 3-0 win. The Chicago Hawks took the final semi-final space with a 5-1 win over Chesterfield, highlighted by Blake Kumor's two tallies. Affton and Highland Park will compete in tomorrow's first semi-final fixture, while the Chicago Hawks and Chicago Jets will vie for the remaining championship spot at 7:15am. Both games will be in McKinney.
15U AAA: Meijer, Esmark and CarShield each picked up wins on Sunday morning to cement their places in the evening's semi-final matchups, while Tri-State advanced despite a loss to Carshield to take the final place. Carshield and Meijer met for a clash of NAPHL heavyweights, a battle that Carshield ultimately took over for a 5-2 win. Esmark and Tri-State put on quite a show in the final game of the day, a scoreless battle until the teams traded a goal apiece in the third period, forcing overtime. After nothing was decided in the first extra frame, Marsel Gataulin buried a back-door pass to punch Esmark's ticket to the finals in double overtime. With the championship matchup now set, Carshield will look to defend its Dixon Cup title against Esmark on Monday.
14U AAA: The playoff picture grew much clearer in Sunday's games. Meijer took down West Coast 6-0 in the opening match, while Colorado Springs flexed its muscle in a 10-1 win over Northwest. Carshield held off Tri-State for a 5-2 victory, and Arizona hammered Des Moines 13-1 to cap off the day. After all the action, we head into the final day with three unbeaten teams in Colorado Springs, Madison and Arizona vying for the only two finalist positions. In the final pool play contests, the Capitols and Bobcats will face off at 7am, while Colorado Springs will look to keep its perfect streak alive against Tri-State. Elsewhere, Carshield will take on Meijer, and Northwest will tangle with Des Moines.
14U Showcase: Sunday decided the finalists at the 14U Showcase level as well. Highland Park, Atlanta, Rose City and Vegas each qualified for the semi-finals, with all but Atlanta picking up wins on the final day of pool play. The Madhatters, having built up enough of a cushion to survive a 3-2 OT loss to Highland Park early in the day, topped their division to qualify. In those semi-final matchups, Atlanta rode a two-goal effort from Julian Batylin — including a highlight-reel last-minute game-winner — to oust Rose City 3-2, while Highland Park easily overwhelmed Vegas, setting up a rematch of Sunday morning's duel between the Madhatters and Falcons in the championship game on Monday.