Triumph and tragedy at Day 2 of the Dixon Cup NAPHL Playoffs
February 14, 2021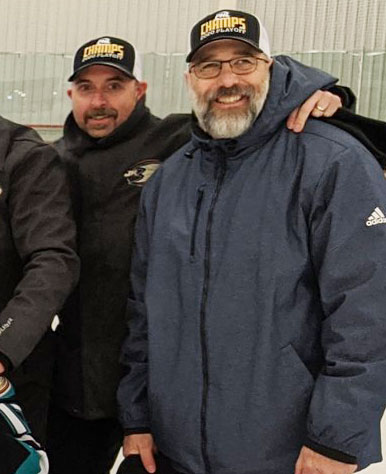 The North American Prospects Hockey League (NAPHL) Tier 1 Dixon Cup Playoffs and Championship, along with the Showcase Division Playoffs and Championship, both continued on a busy Saturday in North Texas. The event runs from from February 12-15, 2021. The Dixon Cup annually crowns the playoff champions of the NAPHL.
Day 2 featured some great hockey as the Quarter-Finals came into shape in the Tier 1 18U and 16U Divisions, while spots in the play down rounds are still up for grabs in the Showcase Division.
There was some tragedy to report at the event as the NAPHL made a statement regarding Anaheim Jr. Ducks 18U AA Assistant Coach John Pellegrino:
During the Anaheim Jr. Ducks vs. Orland Park Vikings 18U NAPHL Showcase Division Playoff Game on Saturday, February 13th at the StarCenter in Valley Ranch, Anaheim assistant coach John Pellegrino suffered a medical emergency on the bench during warm-ups. Medical personnel were on site and attended to John, and he was then rushed to a local hospital by EMT's. The NAPHL regrets to inform everyone that after extensive live-saving efforts to resuscitate John, that he has passed away. Our thoughts and prayers are with his family and the Anaheim Jr. Ducks players, personnel, and families at this time. We also thank the medical personnel and responders on site and at the hospital for their timely response and action in trying to save John's life.
The event and games are taking place at various Children's Heath StarCenters throughout North Texas, including the Comerica Center in Frisco, TX, and various games will also be held at the NYTEX Sports Centre, home to the NAHL's and NA3HL's Lone Star and Texas Brahmas.
18U Tier 1 Schedule - 16U Tier 1 Schedule
15U Tier 1 Schedule - 14U Tier 1 Schedule
18U Showcase Div. Schedule - 16U Showcase Div. Schedule - 14U Showcase Div. Schedule
*Schedules subject to change
Download the NAHL App to keep up to date with NAPHL scores (iOS - Google Play)
Day 2 Recaps
18U AAA: Another busy day at the Tier I 18U level brought some clarity to the playoff picture. Northstar, New Jersey, Philadelphia, Carshield and Esmark each picked up wins to stay a perfect 3-0 this weekend, sealing their spots in the quarterfinals. Tri-State and Team Maryland both won on Saturday to move to 2-1 in preliminary play, and qualified for the quarterfinals via tiebreakers. Meijer, despite losing its contest against Philadelphia, also moved to 2-1, but also earned a quarterfinal berth via tiebreaker. Sunday's early action will see NorthStar take on Team Maryland, Carshield battle Esmark, New Jersey tangle with Meijer and Philadelphia duel Tri-State for a shot at the semi-finals, which will take place on Sunday night ahead of Monday's championship. The remaining teams will head to the consolation rounds, which will all take place during Sunday's action.
18U Showcase: Over in the Showcase portion of the 18U division, teams have begun to separate themselves from the pack as quarterfinal qualification draws nearer. Littleton, PHA Icemen, Clearwater, Highland Park, Orland Park, Denver East, Tri-Valley and Anaheim have yet to lose a game this weekend, and thus have a leg up on earning the eight spots in the championship bracket, but the Sunday morning games will decide who advances ahead of the evening's quarterfinal games. With eight other teams sitting at just one loss, the Showcase Division playoffs are far from over.
16U AAA: Four teams remain perfect after two days, and with the quarterfinal bracket set, the time to name a champion is approaching. NorthStar, Florida Alliance, Carshield and Esmark each moved to 3-0-0 with more solid performances on Saturday, and locked down the top seeds in the bracket. Arizona (3-1-0), Indy (2-1-0), Madison (2-1-0) and Des Moines (2-1-0) filled in the lower seeds with strong Saturday showings of their own, qualifying via tiebreakers for their shot at the championship. With the early championship bracket matchups set — NorthStar vs. Des Moines, Florida Alliance vs. Madison, Carshield vs. Indy and Esmark vs. Arizona — the field will again narrow ahead of the semi-finals in the evening. The daytime action will also feature the remaining teams facing off in consolation play.
16U Showcase: It's anyone's game in the 16U Showcase division, with seven teams still unbeaten and six more with just a single loss on the weekend. The Chicago Hawks, Littleton Hawks, Chesterfield Falcons, Texas Tigers, Highland Park Falcons, Affton Americans and Chicago Jets are rolling with 2-0-0 records across the board after several big wins on Saturday. But as those teams have separated somewhat, keep an eye on the Texas Jr. Brahmas (1-0-1), California Wave (1-1-0), Anaheim Jr. Ducks (1-1-0), Vegas Jr. Golden Knights (1-1-0), Clearwater Ice Storm (1-1-0) and PHA Icemen (1-1-0), as they look to rock the boat and earn wild card spots or even division-winner spots in the quarterfinals. Several of these teams will face off against one another in the final round of preliminary play, so stay tuned to find out who makes the cut ahead of Sunday night's quarterfinals.
15U: Another five games highlighted day two action at the 15U level, with four teams keeping perfect records intact. Esmark's 5-2 win over Meijer, Des Moines' 5-4 escape past Northwest, Carshield's comfortable 7-0 shutout of Arizona and Tri-State's late 2-1 victory over Colorado Springs saw each team move to 2-0-0, but with matchups of Esmark/Des Moines and Carshield/Tri-State on the docket for Sunday, more movement is sure to come. Keep an eye on Madison — who edged out Indy 2-1 on Saturday — and Meijer in the conversation for the wild-card bid as well, as each team sits at 1-1-0 and will play one another on Sunday morning.
14U AAA: Saturday's action saw Arizona (2-0-0), Madison (3-0-0) and Colorado Springs (2-0-0) each stay perfect with respective wins over Tri-State, Meijer and Carshield (Madison played both), and Des Moines, while West Coast topped Northwest 8-3 to go to 1-2-0 on the weekend. The Spartans and Carshield each boast 1-1-0 records as we continue on to day three on Sunday.
14U Showcase: The semi-final picture continues to get clearer in the Showcase Division as Highland Park and Atlanta each won again, moving to 2-0-0 to take a stranglehold on their groups. Dallas, Rose City and Anaheim each won as well on Saturday to stay in the conversation for a wild-card bid. Sunday will feature the conclusion of preliminary play in the morning, with semi-final action taking place in the evening games.