Day 1 of Dixon Cup Playoffs features plenty of offense
February 13, 2021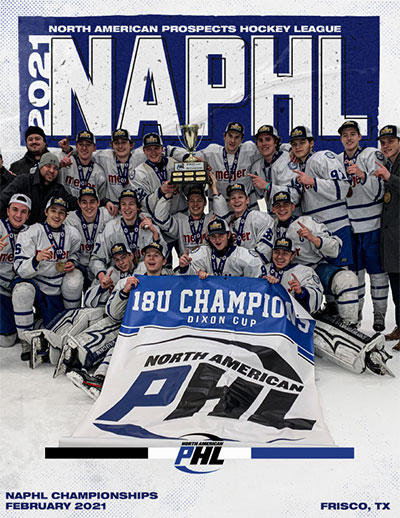 The North American Prospects Hockey League (NAPHL) Tier 1 Dixon Cup Playoffs and Championship, along with the Showcase Division Playoffs and Championship, both got underway on Friday in North Texas. The event runs from from February 12-15, 2021. The Dixon Cup annually crowns the playoff champions of the NAPHL.
Day 1 was packed full of excitement and games. The regular season leaders flexed their muscles with some big wins, and there were also some upsets.
Day 2 is on Saturday and typically features some the best hockey of the event with some teams completing their round-robin schedule and positioning themselves for the quarterfinals and the semi-finals, which will take place on Sunday.
The event and games will take place at various Children's Heath StarCenters throughout North Texas, including the Comerica Center in Frisco, TX, and various games will also be held at the NYTEX Sports Centre, home to the NAHL's and NA3HL's Lone Star and Texas Brahmas. The event will begin the morning of Friday, February 12th and conclude with the Championship Games on Monday, February 15th.
18U Tier 1 Schedule - 16U Tier 1 Schedule
15U Tier 1 Schedule - 14U Tier 1 Schedule
18U Showcase Div. Schedule - 16U Showcase Div. Schedule - 14U Showcase Div. Schedule
*Schedules subject to change
Download the NAHL App to keep up to date with NAPHL scores (iOS - Google Play)
Day 1 Recaps
18U AAA: It was quite a busy day for the Tier I 18U's, with 20 games on the Friday docket. The day kicked off with Philadelphia finding its form early to topple Florida Alliance 12-1, while Tri-State edged out Colorado Springs 5-4 thanks to a pair of third-period tallies. Des Moines shut down West Coast 6-0, tallying all of its goals in the final two periods, before New Jersey broke open a 1-1 deadlock for a 5-1 win over Arizona. From there, Meijer put up a sizable win of their own, ousting East Coast 10-0, Carshield netted three in the third to drop Soo 5-2, Esmark rattled off six unanswered goals to handled Northeast 8-2 and Northstar rolled over 95 Giants 9-1. Closing out the early games, Team Maryland hammered Ontario 8-0, Shattuck shut down Northwest 3-0 with a 17-save goose-egg from Daniel Crowe, and Indy rode a Joseph Grainda hat-trick to a 4-2 win over Mercer. In the later slate, Philadelphia kept its eye-popping start going with a stout 12-0 win over East Coast, followed by another solid Meijer showing to hand Florida Alliance a 6-0 defeat. Esmark made it two wins on the day with a 7-1 decision over Tri-State, and 95 Giants rebounded from an early loss to stun Ontario 4-3 on the strength of a remarkable four first-period markers. Rolling through the afternoon, Colorado Springs moved to 1-1 with a tense 2-1 win over Indy, while Mercer did the same with a 9-1 victory over Northeast. Northstar stayed perfect with a 5-3 win over Team Maryland, thanks to three goals in the final frame, as did Carshield with a 6-2 win over Shattuck St. Mary's. Soo concluded the day with a rebound victory over Northwest, as Collin Goff grabbed the game-winner in a 4-3 affair.
18U Showcase: The Showcase division saw a dozen matchups on Friday as playoffs got underway. Denver East opened up with a 3-2 win over CDA in a nail-biter, before McKinney tallied three in the final two periods for a 4-1 win over the Chicago Jets. Monument fell behind 2-0 to the Dallas Penguins early in their tilt, but tallied five straight for a 5-2 victory, while Orland Park erupted for a 9-1 win over Arizona Mission. Elsewhere, Littleton shut down the Jr. Kings for a 7-0 victory that included goals from seven different skaters, Tri-Valley rode a trio of two-goal performances to a 9-1 win over Arizona Hockey Union, Clearwater edged out Naperville with two goals in the middle stanza, and Chesterfield cruised past Ontario AA 8-0 as seven skaters found twine. Capping off the day's action, Highland Park knocked off Cherry Creek 3-1 thanks to Tyler Horberg's third-period marker, PHA Icemen put forth a balanced attack to drop Affton 4–1, Anaheim's two second-period strikes proved enough to beat the Texas Tigers 2-1 and Tahoe ran rampant against CDA en route to an 8-1 victory.
16U AAA: Eleven Tier I 16U games got things started on day one. New Hampshire and Northwest started things with a tense affair, a 5-4 OT decision won by the Avalanche on the back of Nick Fontaine's heroics. Later, Northstar knocked off New Jersey 6-3 with four goals in the final two periods, Des Moines struck twice in the third to top Meijer 3-1, Florida Alliance steamrolled Philadelphia 8-1 and Carshield cruised past East Coast 6-1. Afterwards, Tri-State dealt West Coast a 5-2 loss, Madison edged out Colorado Springs 4-3 with a pair of third-period goals and Arizona hammed New Hampshire 7-0. In the evening battles, Esmark flexed its muscle in an 18-0 romp past Northeast, Indy started fast for a 7-1 win over Ontario and Northwest rounded things out with a 3-0 win over the Bobcats, thanks to a 27-save shutout from Ashton Poage.
16U Showcase: The Showcase squads got their event started with a bang, featuring 10 matchups on a busy first day. The Texas Tigers got things going with a 6-3 win over Hyland Hills, while Littleton got to its game early in a 7-0 shutout of Monument. Chesterfield took a thrilling 5-4 win over PHA Icemen with a three-goal second period, before Anaheim knocked off Park City 4-1, and Affton rolled over Arizona 8-0. In the later games, Joseph DaRosa backstopped the Wave to a 2-0 shutout win over Clearwater, while Brandon Baby did the same for the Chicago Jets in a 10-0 win over Ontario. Highland Park bagged two in the third to deal PHA Icemen a second loss on the day by a 3-1 margin, the Chicago Hawks broke open a 1-1 game with five unanswered for a 6-1 win over Atlanta, and Vegas capped off the day with a 2-1 shootout win over the Jr. Brahmas, as Kenneth Curtis potted the deciding tally.
15U: The 15U division got its portion of the tournament underway with five games on Friday. Carshield was quickest out of the gates, racing past Colorado Springs 8-0, before Tri-State handed Arizona a 5-2 defeat. Des Moines rode a second-period strike from Keanu McClanahan to a 2-1 win over Madison, Esmark eased past Indy 6-0, and Meijer ended the 15U day with a rampant 8-2 win over Northwest, highlighted by Nick Sinani's four goals.
14U AAA: Five games highlighted the Tier I 14U action on Friday. Madison opened the day with a resounding 7-0 win over West Coast as Jonah Nett posted four goals, before Arizona put up an even more impressive win, rolling past Northwest 14-1. Tri-State kept the big results coming, with a comfortable 11-0 win over Des Moines, but Colorado Springs and Meijer played the tightest game of the day — a 3-2 decision won by the Tigers as Ryan Seder nabbed the game-winner early in the third. West Coast got a shot at making up for its earlier loss with a matchup against Carshield in the later game, but Carshield proved too strong as they picked up a 13-1 win over the Renegades.
14U Showcase: The 14U Showcase squads also hit the ice for five games on Friday. The first game of the day was a good one, as the Madhatters rebounded from seeing an early 3-0 lead slip away to win 4-3 in overtime thanks to Julian Batylin's heroics. Ontario then rode four different two-goal efforts to a 10-2 win over Arizona, while Highland Park cruised past Dallas 7-2. To close things out, Park City won a 3-2 OT thriller over Anaheim as Jack Squibbs scored the game-winner, and Vegas edged out Rose City 3-2 in a shootout as Connor Beers bagged the deciding tally.