Bobcats 18U, 14U teams capture Arizona State Championship
February 11, 2021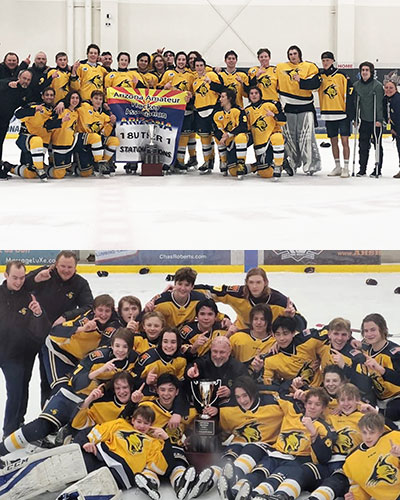 The Arizona Bobcats, proud members of the NAPHL, are pleased to report that last week, the 18U and 14U Bobcats teams both captured and won the Arizona State Tier 1 Championship.
The 18U team swept the best of three series in two games over the Phoenix Jr. Coyotes, winning Game 1, 4-2, then claiming the trophy with a 5-4 win on home ice.
18U Head Coach Brent Gough stated, "Our players committed to the game plan and executed. It was a great win for our program and for the players who have put the work in over the years. We are excited to represent the state of Arizona and the NAPHL at the district tournament in early March."
The Bobcats 14U team, lead by director Ron Filion, also claimed victory in the Best of three series with a 2-1 win in the series.
Game 1 saw the Jr. Coyotes come away with a close 1-0 win. Game 2 went to the Bobcats in a 1-0 win. Everything was up for grabs in Game 3 and the bobcats didn't leave the fans disappointed. Bobcats came from behind in the third period to win the game 2-1.
"Our group never quit, and they have worked so hard all year. I'm very happy they got rewarded," said Filion. "Winning the two State Championships is great for our program. Seeing the joy on the players faces makes all the hard work worth it."