North Texas to host Dixon Cup, Showcase Division Championships
January 26, 2021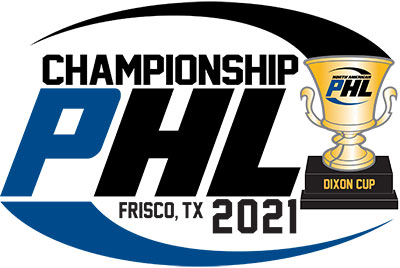 The North American Prospects Hockey League (NAPHL) has announced that the Tier 1 Dixon Cup Playoffs and Championship, along with the Showcase Division Playoffs and Championship, will both be held in Frisco, Texas from February 12-15, 2021. The Dixon Cup annually crowns the playoff champions of the NAPHL.
The event and games will take place at various Children's Heath StarCenters throughout North Texas, including the Comerica Center in Frisco, TX, and various games will also be held at the NYTEX Sports Centre, home to the NAHL's and NA3HL's Lone Star and Texas Brahmas. The event will begin the morning of Friday, February 12th and conclude with the Championship Games on Monday, February 15th.
Note: A complete playoff schedule will be announced in the near future
All NAPHL 18U, 16U, 15U, and 14U Tier 1 teams will compete in the event, in addition to all the 18U, 16U, and 14U teams from the NAPHL's Showcase Division. The NAPHL has held two separate events during the 2020-21 regular season in North Texas, both with great success.
"We are so excited to be able to host both the Tier 1 Dixon Cup and Showcase Division Playoffs and Championships in one location. We have had two great events so far this season in North Texas and we expect this event to be our biggest and best yet. The Dixon Cup and NAPHL Championship is always an event that brings out the best in teams and players, and the games are always full of energy when the competition is at its peak," said NAPHL Director Tony Zasowski. "I think players, parents, and fans will enjoy coming to the area and experiencing all it has to offer, including the great facilities, open restaurants, entertainment, shopping, and hopefully some great weather."
The NAPHL Championship trophies (Dixon Cup) are named after Dean Dixon, longtime coach of the NAPHL's Lansing Capitals, one of the charter members of the NAPHL. In the Summer of 2013, Dixon was diagnosed with brain cancer. Even though the tumor was thought to be inoperable, it was successfully removed and Dean continued his fight through radiation and chemotherapy. On March 17, 2014, Dixon ultimately lost his battle with the disease, but his influence and legacy on the Capitals program and the NAPHL is something that will never be forgotten.
Now in its 12th season, no other USA Hockey youth league does more for its players than the NAPHL. Operated by the full-time staff of the North American Hockey League (NAHL), who make it their mission to outperform others both on and off the ice in promoting its players. The NAPHL has proved over the years that the league is a great stepping-stone for development and training for young hockey players looking to gain experience and knowledge to work their way up to the National level.
Previous Dixon Cup Tier 1 Champions
2020: 18U-Meijer AAA, 16U-Gentry Academy, 15U-CarShield AAA
2019: 18U-Thunder Bay Kings, 16U-Meijer AAA, 15U-Rocky Mountain RoughRiders
2018: 18U-Esmark Stars, 16U-Arizona Bobcats, 15U-Rocky Mountain RoughRiders
2017: 18U-Madison Capitols, 16U-Esmark Stars, 15U-Washington Little Caps
2016: 18U-Madison Capitols, 16U-Omaha AAA
2015: 18U-New Jersey Jr. Titans, 16U-Omaha AAA
2014: 18U-Omaha AAA, 16U-Lansing Capitals
2013: 18U-Indiana Jr. Ice, 16U-Omaha AAA
2012: 18U-California Titans, 16U-Indiana Jr. Ice, 14U-St. Louis Selects
2011: 18U-DC Capitals, 16U-Pikes Peak Miners, 14U-Rocky Mountain RoughRiders
2010: 18U-California Titans, 16U-Pikes Peak Miners