Tigers and Bobcats square off in Wichita Falls
January 20, 2021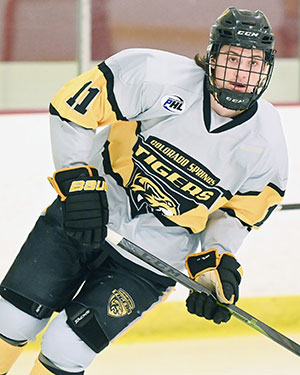 The Colorado Springs Tigers 18U and 16U teams met the Arizona Bobcats 18U and 16U teams this past weekend in a three-game set for each team. The games took place at the Kay Yeager Coliseum in Wichita Falls, Texas, home of the NAHL's Wichita Falls Warriors.
Both clubs were looking for valuable NAPHL points as the regular season games came to an end before the Dixon Cup Playoffs February 12-15 in Dallas, TX.
The series in both the 18U and 16U Divisions were close and lived up to the billing.
In the 16U Division, the Bobcats won all three games by just a single goal in wins of 4-3, 4-3 and 3-2. Tristan Korn had four goals in the series and goalie Max Geddes picked up the win in all three games for the Bobcats. The wins vaulted the Bobcats into 2nd place in the NAPHL's Tier 1 16U West Conference.
In the 18U Division, it was a reversal of fortune for the Tigers as they solidified their spot in 2nd place in the NAPHL's Tier 1 18U West Conference with a sweep of the Bobcats. The Tigers took home wins of 2-1, 5-1, and 2-1 (OT). Leading the way for the Tiger was forward Patrick Abbott, who had four goals in the series.
"We were excited to meet Arizona for a great weekend of hockey. Both our clubs are looking to have an exciting second half and this was a opportunity for all our players to compete as well as take in some NAHL action," said Tigers 18U head coach Kevin Holmstrom. The players were able to watch the Wichita Falls Warriors host the Amarillo Bulls in same NAHL action.
"We are very thankful to the Warriors club, staff and many others for helping us put the weekend together. For our teams, we got to play against another great club in front of two NAHL staffs as well as take in a NAHL game, which is so important for our players as they look to get to that level."