Teams scramble for playoff positioning in final regular season event
January 18, 2021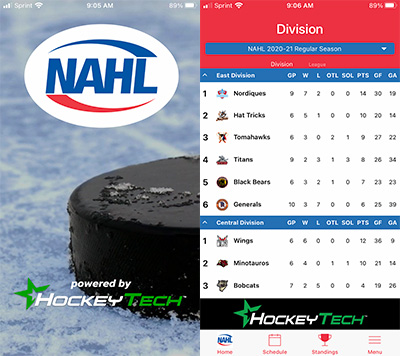 The eighth and ninth events of the 2020-21 NAPHL season continued on Sunday at the Indy Fuel Tank in Fishers, Indiana and the Super Rink in Blaine, Minnesota. The weekend of January 15-18 features competition in the Tier 1 Central Conference and in the NAPHL Showcase Division with the final regular season games of the 2020-21 season. The NAPHL's Tier 1 Central Conference and Showcase Divisions had the intensity turned up on Sunday as valuable points were on the line.
Now in its 12th season, no other USA Hockey youth league does more for its players than the NAPHL. Operated by the full-time staff of the North American Hockey League (NAHL), who make it their mission to outperform others both on and off the ice in promoting its players. The NAPHL has proved over the years that the league is a great stepping-stone for development and training for young hockey players looking to gain experience and knowledge to work their way up to the National level.
The NAPHL continues to monitor local and federal guidelines and will follow the recommendations in place. Even with everyone's participation, the NAPHL cannot eliminate all risk associated with Covid-19. By choosing to participate, players and guests are assuming the risk of contracting Covid-19 at the event. With that said, we need everyone's cooperation and commitment to follow the Return To Play guidelines as outlined by the NAPHL and the Indy Fuel Tank and at the Super Rink. A few of those guidelines are listed below but it is important that you become familiar with all of the Return To Play guidelines: Read Here and Read Here
For those who will not be attending, all NAPHL games will be broadcast live on HockeyTV by selecting the Elite Package.
NAPHL Event Digital Program (Indy)
NAPHL Event Digital Program (Blaine)
*Schedules subject to change
Download the NAHL App to keep up to date with NAPHL scores (iOS - Google Play)
NAPHL merchandise will be on sale during the event at the Indy Fuel Tank in Fishers and at the Super Rink in Blaine. NAPHL merchandise is sold exclusively and only at NAPHL events and features the hottest and newest styles of sweatshirts, t-shirts, shorts, hats, and more!
Sunday Recaps
18U Division: It was another busy day at the 18U level, as Fishers, IN hosted eight games and the Super Rink in Minnesota saw six matchups. In Fishers, it was Meijer opening the day with a thrilling 3-2 OT win over Mercer, thanks to Tyler Behl's extra-frame heroics. Esmark followed up with a 2-1 win over Indy after Ryder Brophy bagged the game-winner in the third period, and Tri-State hammered Team Illinois 5-1 on the strength of three first-period tallies. Carshield took down Gilmour Academy 4-2 down the street in Indianapolis to close out the early games. In the afternoon tilts, Meijer made it 2-for-2 on the day with a 4-2 win over Indy, and Carshield picked up a second win of their own with a 3-1 win over Tri-State, buoyed by Blake Harper's pair of goals in the third period. Esmark also stayed perfect on Sunday, handing Mercer a 4-2 loss despite the Chiefs' two late goals, and in the final game of the day, Gilmour rode a three-goal outburst in the middle frame to a 3-2 win over Team Illinois.
Over in Blaine, Denver East got off on the right foot as they rolled over Rose City 7-1, while Arizona Mission's Dominik Silva grabbed a late game-winner to help his team past Cherry Creek 3-2. Monument Academy and the Texas Tigers put on a good back-and-forth show, but Monument proved too strong in crunch time with three goals in the final period to knock off the Tigers 6-3. Elsewhere in dominant showings, the PHA Icemen imposed their will on CDA Academy, scoring twice in each period en route to a 6-0 shutout victory. Bringing the day's 18U action in Minnesota to a close, Tri-Valley dealt Denver East a 4-2 loss as Ryan Coultrip scored twice, and Arizona Mission earned another win with a 4-2 decision of their own against Monument.
16U Division: Seven games highlighted the 16U hockey in Fishers. Team Illinois opened the day with a 3-0 win over Esmark, netting all of their goals in the first period and riding a 27-save shutout from Niko Goich to victory. Meijer tangled with Gilmour and bagged four in the final two periods to take a 5-2 win, and Carshield dominated Tri-State to pick up a 6-2 victory. Later on, Florida Alliance handed Gilmour another defeat, this time 5-2 as the Alliance netted three in the first period. Indy grabbed a 2-0 decision against Meijer, thanks to Connor Graham's 23-save shutout, and Esmark put up a goose-egg of their own, dropping Tri-State 1-0 with Blaise Becker stopping all 17 shots. Finally, Carshield brought the day to a close with a tense 2-1 OT win over Team Illinois, with Wyatt Sirimaturos potting the game-winner.
A few states away in Minnesota, Blaine featured six 16U contests throughout the day. The PHA Icemen picked up the first win over the day as they toppled Madison 2-1 with a pair of first-period strikes, followed by a 1-0 win for the Jr. Brahmas over Arizona Mission as Brenden Teczar faced down 22 of 22 shots, and a 12-3 rout for Park City over Monument as nine different skaters got in on the scoring action. The later tilts featured a trio of shutouts. First, the Jr. Brahmas put up their second blank of the day, this time riding Alexander Croy's 21-save shutout effort and a pair from Hayden Schmidt to a 2-0 win over Madison. Affton then slammed the door on Park City for a 4-0 decision as Sam Schmidt stood tall in net, and the PHA Icemen hammered Arizona Mission 6-0, with Dylan Kickler stopping all 10 shots he faced.
15U Division: The 15U division again saw just two games on Sunday, but were not short on action. In the first matchup, Esmark and Meijer played a classic. After a five-goal first period, the teams traded goals for the final two frames and settled at five goals apiece through three periods. Jonathan Burkhart played hero for Esmark in overtime though, and gave the Stars a 6-5 win. The other game on the day featured fewer offensive fireworks, but was another evenly-matched duel between Tri-State and Indy. Each team put up 20+ shots in this one, but Spartans' netminder Martin Riley was too strong with a 23-save shutout, and Tri-State took the 2-0 win.
14U Division: Each event location saw another two 14U contests on Sunday. In Fishers, Meijer scored late to force OT, then rode the heroics of Riley Fast to oust Indy 3-2. Meanwhile, Tri-State put on a clinic for a comfortable 16-1 win over Des Moines. Six different skaters bagged multiple goals for the Spartans, while Chase Barfels potted the lone goal for the Buccaneers.
Over in Minnesota, it was another doubleheader for Rose City and the California Wave. The Wave took game win in a 4-3 shootout thriller — after the Pats scored twice in the third to force extra time, Brock Lewis came up clutch to hand California the win. The rematch, though, went to the Pats, as their four second-period strikes overwhelmed the Wave in a 5-1 win to end the day.