Thrilling All-Star Games cap Day 3 of event in Texas
December 21, 2020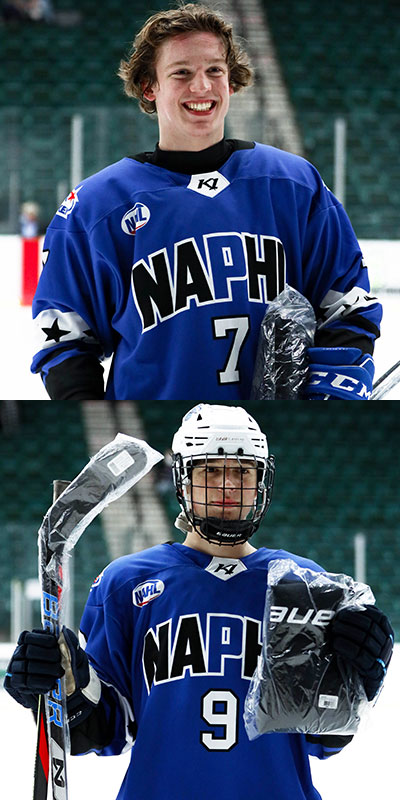 Day 3 of the seventh NAPHL event being held in North Texas did not disappoint. The action was hot and heavy in all four age divisions and culminated with two exciting All-Star Games at the end of the day. This weekend features competition in the Tier 1 Conference. All the action this weekend takes place at five different Children's Health StarCenter's in the DFW metro area.
We are here to help inform and provide guidance through the upcoming NAPHL event in North Texas. Everyone has worked really hard to get players back on the ice, so please review this important information prior to your arrival.

Important scheduling note: Because of the ongoing Covid-19 situation and teams that are unable to participate, there have been alterations to the original schedule. Please make sure you are following the schedule links listed below.
Now in its 12th season, no other USA Hockey youth league does more for its players than the NAPHL. Operated by the full-time staff of the North American Hockey League (NAHL), who make it their mission to outperform others both on and off the ice in promoting its players. The NAPHL has proved over the years that the league is a great stepping-stone for development and training for young hockey players looking to gain experience and knowledge to work their way up to the National level.
The NAPHL continues to monitor local and federal guidelines and will follow the recommendations in place. Even with everyone's participation, the NAPHL cannot eliminate all risk associated with Covid-19. By choosing to participate, players and guests are assuming the risk of contracting Covid-19 at the event. With that said, we need everyone's cooperation and commitment to follow the Return To Play guidelines as outlined by the NAPHL and the Children's Health StarCenters in Euless, Farmers Branch, Frisco, McKinney, Plano, and Richardson. A few of those guidelines are listed below but it is important that you become familiar with all of the Return To Play guidelines: Read Here
No spectator limit (NO GATE FEE)
Spectators enter the arena at game time and exit immediately following the game
Everyone must wear a mask upon entrance to the arena
Players may enter the arena 15 minutes prior to game and exit the arena no later than 10 minutes following the game
For those who will not be attending, all NAPHL games will be broadcast live on HockeyTV by selecting the Elite Package.
*Schedules subject to change
Download the NAHL App to keep up to date with NAPHL scores (iOS - Google Play)
NAPHL merchandise will be on sale during the event at the StarCenters in Frisco on Friday and Plano and Farmers Branch on Saturday-Monday. NAPHL merchandise is sold exclusively and only at NAPHL events and features the hottest and newest styles of sweatshirts, t-shirts, shorts, hats, and more!
Day 3 Recaps
18U Division: 18U and 16U hockey again took center stage on Sunday, with 10 games in each division and a pair of All-Star games to cap off the day. Tri-State opened the 18U day with a 7-1 win over Northwest, including a five-goal explosion in the second period. Team Illinois took a wild 6-5 win over Team Maryland after that, a game that featured many highlights, including a remarkable lacrosse-style "Michigan" goal from Illinois' Lucca Munoz. After that, East Coast dealt Tahoe a 3-1 defeat, Indy hammered Ontario 8-2 with two-goal efforts by Joseph Grainda, Dylan Jensen and Reece Brednich, and Arizona tallied two in the third to beat Florida Alliance 3-1. Meijer took a 3-2 comeback win over Esmark in a clash of heavyweights, with Braden Mayer's game-winner capping off his team's resurgence, Colorado Springs cruised past New Hampshire 7-0, featuring five different scorers in the victory, Philadelphia ousted Carshield 3-2 with Jack Costabile's third-period strike serving as the game-winner, and Des Moines set the stage for the 18U All-Star game with a comfortable 5-0 victory over West Coast to conclude the day.
In the All-Star matchup, players were greeted by some sharp looking jerseys provided by league supplier K1 and in addition, all the tape was provided by preferred partner PuckStyle. As per NAPHL tradition, all players had snacks and drinks in the lockerrooms. In the game, Team Matthews topped Team Demko by a 5-3 score. Carter Schram earned MVP honors with the game-tying and game-winning goals in the third period, capping off a comeback win for Team Matthews. Dominic Dezort, Michael Felsing and Tyler Behl also found twine for Team Matthews, while Alec Geddes, David Matousek and Byron Hartley put Team Demko on the board.
16U Division: The 16U division also saw 10 games on Sunday, as the action built up for the All-Star game in Frisco in the evening. Meijer got the day started with a 3-2 win over Madison despite a late Capitols comeback, Florida followed with a 10-1 romp past East Coast, during which NAPHL leading goal-scorer Jake Richard posted a stunning six goals, and Northwest bagged a 4-3 win over Tri-State thanks to three goals in the third period. Madison then picked up some retribution for its earlier loss with a 5-0 shutout win over East Coast, while Esmark took down Carshield 2-1 in an OT thriller as William Kiray III potted the game-winner, and Des Moines slipped past West Coast 3-2 as Ethan Poole scored twice. Drawing the day of competitive matchups to a close, Colorado Springs scored in each period to knock off Ontario 3-1, New Hampshire raced out to a 4-1 lead through the first period of its game against Meijer before holding off a comeback bid to win 5-3, and Indy edged out Arizona 2-1 in a shootout.
As the same with the 18U Division, players were greeted by some sharp looking jerseys provided by league supplier K1 and in addition, all the tape was provided by preferred partner PuckStyle. As per NAPHL tradition, all players had snacks and drinks in the lockerrooms. The All-Star game was a remarkably high-scoring affair, with 16 goals between the two sides in a 10-6 win for Team Matthews over Team Demko. Jake Richard built off of his six-goal game earlier in the day with another eye-popping 4g-2a—6pts performance, earning MVP honors in front of several scouts. Danny Krolivec also starred with two goals, joining Ryan King, Liam Donovan, Drew Elwell and Jeremy Zecher on the Team Matthews scoresheet. Team Demko fell behind early, but roared back to actually hold a 4-3 lead early in the second period, ahead of Richard's explosion. Jack Wuertz, Milan Levchenko, Lincoln Whitaker, Brody Simko, Liam McClaine and Matthew Hale each lit the lamp in Team Demko's loss.
15U Division: It was a quiet day in the younger divisions, and the 15U teams hit the ice for four games on Sunday. Things opened with a 3-2 Tri-State win after Meijer's late comeback bid fell just short. Carshield and Des Moines followed up with a tense affair that saw Carshield build up a 4-2 lead through two periods, then hold off a late charge for a 5-2 win. Later on, Madison potted two in the second to take an insurmountable lead en route to a 3-1 win over Northwest, and Indy ended their weekend on a high note with a 3-1 comeback victory over Colorado Springs.
14U Division: The final day of 14U action in Texas saw just three games on the docket. Des Moines got the day started with a 4-2 win over West Coast, thanks in large part to a three-goal flurry in four minutes of the second period. Madison exploded late with three goals in the third to turn a tied game into a 5-2 win over Meijer. Finally, Colorado Springs was in shutdown mode as the Tigers rode Tanner Wild's solid goaltending to a 3-0 win over Northwest.