15U, 14U action highlights Day 1 of event in Texas
December 19, 2020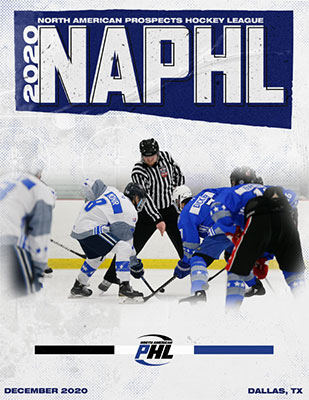 There was plenty of action on Day 1 of the seventh NAPHL event this season, which included a full slate of games in the 15U and 14U Divisions. This weekend features competition in the Tier 1 Conference. All the action this weekend takes place at five different Children's Health StarCenter's in the DFW metro area.
We are here to help inform and provide guidance through the upcoming NAPHL event in North Texas. Everyone has worked really hard to get players back on the ice, so please review this important information prior to your arrival.

Important scheduling note: Because of the ongoing Covid-19 situation and teams that are unable to participate, there have been alterations to the original schedule. Please make sure you are following the schedule links listed below.
Now in its 12th season, no other USA Hockey youth league does more for its players than the NAPHL. Operated by the full-time staff of the North American Hockey League (NAHL), who make it their mission to outperform others both on and off the ice in promoting its players. The NAPHL has proved over the years that the league is a great stepping-stone for development and training for young hockey players looking to gain experience and knowledge to work their way up to the National level.
The NAPHL continues to monitor local and federal guidelines and will follow the recommendations in place. Even with everyone's participation, the NAPHL cannot eliminate all risk associated with Covid-19. By choosing to participate, players and guests are assuming the risk of contracting Covid-19 at the event. With that said, we need everyone's cooperation and commitment to follow the Return To Play guidelines as outlined by the NAPHL and the Children's Health StarCenters in Euless, Farmers Branch, Frisco, McKinney, Plano, and Richardson. A few of those guidelines are listed below but it is important that you become familiar with all of the Return To Play guidelines: Read Here
No spectator limit (NO GATE FEE)
Spectators enter the arena at game time and exit immediately following the game
Everyone must wear a mask upon entrance to the arena
Players may enter the arena 15 minutes prior to game and exit the arena no later than 10 minutes following the game
For those who will not be attending, all NAPHL games will be broadcast live on HockeyTV by selecting the Elite Package.
*Schedules subject to change
Download the NAHL App to keep up to date with NAPHL scores (iOS - Google Play)
NAPHL merchandise will be on sale during the event at the StarCenters in Frisco on Friday and Plano and Farmers Branch on Saturday-Monday. NAPHL merchandise is sold exclusively and only at NAPHL events and features the hottest and newest styles of sweatshirts, t-shirts, shorts, hats, and more!
Day 1 Recaps
18U Division: One game kicked off the 18U action at December's showcase in Texas. Ontario topped West Coast 3-1 in this one, thanks to two third-period strikes by Daniel Doss to break a 1-1 deadlock. Malakai Lynch of Ontario and Logan Neilson of West Coast traded goals in the second period to set the stage for Doss' heroics. Sam Peterson earned the win in the Reign net with 28 saves, while Jake Nowicki turned aside 14 pucks in the loss.
16U Division: Just two games highlighted Friday's 16U slate, as Florida Alliance took down the Northwest Stars 7-0 and the Ontario Jr. Reign handled the Madison Capitols 4-2. Florida leapt out to an early 3-0 lead in the first period of its dominant win over Northwest and never looked back, riding a 3g-2a performance by Jake Richard and a 19-save shutout from Christian Alfredson to victory. Ontario built up a lead of its own against Madison, but had to stave off a Capitols comeback bid to earn the win. Dalton Thomas and Xavier Belgarde put the Reign up by a pair early on, but Indy Abresch halved Madison's deficit with a late second-period strike. Nichollas Nelson and Gavin Mears quickly stretched Ontario's lead to three early in the third, though, and carried the Reign to victory despite Eric Horein's late goal for Madison.
15U Division: All eyes were on the 15U division in Texas on Friday, as teams hit the ice for eight games around the DFW Metroplex. Des Moines opened the day with a resounding 7-1 win over Colorado Springs, thanks in large part to an explosive, three-goal third period. Arizona then edged out Madison with Hayden Stott's late winner, followed by Carshield's 4-0 shutout win over Tri-State with Jack Solomon earning the 16-save goose-egg. Capping off the early games, Indy shut down Northwest and eased to a 3-0 victory behind Keynes Lake's 10-save shutout. Later on, Meijer dealt Arizona a tough loss after the Bobcats' earlier win, striking twice in the final 40 for a 3-1 win, while Tri-State potted a pair late in the third to steal a 4-2 victory over Colorado Springs. Indy stayed patient for the game's first goal, but eventually found it and another tally to take a 2-0 win over Madison, and Des Moines broke open a tight game with two goals in just over 30 seconds in the third period en route to a 4-2 victory over Northwest, marking the Buccaneers' second win on the day.
14U Division: The 14U division hit the ice for six games on Friday as the event got underway. Meijer got things started with quite a flurry, riding goals from eight different scorers to a 13-0 win over the Northwest Stars. Carshield and Madison then put on a much tighter game in the second tilt, a 3-2 affair that went Carshield's way, followed by a 4-1 Colorado Springs win over West Coast. Meijer again flexed its muscle in the second slate of games, trouncing Des Moines 12-1 with another dominant performance, while Madison bounced back from an early loss to topple Northwest 6-1. Capping off day one, Carshield kept the theme of comfortable wins going with a 7-1 victory over Colorado Springs.