Tier 1 games wrap-up fourth event in Blaine
October 20, 2020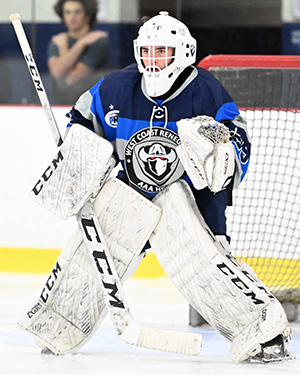 The fourth NAPHL event of the 2020-21 season concluded on Monday as the Tier 1 West Division teams concluded play with six morning games in the 18U and 16U Divisions.
18U Tier 1 West Division: The Colorado Springs Tigers and Shattuck-St. Mary's were the big winners in Blaine this weekend. The Tigers went 4-0, which included a 3-1 win over the West Coast Renegades on Monday. Cole Eastman made 18 saves in the win and Bennett Turley had a goal and an assist. Shattuck also made some noise as they went 3-0-1 in Blaine, which included a 6-1 win on Monday over the Ontario Jr. Reign. Six different players scored for Shattuck and Luca Ricci and Grant Fuchsen had mutli-point games. The final game on Monday saw the Northwest Stars edge the Arizona Bobcats, 4-3 in a shootout. Max Mudge had the shootout winner and also scored in regulation.
With the solid events, the Tigers and Shattuck vaulted to the top of the West Division standings as Shattuck sits at 3-0-1 through four games and the Tigers are 5-3-0 through eight games. The Northwest Stars are at 3-2-3 after eight games and in 3rd place.
16U Tier 1 West Division: It was a big weekend for the Northwest Stats 16U team, who went a perfect 4-0 at the event in Blaine. That included a 5-1 win on Monday over the Ontario Jr. Reign, as five different players scored for the Stars and Noah Norton made 11 saves. The Arizona Bobcats got a 28-save shutout from Connor Dumensnil on the final day in a 1-0 win over the West Coast Renegades. The Colorado Springs Tiger wrapped up the day with an exciting 4-3 overtime win over the Madison Capitols, which included two goals, including the overtime-winner from Finn Theriault.
Thanks to the 4-0 record in Blaine, the Northwest Stars have taken control of the top spot in the West Division with a 5-2-1 record through 8 games. The West Coast Renegades are in 2nd place with a 4-4-0 record, while Arizona and Colorado Springs are right behind with 3-5-0 records.