NAHL announces partnership with MYHockey Rankings
October 13, 2020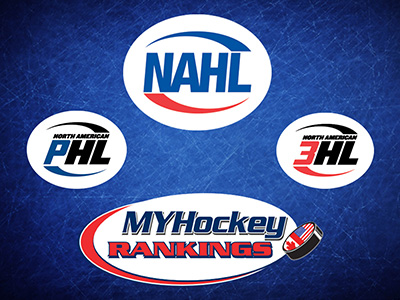 MYHockey Rankings (MHR), the premier source for youth hockey rankings and information, and the North American Hockey League (NAHL) and its family of leagues in the NAPHL and NA3HL, a leader in fostering and developing NCAA bound hockey players, are excited to announce a strategic partnership for the 2020-21 season.
The partnership will provide the NAHL, NAPHL, and NA3HL with a major advertising presence on the largest dedicated youth hockey website in North America. In addition, the partnership will provide an opportunity for MHR to automate NAHL, NAPHL, and NAPHL league game results to help ensure complete and accurate rankings.
The youth hockey community can expect to find educational information regarding the NAHL and NA3HL junior leagues, NAHL Combine opportunities and NAPHL showcase information on MHR's website throughout the season.
Neil Lodin, founder of MYHockey Rankings, is thrilled to partner with one of the most successful junior and youth leagues in the country.
"From USA Hockey elite level junior hockey down to the youth levels, the NAHL, NAPHL, and NA3HL has been a leader in developing NCAA hockey talent since I got involved in the youth hockey industry 20 years ago. Our strategic partnership with the NAHL family of leagues will hopefully showcase their capabilities of developing top end talent and highlight one of the numerous different pathways for youth hockey players to live out their college and pro dreams."
"We are pleased to partner with MYHockey Rankings. As one of the premier information hubs for youth hockey, it is important for players and parents who frequent MYHockey Rankings to be knowledgeable about the opportunities that exist in youth and junior hockey under the USA Hockey umbrella. The NAHL and our family of leagues, inclusive of the NAPHL and the NA3HL, continues to be the leader in providing more places for players to play, coaches to coach, and officials to officiate than any other hockey property of our kind. We are excited to have MYHockey Rankings as a partner to help echo this message during the 2020-21 hockey season," said NAHL Commissioner and President Mark Frankenfeld.
MYHockey users can click the following links to find out more information about the NAHL, NA3HL and NAPHL.