Day 2 of NAPHL event in Blaine sees plenty of action
September 20, 2020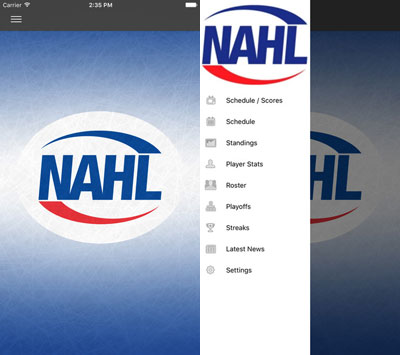 The action on the ice continued as the NAPHL conitnued on Saturday in Day 2 of its second event of the 2020-21 calendar at the Super Rink in Blaine, Minnesota.
Day 3 takes place on Sunday, September 20th at 7am.
If you are attending the event this weekend, there are several reminders and policies that are designed to keep everyone safe and on the ice:
There is no admission fee for this event
Only two spectators per player per game
Masks are required (except on the ice)
Maintain social distancing
Players are to come dressed and may enter 15 minutes prior to game time
Spectators allowed to enter facility only at the posted game time
Merchandise will be on sale in upstairs lobby outside of Rink 4
No lingering and please leave the facility at the end of the game
Wash and sanitize hands
For those who will not be attending, all NAPHL games will be broadcast live on HockeyTV.
Download the NAHL App to keep up to date with NAPHL scores (iOS - Google Play)
Day 2 Recaps
18U Division: The high-paced NAPHL action rolled on on Saturday, with 26 18U games slated on a busy day. Florida Alliance started the day on a high note with a 6-2 win over Chippewa, Carshield started hot in a 4-1 win over Magicians Elite, Des Moines hung on to a 5-4 win over the Wilderness in a barnburner and Tri-State was unflappable in a 3-0 win over Austin. Northstar posted another shutout soon after, steamrolling Janesville 6-0, followed by MHA Mudbugs edging out Esmark 2-1 in a tense affair. Fairbanks picked up an OT win, 3-2 over Meijer, and Indy eased past Magicians Open 4-1. Later on, Arizona topped the Bulls 2-1 in a shootout, TRC dealt the Green Giants a tough 5-2 loss, Colorado Springs flexed some muscle in a 4-0 win over Northeast and the Northwest Stars struck twice in the third for a 2-1 comeback win over Ontario. From there, it was Minnesota nosing past West Coast 3-2, Chippewa knocking off Magicians Elite 4-2 thanks to three first-period goals, the Wilderness scoring late for a 3-2 win over Austin and MHA Mudbugs dominating Magicians open in a 6-0 decision. Fairbanks and Esmark then picked up a pair of 3-1 wins over Janesville and Colorado Springs, respectively, and Northstar put on a dominant display in an 8-0 win over Arizona. As day turned to night, Carshield picked up a second win on the day with a 6-3 decision over TRC, followed up by Meijer dismantling Minnesota 7-0. Northwest then ousted Indy 5-2 and Des Moines made it a pair of Saturday wins, beating the Bulls 5-1. Capping things off, Tri-State took a comfortable 7-0 win over Ontario, the Green Giants found a late winner for a 3-2 decision against West Coast and Northeast closed out the day with a strong performance in a 2-1 victory over Florida Alliance.
16U Division: With 20 games on the Saturday schedule, there was plenty of 16U hockey to go around. The Green Giants kicked things off with a whopping 9-3 win over West Coast, followed up by the Moose putting a lockdown on Madison for a 3-0 victory. Janesville then dropped Austin 3-1, MHA Mudbugs edged out the Magicians with a 1-0 OT decision, Fairbanks took a thrilling 5-4 win over Chippewa, who were on the comeback trail, and the Wilderness shut down Kenai River in a 2-0 tilt. Later on, Esmark strolled past Meijer 5-1, but it was Florida with the result of the day as they topped Northeast 20-0. From there, Northstar put on a strong performance to drop Indy 6-2, the Magicians easily handled Janesville 7-1, the Moose handed Arizona a 4-2 defeat and MHA Mudbugs posted their second shutout of the day, this time 4-0 over Austin. The Green Giants turned heads with a 10-0 win over Colorado Springs, Des Moines followed up with a much tighter 4-3 win over Northwest and Blue Ox slammed Ontario for a 9-1 win. As the day came to a close, the Walleye posted a sound 6-2 victory over West Coast, Florida Alliance scored early and often to dump Tri-State 8-0, the Lakers won a barnburner 9-4 over Madison, Chippewa rode three third-period goals to a 4-1 win over Kenai River and the Wilderness did the same to knock off Fairbanks 5-1.
15U Division: Offense was the theme of the day in 15U action, with eight of the 10 winning teams notching at least four goals. The day began with the Magicians ousting Meijer 4-3 with a pair of third-period strikes, followed by an impressive 4-0 win for Janesville over Des Moines. Blue Ox picked up a shutout of their own, rolling past Arizona 6-0, before the Moose and Madison played a tense one that went to the Moose, 4-3 in OT. After that, Esmark put up an offensive rally of their own to drop Colorado Springs 9-2, Carshield shut down Green Giants 5-0, Loons rode a pair of late markers to a 3-1 win over Tri-State and Walleye slipped past MHA 6-4 in a wild one that saw six total third-period goals. The 15U day came to a close with two close battles, as the Polars staged a third-period comeback to win 2-1 and the Lakers tallied three in the third to win 5-3 over the fast-charging Northwest Stars.
14U Division: The 14U division had a light day with just nine games, but the tilts certainly were not short on goals with five teams scoring at least eight goals. Kicking off the day's action, the Loons shut down Madison 2-0 with a balanced effort, then the Walleye really opened up the offense in an 8-0 drubbing of Colorado Springs. From there the Polars held off Meijer for a narrow 4-3 win and the Lakers dominated the Northwest Stars for a 10-0 victory. The Moose kept the steamroller going, dropping West Coast by a 10-1 margin. The Green Giants then somehow upped the ante with a whopping 14-0 win over Des Moines. Things settled down a bit after that, as Tri-State took a 4-3 OT win after the Voyageurs tied it late. The Blue Ox then added a late flurry with an 8-1 win over Indy, and Arizona finished the day with a resounding 8-3 victory against Carshield.
Now in its 12th season, no other USA Hockey youth league does more for its players than the NAPHL. Operated by the full-time staff of the North American Hockey League (NAHL), who make it their mission to outperform others both on and off the ice in promoting its players. The NAPHL has proved over the years that the league is a great stepping-stone for development and training for young hockey players looking to gain experience and knowledge to work their way up to the National level.
The National Sports Center Super Rink is committed to providing a safe and healthy workplace for all guests. To ensure we have as safe and healthy workplace, we have developed the following COVID-19 Preparedness Plan in response to the COVID-19 pandemic. Our goal is to mitigate the potential for transmission of COVID-19 in our workplaces and communities, and that requires full cooperation among our workers, management and customers. Only through this cooperative effort can we establish and maintain the safety and health of our workers and workplaces.