NAPHL Fall League concludes first event
September 7, 2020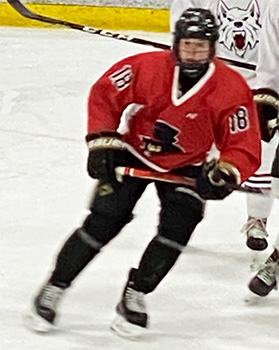 The final day of the first NAPHL Fall League event of the season took place on Sunday, September 6th during the second day of their first event of the 2020-21 season in Duluth, MN.
The newly created NAPHL Fall League is designed to give U18 and U16 teams the ability to play in a league within a shortened window of time before the Minnesota, Michigan, and Wisconsin high school seasons begin.
There will be three events, which will all take place before the high school seasons begin. The first event will take place this weekend from September 4-6 in Duluth, Minnesota, in cooperation with the NAHL's Minnesota Wilderness.
All games will be broadcast live on HockeyTV (16U Games)(18U Games)
Here are some helpful links for the event:
Download the NAHL App to keep up to date with NAPHL scores (iOS - Google Play)
Day 3 18U recaps: The final day of 18U Fall League action in Duluth saw some stellar goaltending and offensive prowess on display across the board, with a pair of shutouts and three games with at least five total goals. Nick Landin nabbed the lone goal for Fairbanks in their 1-0 win over Chippewa, with Adler Hoagland and Connor Nelsen combining for the 29-save goose-egg. The MHA Mudbugs then posted the day's other shutout, stomping the Magicians 7-0 on the back of two-goal efforts from Lucas Krol and Matt Kuphal, as well as 31 saves by Ryan Piros. In the later games, Kole Altergott's hat-trick led Green Bay past the Wilderness 4-1 and Janesville edged out Austin 4-2 with Mason Manglitz and Luke Lindsay logging a pair apiece.
As it stands following the weekend's play in Duluth, MHA Mudbugs sit atop the standings with 12 points (4-0-0), followed by Fairbanks and Janesville, each with nine points (3-1-0).
Day 3 16U recaps: Goals, goals and more goals marked the final day of 16U action in Duluth. Kenai River opened things up with a 7-3 win over Janesville, with Luke Wessel netting twice for the victors. The Magicians toppled the Wilderness 4-1 later on, followed by MHA Mudbugs trouncing Fairbanks 6-2 thanks to six different scorers and Chippewa dumping Austin 8-1 on the back of Drew Maclean's pair of strikes and a set of six other scorers of their own.
The Magicians stayed perfect throughout the weekend, going 4-0-0 to take the top spot in the standings. MHA Mudbugs follow close behind with 11 points, their OT win marking the only "blemish" on their record. From there, Chippewa sits third with seven points, Kenai River fourth with five and Austin fifth with four points.