Day 1 of NAPHL Fall League in the books
September 5, 2020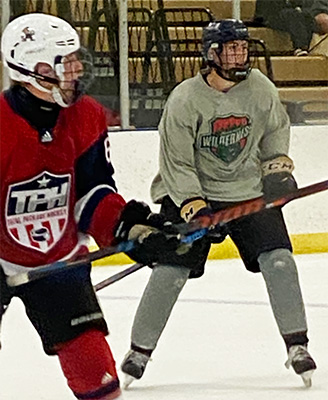 It was an exciting day for the North American Hockey League (NAHL) family of leagues on Friday, September 4th as the first games since March 11th took place with the debut of the North American Prospects Hockey League (NAPHL) Fall League.
The newly created NAPHL Fall League is designed to give U18 and U16 teams the ability to play in a league within a shortened window of time before the Minnesota, Michigan, and Wisconsin high school seasons begin.
There will be three events, which will all take place before the high school seasons begin. The first event will take place this weekend from September 4-6 in Duluth, Minnesota, in cooperation with the NAHL's Minnesota Wilderness.
All games will be broadcast live on HockeyTV (16U Games)(18U Games)
Here are some helpful links for the event:
Download the NAHL App to keep up to date with NAPHL scores (iOS - Google Play)
Day 1 18U Recap: Day one of the 18U Fall League action got off to a hot start, with each team getting its feet wet in one game on Friday. Janesville opened things up with a 6-2 win over Chippewa, led by Mason Manglitz' hat-trick. Later, Green Bay topped Austin 2-1 thanks to the second-period strike from Teig Driessen. Closing out the day, MHA Mudbugs romped past the Wilderness 5-2 after a goal-heavy third period and Fairbanks took home a thrilling victory over the Magicians 8-5, showing off their depth in the process as eight different scorers lit the lamp for the Ice Dogs.
Day 1 16U recap: The 16U squads had a busy day with a pair of games apiece in Duluth, with lots of high-scoring hockey highlighting the day's action. Chippewa handled Janesville with ease in the opener, winning 7-3 thanks to two-goal efforts from Anthony Madigan and Kevin Odlaug, followed by MHA Mudbugs' comfortable 4-1 win over the Wilderness. The Magicians then flexed their muscles with a whopping 7-0 shutout of the Kenai River Brown Bears on the back of Jack Hochsprung's 23 saves in net, before Austin toppled Fairbanks 4-2 with a trio of third-period tallies to cap off the first half of the day. In the afternoon tilts, Fairbanks righted the ship a bit with a 4-1 decision over Janesville, led by Brayden Houge's two markers. Carter Haycraft and Brady Ingebritson then stole the show over in the Sill Arena, as they each netted twice to guide the Magicians past Chippewa 5-3 -- their second win of the day. Drawing the first day to a close, MHA Mudbugs held off Kenai River for a 5-3 win and the Wilderness squeaked past Austin 3-2 thanks to Griffin Kinney's late winner.