NAHL signs two-year extension with Apex Learning Virtual School
September 4, 2020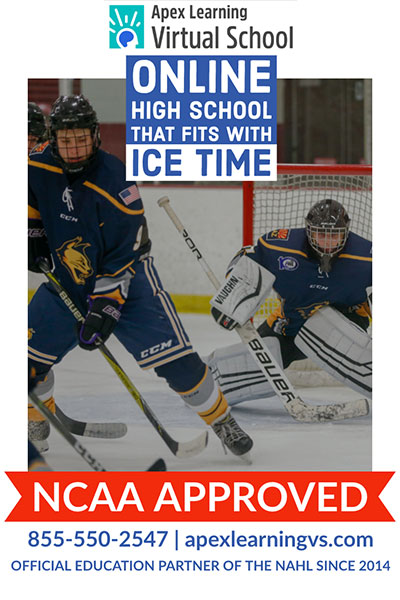 The North American Hockey League (NAHL) is pleased to announce the continuation of their partnership with Apex Learning Virtual School (ALVS) to serve as the exclusive educational services partner of the North American Hockey League (NAHL), the North American 3 Hockey League (NA3HL) and the North American Prospects Hockey League (NAPHL) for the next two seasons.
Since 2014, ALVS has been the exclusive online high school program for the NAHL, NA3HL, and NAPHL. Hundreds of hockey players from the NAHL family of leagues have completed their individual high school courses or graduated with a high school diploma. Whether at a training center, on the road, or at home, their program gives hockey players the flexibility to complete coursework anytime, anywhere, and at their own pace.
As a fully accredited, diploma-granting online high school, ALVS increases access to high quality educational opportunities, enabling players to establish a strong academic foundation for college while sustaining the demanding schedule required for on-ice development and travel. Their comprehensive catalog includes Advanced Placement courses and over 100 NCAA-approved courses.
Players who have attended ALVS have been accepted to elite colleges such as Air Force Academy, Clarkson University, Holy Cross, Niagara University, Providence College, Norwich Academy, and Army West Point. During the 2019-20 school year, students scored 200 points, 20%, higher on the SAT than the national average. Plus, 65% of students scored a 3 or higher on their AP® Exams, five percentage points higher than the national average.
"We live in a time where online learning is more prevloent than ever, so providing our players with a accreditied online option for high school is a high priority in the development process of their education. For the past six years, our players, teams, and parents have provided some very positive feedback regarding their experience with Apex Learning. The educational component is just as important as the on-ice component for the NCAA-bound player, so it is good to have a trusted and proven partner assisting us," said NAHL Commissioner Mark Frankenfeld. "Their constant presence at our events and educational seminars have proven to be a very valuable asset as they provide education guidance as experts in the field."
Full-time students can earn a high school diploma through ALVS, a college preperatory private school. Part-time student can enroll in individual courses to get ahead, recover a credit and fulfill specific requirements for graduation or to meet NCAA initial eligibility requirements.
All ALVS students can expect rigorous courses, experienced online teachers, support from online tutors, and guidance regarding NCAA requirements. Student performance is monitored regularely and parents are sent weekly progress reports. For more information about Apex, please contact 1.855.550.2547 or visit: https://www.apexlearningvs.com/junior-hockey/