NAPHL alum Demko wins NHL playoff debut
September 2, 2020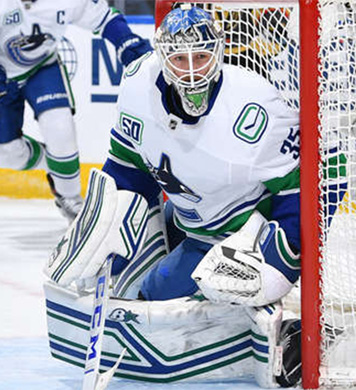 NAPHL alum Thatcher Demko made 42 saves in his first Stanley Cup Playoff start, and the Vancouver Canucks defeated the Vegas Golden Knights 2-1 in Game 5 to extend their Western Conference Second Round series at Rogers Place in Edmonton on Tuesday, September 1st.
"It's special ... it's my first time being in the playoffs," Demko said. "It's a unique circumstance (with goalie Jacob Markstrom being unfit to play), but playoffs nonetheless, and this is what I've wanted to be a part of since I was a kid, so being able to get this opportunity is super special. I want to just keep helping any way I can."
Game 6 of the best-of-7 series is in Edmonton, the West hub city, on Thursday (9:45 p.m. ET; NBCSN, CBC, SN, TVAS).
Demko, a rookie, is the 15th goalie in NHL history, and second in two nights, to make his first NHL playoff start and win when his team was facing elimination. Michael Hutchinson did the same for the Colorado Avalanche in Game 5 against the Dallas Stars on Monday.
Demko is the first rookie goalie to win his NHL playoff debut when his team was facing elimination since Jose Theodore of the Canadiens in 1997.
"I think at this point you rely on the work you put in," Demko said. "I've been doing my thing in practice, making sure my details were where they needed to be. It's different than a game, but everything you see in a game, you've seen at some point in practice, and you just have to rely on that."
Prior to Tuesday, the 24-year-old had seen 8:26 of playoff action in 2020, mopping up for Markstrom in the third period of a 5-0 Vegas blowout in Game 1.
Demko spent time developing in the NAPHL as the goalie for the California Titans 16U team during the 2010-11 season. Sporting a 7-2-1 record with a very respectable 92.2% save percentage and a 1.90 goals against average. His save percentage and goals against average both ranked fourth in the 16U Division during the 2010-11 season.
On April 21, 2016, Demko signed a three-year, entry-level deal with the Canucks after three successful seasons at Boston College.
During his final season playing NCAA hockey, the 6-4, 195-pound goaltender was awarded the 2016 Mike Richter Award as the most outstanding goaltender in NCAA men's hockey. He was also a finalist for the 2016 Hobey Baker Award.