NAHL renews partnership with HockeyTech
August 27, 2020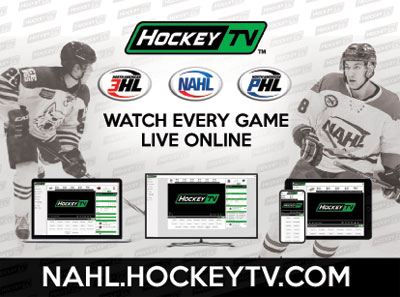 The North American Hockey League (NAHL) has announced an exclusive technology partnership extension with HockeyTech. HockeyTech has been the long-term provider of all NAHL digital services since 2015. As a part of the agreement, the NAHL, along with its affiliated leagues in the NAPHL and NA3HL will continue to utilize several of HockeyTech's services including RinkNet, HockeyTV, and LeagueStat.
The NAHL has partnered with HockeyTech since 2015 to provide the league with digital tools to improve analytics, coaching and fan engagement through HockeyTech's core services RinkNet scouting, LeagueStat scorekeeping, web services and mobile apps. In addition, all 800+ games will continue to be streamed live and on demand on HockeyTV, a service of HockeyTech.
"Our continued partnership with HockeyTech, inclusive of RinkNet, HockeyTV, and LeagueStat continues to provide our players and teams with the latest in hockey technology as we continue to grow and improve our digital platforms," said NAHL Commissioner Mark Frankenfeld. "We continue to experience a record amount of player advancement and our continued partnership with HockeyTech demonstrates how committed our owners are to enhance and continue that mission."
HockeyTech (hockeytech.com) is the worldwide leader in providing hockey-related technologies, analytics, and information services. HockeyTech was founded in 2012 by Stu Siegel, a technology entrepreneur, and former Florida Panthers (NHL) Managing Partner/CEO. HockeyTech has made six company acquisitions to date, integrating, and developing one-of-a-kind hockey-focused tools. HockeyTech's brands have been Digitally Powering HockeyTM since 1998.
RinkNet is the leading hockey player management and scouting technology system. It has become the go-to technology for hockey scouting and player management and carries the reputation for having the best scouting tools and most manageable scouting information.
HockeyTech's LeagueStat technology is used by league officials to tabulate the official statistics at hockey games. In real time, those game stats immediately feed to league, team and media websites and mobile apps for fan consumption. The stats are mission critical for league and team management and analytics. LeagueStat also designs and maintains websites and mobile apps for customers tightly integrated with game stats, providing a true turnkey solution for all constituents.
Through the online viewing platform at HockeyTV, hockey's leading provider of live hockey games online, HockeyTech will continue to provide viewing access to all NAHL, NAPHL, and NA3HL games.
"We are excited to extend our relationship with the North American Hockey League and its affiliate leagues," said HockeyTech CEO Stu Siegel. "The NAHL has been at the forefront of providing opportunity for player development and advancement and we know their players, fans, and staff will continue to enjoy HockeyTech's integrated and state-of-the-art services."
In addition to the NAHL, HockeyTech clients includes all 32 NHL teams, the American Hockey League (AHL), the ECHL, the USHL, USA Hockey and over 43 NCAA hockey teams.