NAHL successfully navigates combines despite pandemic
August 19, 2020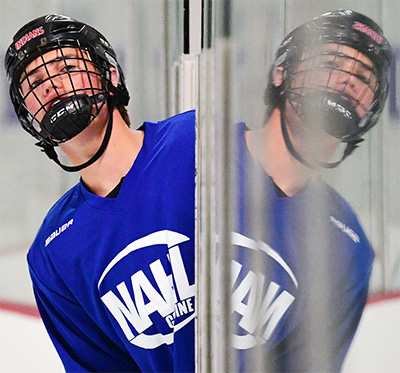 By Ryan Williamson, usahockey.com
Mark Frankenfeld, commissioner of the North American Hockey League, views the league's combines as a quiz before the test.
For those players who were looking for that education, they had to wait a little longer than usual.
Like most sporting events, the NAHL's annual combines were paused due to the coronavirus outbreak. But through extensive work, Frankenfeld and his team resumed these combines while navigating the rules and regulations put in place by local health officials.
Each year, the NAHL combines run on two different levels – a junior level and a youth level. The junior combine is for those genuinely looking at playing junior hockey. The youth combines, meanwhile, are more for those at a younger age.
"It's getting an education on what this looks like," Frankenfeld said. "They get an education on how this works so if they get to an NAHL team tryout, they know how to handle themselves."
These combines generally happen in different locations across the U.S. during April. However, due to the coronavirus outbreak, these combines were postponed.
When the delay came down from the NAHL, those who signed up for the combines were given an option to move on and get a refund. However, the interest in the combines remained.
"Our retention rate was incredible," Frankenfeld said. "We knew once states were able to reopen, we were going to do it with increased registration."
Thus began the hard work of making these combines run during these unprecedented times. The first combine was scheduled for July 2-3 in Columbus, Ohio.
Working alongside the Columbus Blue Jackets, the NAHL and others worked to set up the camp that was both beneficial for the players and met safety guidelines. Frankenfeld and his team arrived two days before to begin preparing for the 250-plus junior players who were coming in to participate.
When players arrived there were numerous safety precautions. Besides regular cleaning, players were organized in a way so there wasn't large congregation inside the rink's lobby. The number of players in each locker room was cut down to six. Players were spread out to accommodate social distancing.
Once on the ice, the layout of where players sat also changed. Forwards sat on the bench. Defensemen entered and exited the ice through a different door where they had chairs spread out. The goaltenders not playing at the time sat in the penalty box. Meanwhile, the coaches all wore masks on the bench.
The event went off successfully, but not without extensive work.
"It was a pretty big ordeal," Frankenfeld said. "I think I got more steps in that event working the rink than ever making sure we supported the needs of our players."
With one event under their proverbial belts, the staff moved on to another combine in Blaine, Minnesota, at The Super Rink at National Sports Center. Once again, the league followed health restrictions and managed to make it a successful combine.
Following another successful combine in Danbury, Connecticut, the league ran into a bit of a roadblock. The league was set to host a combine in California. However, the state's rising Coronavirus numbers led the league to cancel that combine.
The final NAHL combine took place July 31-Aug. 2 outside of Chicago. The NAHL continued to operate under any protocols that were set by state and local officials and had another successful event. They also have protocols in place with CDC guidance if someone at a future event becomes infected with COVID-19.
"We've done good at events by following guidelines, requirements and restrictions," Frankenfeld said. "We're looking forward to working with state requirements, temperature taking, hand sanitizing and physical distancing. We'll have all those things in place."
Frankenfeld said rescheduling has actually been more work than executing these combines. They're amongst some of the first groups bringing back tryouts or combines in the hockey community and have done so with success.
"I would just advise anyone out there to start with local guidelines," Frankenfeld said. "Then, figure out the minimum and do above that. Communicate with the facility. You have to follow the guidelines. Then, you'll have a very successful opportunity."