NAPHL posts record number of NAHL draft picks, tenders
July 29, 2020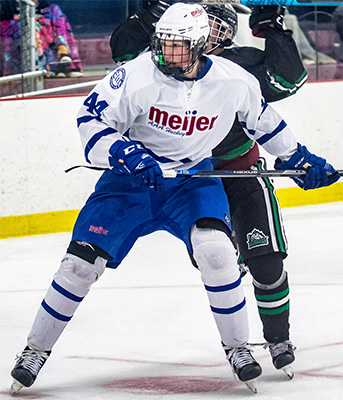 The North American Prospects Hockey League (NAPHL) is pleased to announce 21 current or former players were selected in the 2020 North American Hockey League (NAHL) Draft, which was held on Tuesday, July 21st.
In addition to the 21 players who were drafted, a record number of 54 players who played in the league during the 2019-20 season signed NAHL tenders for the upcoming 2020-21 season.
In total, a record-breaking total of 75 NAPHL players were either drafted or tendered by NAHL teams for the upcoming 2020-21 season.
The NAPHL has proved over the years that the league is a great stepping-stone for development and training for young hockey players looking to gain experience and knowledge to work their way up to the National level. No other USA Hockey Midget Tier I league has had more players play in the NAHL over the course of the last three seasons than the NAPHL, which included over 80+ NAPHL alumni playing in the NAHL during the 2019-20 season.
"We continue to see the growth of the direct benefits of the NAHL's ladder of development exposure model that is exclusive to the NAPHL. Players have been evaluated and scouted multiple times throughout the season at events by NAHL teams and this is the result," said NAPHL Director Tony Zasowski. "In addition, the NAPHL players have benefitted from attending NAHL Combines, NAHL team pre-draft tryout camps, and some have had multiple evaluations by NAHL Central Scouting. No other youth league in USA Hockey has a model like it and these results are one of the byproducts of the system."
No other USA Hockey youth league does more for its players than the NAPHL. Operated by the full-time staff of the North American Hockey League (NAHL), who make it their mission to outperform others both on and off the ice in promoting its players. NAPHL players are recognized on the league's website and social media outlets, which receive millions of pageviews and social media engagements annually. This also includes broadcasts and play-by-play of every game on HockeyTV, highlights from every game on social media, monthly and yearly award recognition, feature stories, and real-time statistics.
Members of the NAPHL get the opportunity to attend some of the most dynamic and highly scouted events. Selected NAPHL events take place during the same time as NAHL events, which usually feature every NCAA Division 1 and every NHL team along with dozens of junior scouts under one roof. No matter what age classification you compete, the NAPHL provides the most dynamic vertical exposure structure designed specifically to educate, develop, expose and advance players in the NAPHL.
Back in May, the NAPHL had 24 current or former players who played in the league that were selected in Phase I and II of the 2020 United States Hockey League (USHL) Draft.
NAPHL Players selected in the 2020 NAHL Draft (by order of selection)
Colton Huard, Defense, New Mexico Ice Wolves, Round 1, #5, (Pursuit of Excellence, 2016-18)
Luke Beerman, Forward, Lone Star Brahmas, Round 2, #35 (Shattuck-St. Mary's, 2017-18)
Jackson Hughes, Forward, Chippewa Steel, Round 2, #36 (Meijer AAA, 2017-18)
Grant Malinowski, Defense, Kenai River Brown Bears, Round 3, #56 (Meijer AAA, 2018-19)
Lucas Coon, Forward, Odessa Jackalopes, Round 3, #64 (Shattuck-St. Mary's, 2018-19)
Branden Piku, Forward, Chippewa Steel, Round 4, #87 (Meijer AAA, 2018-19)
Dylan Schneider, Forward, Minot Minotauros, Round 4, #98 (Shattuck-St. Mary's, 2017-18)
Dominik Wasik, Goaltender, Aberdeen Wings, Round 5, #131 (Rocky Mountain RoughRiders, 2017-18)
Anthony Galante, Forward, Maine Nordiques, Round 6, #142 (New Jersey Jr. Titans, 2019-20)
Joseph McCollum, Defense, Kenai River Brown Bears, Round 6, #150 (Thunder Bay Kings, 2016-17)
Nathan Cox, Defense, Johnstown Tomahawks, Round 6, #157 (NorthStar Christian Academy, 2019-20)
Kayden Hargraves, Goaltender, Fairbanks Ice Dogs, Round 6, #160 (Rocky Mountain RoughRiders, 2017-18)
Parker Rey, Goaltender, Kenai River Brown Bears, Round 7, #177 (Esmark Stars, 2018-19)
Kullan Daikawa, Forward, Johnstown Tomahawks, Round 7, #184 (Sioux Falls Power, 2019-20)
Jacob Cummings, Forward, Jamestown Rebels, Round 8, #197 (Madison Capitols, 2017-19)
Preston Stafford, Defense, Danbury Jr. Hat Tricks, Round 8, #202 (Omaha AAA, 2016-17)
Truett Olson, Forward, Johnstown Tomahawks, Round 8, #211 (NorthStar Christian Academy, 2019-20)
James Spaargaren, Forward, Wichita Falls Warriors, Round 9, #217 (California Titans, 2016-17)
Caleb Huffman, Defense, Kenai River Brown Bears, Round 10, #258 (Meijer AAA, 2018-20)
Andrew Ramsey, Defense, Kenai River Brown Bears, Round 11, #285 (Arizona Bobcats, 2017-18)
Payton Felix, Forward, Kansas City Scouts, Round 14, #371 (Northeast Generals, 2019-20)