2020-21 NAHL regular season to start on October 9th
July 27, 2020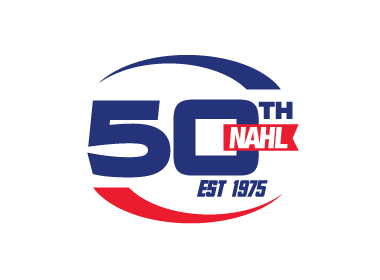 The North American Hockey League (NAHL) has announced that the 2020-21 regular season, which will be the league's 46th season, will begin on October 9, 2020. The league is committed to playing a full schedule of regular season games and the 2020-21 schedule is expected to be released by September 1st.
"We have spent a lot of time discussing return dates and are excited to be moving forward at this time. Our number one priority remains returning to the ice this fall in the safest manner possible for everyone in our hockey community and we believe that October 9th is a good date to achieve that goal," said NAHL Commissioner and President Mark Frankenfeld. "Between now and the schedule release we will be communicating with the NHL, USA Hockey, and the USHL, to develop the most current return to play guidelines as possible."
The NAHL will continue to work daily with teams to monitor the situation in all 27 NAHL communities, utilizing recommendations from the Centers for Disease Control (CDC) and local authorities. The NAHL and its member clubs want to ensure that they are utilizing the latest information available in order to provide the safest environment as possible for all of the players, coaches, staff, billet families and fans.
The delayed start means that NAHL events will be affected. The 18th annual NAHL Showcase will take place from December 16-19, 2020, at the Super Rink in Blaine, Minnesota. The 2021 NAHL Top Prospects Tournament will take place on February 8-9, 2021, at the New England Sports Village in Attleboro, Massachusetts, and the 2021 NAHL Robertson Cup National Championship will take place from May 28 - June 1, 2021, at Fogerty Arena in Blaine, Minnesota.
The opening event of the 2020-21 NAPHL season in Blaine, Minnesota from September 17-20 will take place as scheduled.
"Our events play a big role in the development, exposure, and advancement of our players. Our goal for the upcoming 2020-21 season was to make sure that all three events could take place in the safest manner possible," said Frankenfeld. "While we are disappointed we cannot have our NAHL Showcase during its normal time in September, we feel moving back to December gives everyone the best opportunity to attend and enjoy the event."
One of the things the NAHL does better than any other junior league is seeing their players earn an NCAA opportunity while playing and being showcased in the NAHL. To date, 348 players made NCAA commitments during the 2019-20 season, with 70% of those (246) being NCAA Division I commitments, which is a new single-season record.