NAPHL players recognized and selected in USHL Draft
June 3, 2020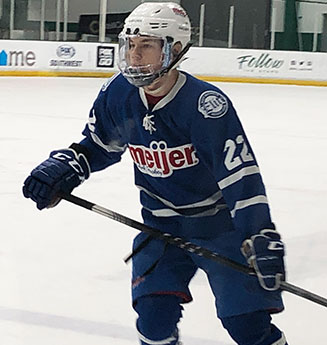 The North American Prospects Hockey League (NAPHL) advancement and recognition to the United States Hockey League was again on display during the 2020 USHL Drafts. 24 current or former players who played in the NAPHL were selected in Phase I and II of the 2020 USHL Draft, which was held on May 4 and 5.
Phase I of the USHL Draft consists of 10 rounds for the "Futures" age players, which are all 2004 birth year players only. This phase of the draft gives teams a chance to draft these younger players who may not necessarily be ready for the league that following season. This gives the players that have been drafted an opportunity to grow and develop while their respective USHL team still owns their rights as a player.
Phase II of the Draft is open to players of all ages eligible to play junior hockey and are not currently protected by another USHL team. Teams will fill their roster to a total of 45 players on this date; this includes players that were previously on a team's Affiliate List. The total number of players that a team will draft will vary depending on the number of Affiliate players a team may have.
The NAPHL has enjoyed a record-breaking amount of advancement, which is highlighted by a large amount of advancement of players to the North American Hockey League (NAHL). No other USA Hockey Midget Tier I league has had more players play in the NAHL over the course of the last three seasons than the NAPHL, which included over 80+ NAPHL alumni playing in the NAHL during the 2019-20 season.
That advancement success also extends to the USHL. The last four seasons has seen over 70+ NAPHL players selected in the USHL Drafts and over 40+ NAPHL alumni played in the USHL during the 2019-20 season.
"We have traditionally had great response from USHL scouts at NAPHL events and this past year was no different. They are very complimentary about the level of play and competition and as a result, we have seen another steady round of players being selected and recognized by USHL teams," said NAPHL Director Tony Zasowski.
NAPHL Players Selected in Phase I
Aiden Dubinsky, D, Florida Alliance 16U (Omaha Lancers, Round 2, #28)
Micah Berger, F, Florida Alliance 16U (Sioux Falls Stampede, Round 8, #112)
NAPHL Players Selected in Phase II
Andrew Miller, F, Bismarck Bobcats (Rocky Mountain RoughRiders, 2015-19) (Fargo Force, Rd. 1, #16)
Killian Kiecker-Olson, F, Chippewa Steel (Sioux Falls Power, 2017-18) (Des Moines Buccaneers, Rd. 3, #35)
Nate Benoit, D, Mount St. Charles (Northern Cyclones, 2016-17) (Tri-City Storm, Rd. 4, #49)
Jackson DeSouza, D, Okanagan Rockets (Pursuit of Excellence, 2017-18) (Sioux City Musketeers, Rd. 4, #62)
Lucas Coon, F, Shattuck St-Mary's Prep (Shattuck St. Mary's, 2016-19) (Cedar Rapids RoughRiders, Rd. 5, #72)
Ben Strinden, F, Northstar Christian Academy, 2019-20 (Muskegon Lumberjacks, Rd. 6, #82)
Huston Karpman, F, Aberdeen Wings (Shattuck-St. Mary's, 2017-18) (Fargo Force, Rd. 6, #89)
Drew Montgomery, F, Sioux Falls Power, 2018-20 (Tri-City Storm, Rd. 7, #102)
Daniel Tkac, F, Merritt Centennials (Esmark Stars, 2015-17) (Lincoln Stars, Rd. 8, #115)
Max Ruoho, D, Buffalo Jr. Sabres (Madison Capitols, 2016-19) (Sioux City Musketeers, Rd. 9, #124)
David Nesburg, F, Shattuck-St. Mary's, 2019-20 (Sioux City Musketeers, Rd. 10, #139)
Leo Bacallao, F, Springfield Jr. Blues (Madison Capitols, 2016-18) (Lincoln Stars, Rd. 10, #145)
Emmett Croteau, G, Ontario Jr. Reign, 2019-20 (Waterloo Blackhawks, Rd. 10, #150)
Nick Sajevic, F, Gentry Academy, 2018-20 (Lincoln Stars, Rd. 11, #159)
Zach Reim, D, Gentry Academy, 2018-20 (Omaha Lancers, Rd. 11, #163)
Seamus Campbell, F, St. Louis Jr. Blues (CarShield AAA, 2018-19) (Green Bay Gamblers, Rd. 13, #191)
Chris Hedden, D, Meijer AAA, 2019-20 (Omaha Lancers, Rd. 13, #193)
Jakob Stender, D, Northstar Christian Academy, 2019-20 (Fargo Force, Rd. 14, #209)
Jacob Rude, D, Sioux Falls Power, 2019-20 (Chicago Steel, Rd. 14, #212)
Alvin Buholzer, D, Madison Capitols, 2019-20 (Madison Capitols, Rd. 17, #243)
Matthew Bryant, G, Omaha AAA (Madison Capitols, 2018-19) (Omaha Lancers, Rd. 19, #283)
Davis Borozinskis, F, Sioux Falls Power, 2019-20 (Chicago Steel, Rd. 19, #287)