Fairbanks goalie Caruso makes NCAA D1 commitment
May 13, 2020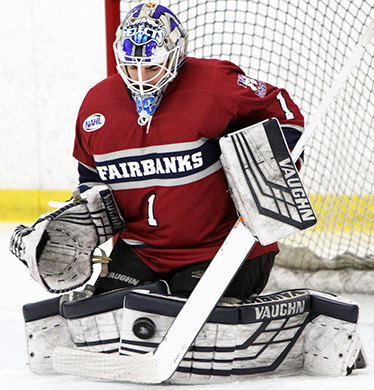 Laura Sticke, News-Miner
The Fairbanks Ice Dogs of the North American Hockey League (NAHL) are pleased to announce that goaltender
Jack Caruso
has committed to play NCAA Division 1 hockey for the University of Denver in the NCHC.
"It was really exciting," Caruso, home with his family in St. Louis, Missouri, said over the phone. "I finally don't have to worry about what's the plan for next year and all of that."
Caruso, 20, joined the Ice Dogs in February, following two short stints with the St. Cloud Blizzard and Johnstown Tomahawks, to help take over for injured goalie Austin Ryman.
In Caruso's first game on February 15, he helped Fairbanks to a 4-3 road win against the Minnesota Magicians. He finished the season with two losses — the first, a 1-3 road loss to Springfield Jr. Blues on February 21, and the second, a 4-2 loss at home to the Northeast Generals on March 7. The game against the Generals turned out to be the last game of the season, as the NAHL canceled its remaining games and the Robertson Cup playoffs due to the coronavirus.
"It was stressful at times because I knew I had to figure out what I was going to do next year for school. And obviously, when things aren't going the way you thought they would, and as an age-out you're trying to have as much game left as you can," Caruso said.
"I was in a new organization at St. Cloud, we had just relocated, and then I got traded to Johnstown and, just for whatever reason, I wasn't a good fit there," he said, describing the past season. "Then a little bit down the road I settled down with Fairbanks and it ended up being a perfect fit. Unfortunately, it got cut a little short with the cancellation of the season, but nonetheless it was a place where I wish I had been day one of my junior career. But I was very happy I got to finish it out there."
Caruso is a Ladder of Development product from the NAPHL to the NAHL. Caruso played two seasons in the NAPHL for the CarShield AAA 18U team. In 19 career NAPHL games Caruso posted a sparkling 14-2-1 record with a 1.62 goals against average and .922 save percentage.
Caruso, who was drawn to Fairbanks in part by the team's consistent league dominance and postseason success, was interested in Denver for many of the same reasons. The Pioneers are tied with the University of North Dakota for second in all-time NCAA Championship titles with eight, trailing only the University of Michigan with nine. The Pioneers also have three NCAA runner-up titles, 17 Frozen Four appearances and have made the NCAA tournament every year since 2008, except for this past season when the tournament was canceled.
"Just having a chance and the opportunity to win every year is something that I feel like I'd kick myself if I passed up," Caruso said. "I'm just really excited to be part of such a great program. I compare it a lot to Fairbanks just because they're two great programs that are always at the top of their league every year. It's always fun to win and it's fun to be a part of something special."