Fairbanks forward Ostbloom makes NCAA D1 commitment
May 1, 2020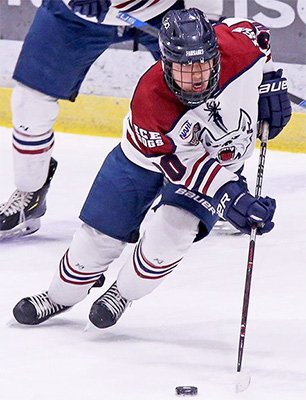 Laura Stickells, News-Miner
The Fairbanks Ice Dogs of the North American Hockey League (NAHL) are pleased to announce that forward
Nick Ostbloom
has committed to play NCAA Division 1 hockey for the University of Alaska-Fairbanks.
Ostbloom, became the fourth player from this season's Fairbanks Ice Dogs roster to commit to the University of Alaska Fairbanks when he took to Twitter to announce his verbal agreement, joining fellow Ice Dogs Matt Koethe, Mason Plante and Trenton Woods on the list of future Nanooks.
Ostbloom, a 17-year-old forward from Fairbanks, admits that having the opportunity to continue playing with his current teammates added to the Nanooks lure.
"Even before UAF was brought up amongst all of us, we had talks like, hey how cool would it be to all go to the same college and continue playing with your best buddies," Osbtloom said. "So when I kind of saw more guys commit there, for me it just became a really easy decision and just fell into place and they helped a lot with that."
According to Ostbloom, UAF made an offer in January, but encouraged him to take some time to think about it. After the North American Hockey League season ended abruptly in March, a few other teams in the Western Collegiate Hockey Association reached out to him, but none piqued his interest like UAF.
Ostbloom appeared in 35 games this season with the Ice Dogs and recorded 13 points during his rookie campaign.
He is also another NAPHL to NAHL Ladder of Development success story as he has played the past three years in the NAPHL for three different organizations. Ostbloom began this season playing for the New Jersey Jr. Titans 18U team, where he posted eight points in seven NAPHL games.
During the 2018-19 season, Ostbloom played in the NAPHL for the Sioux Falls Power 16U team, putting up 15 points in 12 NAPHL games. The season prior, he played for the Alaska Oilers 15U team in the NAPHL.
In addition to playing with his current teammates, he felt most comfortable with the coaching staff and he'd be able to play for the team he grew up watching. "They just always offered to help and plus I think they're kind of taking the program in a positive direction and I think the program is only growing and getting better from here and I just really wanted to be a part of that," Ostbloom said. "You know being a home town kid seeing how good they were back in the day, it could just be a dream come true to help them get back to that."
While the players' interest in the Nanooks is partly due to wanting to stick together, Ice Dogs head coach Trevor Stewart explains that UAF's interest in the group of Ice Dogs is just part of a natural cycle.
"Everything kind of happens in cycles and waves and it just so happens that we have players right now that fulfill the needs of players that UAF needs or wants so we are just excited that we get to be part of it and get to play at the next level. Nick is obviously a local product and for him to get this opportunity is going to be tremendous."