Janesville defenseman Dangos makes NCAA D1 commitment
April 23, 2020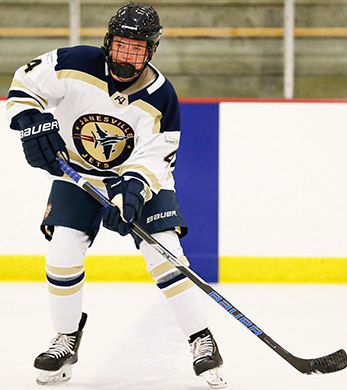 The Janesville Jets, proud members of the North American Hockey League (NAHL), are pleased to announce that defenseman
Blake Dangos
, who is both an NA3HL and an NAPHL alum, has committed to play NCAA Division 1 hockey for the St. Lawrence University Saints of ECAC Hockey.
"I'm extremely excited," said Dangos. "St. Lawrence has such a rich program history, and the education I'll get will set me up for a great career after hockey. It's a great fit for me."
Dangos, 18, and as one of the seven 2002-born players on the Jets' year-end roster, took remarkable strides in his first year of NAHL play. The left-handed blueliner was named the team's Most Improved Player in its player awards announcements three weeks ago. In 40 games played in the NAHL this season, Dangos recorded eight points.
With their seventh and final selection in last June's 2019 NAHL Entry Draft, the Jets picked their only defenseman of the day from the NA3HL's St. Louis Jr. Blues. The 5'10/175 native of St. Louis, Missouri, played 40 games for the Jr. Blues in 2018-19 as one of only two 16-year-olds on the team, and often against competition three or four years his senior.
"A player on the smaller side and younger side like myself, I was denied to a lot of AAA programs," Dangos said. "Playing in the NA3HL as a younger player, not only do you get so much more exposure in my opinion, but you're forced to step your game up by playing against older players. That definitely helped make me feel more confident in my first year in the NAHL."
Prior to playing in the NAHL and NA3HL, Dangos followed the Ladder of Development through the NAPHL, playing the 2017-18 season with the CarShield AAA 15U team.
Jets head coach Corey Leivermann said that Dangos made an impression on the organization from the jump. "We invited him to a practice two years ago, and he turned our heads as an '02 at the time," said Leivermann. "Playing junior hockey as a 17-year-old opened some eyes, so we took him as a draft pick that summer. He came in with that junior experience, but definitely had to get used to the difference in the step up to the NAHL. Around Christmas time this year, he and I had a conversation about where he wanted to be next. Kudos to him, he took it upon himself to double down on his efforts and prove to us that he could be a night-in, night-out defenseman. He went from being our sixth guy back there to running a power play by the end of the year."
As the game evolves, and more schools are looking for defensemen who can carry the puck with confidence, players like Dangos are becoming more valuable, said Leivermann. "All college and junior defensemen now need to make plays under pressure, no matter what size you are. It's a skill game now. For Blake, being a smaller player, he understands what his strengths are, but he also understands the importance of playing bigger. He's a huge pain in the butt to play against. Even in practice this year, he's gotten into some scuffles because he just plays that hard and refuses to lose battles. It's hard for teams, no matter the level, to find a skilled guy like Blake who's also not afraid of going into the corners against the bigger guys."
For Dangos, playing so many development years against older and bigger players helped him sharpen the skill he began to routinely show off in Janesville. His deception and edgework are two of his best tools, and they're what make him so dangerous even 200 feet from the opposing net. A zone-exit machine, Dangos is at his best when he's shaking off opposing forecheckers and creating space for himself and teammates on the breakout.
Credit for his growth this year also goes to his veteran teammates, he said. "To be able to have conversations with the older guys this year like [Nick] Nardella, and [Nick] Gonrowski and [Anthony] Szurlej on the back end, that's been great," Dangos said. "They've been through it, and can give pointers on how to get into the lineup every night. Even skill guys need a bit of edge playing against older guys and that's what I think I was able to bring to the team this year."
Current Saints assistant coach Ben Murphy, formerly of Bentley University, started the conversation. "I talked to coach Murphy after a game against Chippewa in Janesville," Dangos said. "They had a lot of good stuff to say about how I'd fit in at the program. Their professionalism with how they talked to me as a recruit made me want to go there even more."
"This is a great example of the importance of building respect and trust with Division I coaches," said Leivermann.
Dangos said he'd like to study business. The young defenseman is far from the end of his hockey career, but hammered home the importance of long-term planning. "There's so many great professors at St. Lawrence who can help me with my career after hockey is over," he said. "And it will be over at some point for me, so I'll need a great education to get far in life."