NAHL launches Virtual Scouting
April 21, 2020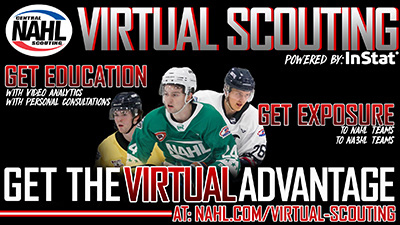 The North American Hockey League (NAHL) is pleased to announce a new initiative for prospects called, NAHL Virtual Scouting. NAHL Virtual Scouting is designed to provide future hockey prospects the opportunity to use video and analytics to accelerate exposure directly to NAHL and NA3HL teams.
The NAHL Virtual Scouting process focuses on providing education to the player and exposure of the player to NAHL and NA3HL junior teams. These two core factors are brought together in the NAHL Virtual Scouting process and give aspiring players the opportunity to get a head start on advancing their development as they strive to play hockey at the junior and collegiate levels.
The education component of NAHL Virtual Scouting is delivered in a 30-minute consultation with a professional member of NAHL Central Scouting reviewing the video and hockey analytics.
The exposure component of NAHL Virtual Scouting is by delivering the video, analytics and comments from the consultations directly to each NAHL and NA3HL teams.
"NAHL Central Scouting is all about getting more eyes on our prospective players," said NAHL Director of Player Personnel Tony Zasowski. "Not only does this give future prospective players a virtual advantage during these uncertain times, but it allows NAHL Central Scouting to reach outside the walls of NAHL, NA3HL and NAPHL events."
NAHL Virtual Scouting offers four different types of packages. Pricing is based on the number of game uploads and consultations the player choses. Each package includes an InStat profile portal, a 30-minute consultation with NAHL Central Scouting, and the distribution of all the data to NAHL and NA3HL teams.
InStat, a service featuring a statistical platform that is an effective analysis tool for hockey players and coaches, will provide the analytical data for NAHL Virtual Scouting.
Entering its 46th season in 2020-21, the NAHL, the only USA Hockey-sanctioned Tier II Junior league boasting 27 teams in 16 states from across North America. So far during the 2019-20 season, the NAHL has had 276 NCAA commitments, which includes 220 NCAA Division 1 commitments. During the 2018-19 season, the NAHL set a new single season record with 351 NCAA commitments, with over 66% of those being NCAA Division I commitments. In addition, six players with NAHL experience were selected in the 2019 NHL Draft. Currently, 34% of freshmen playing NCAA Division I hockey are alumni of the NAHL.