Northeast 18U defenseman Smith gets called up to NAHL
February 21, 2020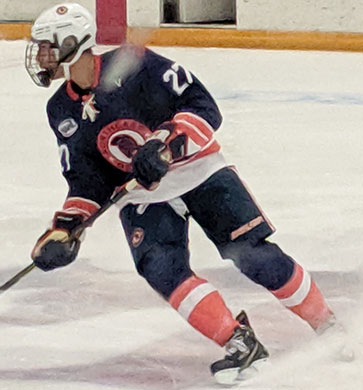 The Northeast Generals of the North American Prospects Hockey League's (NAPHL) East Division is excited to announce the promotion of standout 18U defenseman
Adam Smith
to the Generals NAHL team for the remainder of the 2019-20 season.
Smith, 18, signed an NAHL tender with the Generals back in November. The 2002 NAPHL U18 D man was tendered earlier this year.
The 6'1/200 lbs. native of Philadelphia, Pennsylvania, followed 18U Head Coach and NAHL Assistant Coach Eric Progen from the Valley Forge Minutemen to the Northeast Generals this year. Since arriving in Boston, Smith impressed with his play at the U18 level and at NAHL practices, and has proven himself ready for an everyday role.
During the 2019-20 NAPHL season, Smith appeared in 10 games for the NAPHL's Generals and recorded six points. He was also selected to and played in the 2019-20 NAPHL 18U All-Star Game in December.
"Adam is a big strong kid that plays a very simple game. He skates well for his size and just punishes kids physically. He has a high hockey IQ and has picked up our systems very quickly. He has now played in six games for the NAHL team and has been tremendous. He is our first ever NAPHL tender from our first year U18 program and this is exactly what we had in mind when we brought Eric Progen here to help build it. We wanted players who could quickly climb our ladder of development and make an impact at the NAHL level. We are really excited to have Adam not only get a jump start on his development but to start contributing down the stretch," said NAHL Head Coach and GM Bryan Erikson.
"Adam has a tremendous work ethic and has just gotten better everyday. He is a very reliable D man that we think will eventually add an offensive element to his game. The main goal for Adam coming up here this year was to put himself in a position to earn an NAHL tender. He did that by November, and following that it was to get ready to be an impact guy in the 2020-21 season. But he is already stepping in and playing meaningful minutes this year. We are really excited about Adam's fast track timeline and can't wait to watch him continue his development," said 18U head coach Eric Progen.