Meijer AAA wins 18U Dixon Cup Championship on final day
February 18, 2020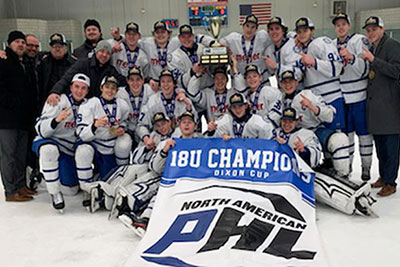 The 11th season of the North American Prospects Hockey League (NAPHL) concluded on Monday as the Championship Game for the 18U Dixon Cup was played at the Onyx Ice Arena in Rochester, Michigan.
Monday's game pitted two powers in the 18U Division between Meijer AAA and Northstar Christian Academy.
11 players between the two clubs have signed tenders to play in the North American Hockey League (NAHL) next season, so it was a true clash of the Titans.
Meijer 2, Northstar 0
- Owen Devries netted the game-winning goal midway through the second period and Hunter Garvey stopped all 19 shots that came his way as Meijer stymied Northstar 2-0 in the NAPHL 18U Dixon Cup Final. Spencer Allen posted a late empty-net insurance marker for Meijer, while Northstar's Camdyn Barber made 13 saves in the loss.
Boxscore
The Dixon Cup title was the first for a Meijer AAA 18U team, who are coached by Brian Sherry. Last year, Meijer AAA won the 16U Dixon Cup Championship and the organization also captured the 16U title back in 2014.
Dixon Cup Champions
2020: 18U-Meijer AAA, 16-Gentry Academy, 15U-CarShield AAA, Prep-Tahoe Prep Academy
2019: 18U-Thunder Bay Kings, 16U-Meijer AAA, 15U-Rocky Mountain RoughRiders
2018: 18U-Esmark Stars, 16U-Arizona Bobcats, 15U-Rocky Mountain RoughRiders
2017: 18U-Madison Capitols, 16U-Esmark Stars, 15U-Washington Little Caps
2016: 18U-Madison Capitols, 16U-Omaha AAA
2015: 18U-New Jersey Jr. Titans, 16U-Omaha AAA
2014: 18U-Omaha AAA, 16U-Lansing Capitals
2013: 18U-Indiana Jr. Ice, 16U-Omaha AAA
2012: 18U-California Titans, 16U-Indiana Jr. Ice, 14U-St. Louis Selects
2011: 18U-DC Capitals, 16U-Pikes Peak Miners, 14U-Rocky Mountain RoughRiders
2010: 18U-California Titans, 16U-Pikes Peak Miners