Three Champions crowned on Sunday, 18U title to be decided Monday
February 17, 2020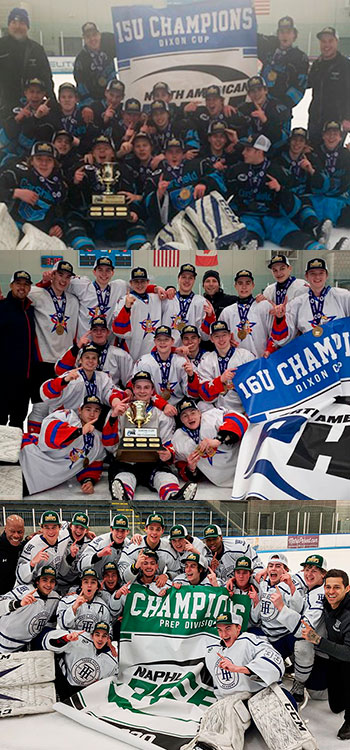 The NAPHL handed out three of its four playoff Championships on Sunday.
The action of the 2020 NAPHL Dixon Cup concludes Monday morning with the 18U Championship game between Meijer AAA and Northstar Christian Academy.
Download the NAHL App to keep up to date with NAPHL scores (iOS - Google Play)
All games will be broadcast live and in HD on HockeyTV
Sunday Recaps:
18U Division
The 18U quarter-final action heated up in the morning as Meijer, Colorado Springs, Northstar and Esmark each punched tickets to the semi-finals.
Meijer broke a scoreless deadlock with three unanswered in the third for a 3-0 win over Team Maryland, Colorado Springs took a wild 4-3 win in overtime over Carshield, Northstar cruised past Sioux Falls 5-2 and Esmark put up a remarkable comeback against Shattuck St. Mary's, erasing a 6-2 deficit for a 7-6 OT win.
In the semi-finals, Meijer comfortably knocked off Colorado Springs 6-0 and Northstar potted three in the third for a 6-4 win over Esmark. Northstar and Meijer will meet in the 18U Final on Monday morning.
In the consolation bracket, Portland thumped 95 Giants 8-3, Des Moines knocked off Philadelphia 4-1, Ontario ousted Northeast 4-3, New Jersey crushed Thunder Bay 6-2, Seacoast defeated Arizona 5-3 and Florida closed things out with a 5-2 decision against Everett.
16U Division
Gentry and Florida each won their semi-final to meet in the 16U Championship later in the day.
Meijer held a 3-1 lead over Gentry midway through the second period, but the Galaxy roared back to ultimately take a 6-3 win. Florida rode Max Resnick's first-period tally to a tense 1-0 win over Sioux Falls.
In the Final, Gentry showed its quality with a balanced attack in a 6-3 win over Florida. Connor Kurth led with a hat-trick as the Galaxy held off a late comeback bid from Florida.
Consolation action saw Arizona beat Madison, Everett take down 95 Giants 7-1, New Jersey drop Des Moines 7-0, Esmark notch a 4-2 win over Carshield and Colorado Springs dispatch Northeast 7-3.
15U Division
15U teams also hit the ice for semi-finals on Sunday, with Carshield and Everett winning to set up a Final matchup.
Carshield's Connor McCaffrey scored twice to guide his team past Thunder Bay 5-2, while Everett built up a 3-0 lead and held on from there to top Florida Alliance 3-1.
In the Final, Carshield cruised as Isaac Meija-Troop stopped 16 of 16 shots to backstop his team to a 3-0 championship win.
Sunday also featured a pair of consolation games, as Arizona slipped past Esmark 2-1 and Tri-State trounced Colorado Springs 5-1.
14U Division
Arizona toppled Colorado Springs 9-1 in the lone 14U game on Sunday. Liam Devlin led with two goals for the Bobcats, who received 25 saves from Blaise Becker in net. Aidan Radic grabbed the Tigers' lone goal.
Prep Division
In Prep Semi-Final action on Sunday, Tahoe and Pilot Mound came out victorious to earn spots in the Final.
Tahoe's Jacob Nordorf bagged a hat-trick to lead them to a 5-1 win over TRC, while Seth Falkevitch buried the only goal of the game in a 1-0 win over Pacific Ridge.
The Final came down to a shootout after Tahoe and Pilot Mound traded goals in regulation time. After both goalies stole the show for much of the shootout, Koebe Buske sniped the game-winner to give Tahoe the title.
Consolation action saw Fountain Valley take down Clearwater Prep 5-2, Fernie top St. Mary's 4-3 in OT and Tampa EDP edge out Prairie 3-2 in OT as well.