18U teams separate from pack on Day 1 of Dixon Cup
February 15, 2020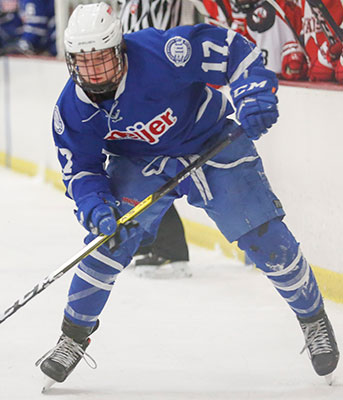 The 2020 NAPHL Dixon Cup Playoffs got underway on Friday, February 14th in Troy and Rochester, Michigan. The Dixon Cup annually crowns the playoff champions of the NAPHL.
All NAPHL 18U, 16U, and 15U Tier 1 teams are competing in the event and the NAPHL will also crown a champion in the Prep Division. The 16U, 15U, and Prep Division Championships will be played on Sunday night, while the 18U Championship will take place on Monday morning.
Day 1 Recaps:
18U Division
It was a busy day around the 18U bracket, with 20 games slated and each team logging two contests.
The day started with a bang as Northstar opened their account with a 3-1 win over Des Moines, Everett hammered New Jersey 5-1, Carshield dropped Philadelphia 5-2, Thunder Bay ousted 95 Giants 4-2 and Esmark cruised past Portland 11-2.
Picking right up from there, Colorado Springs dominated Northeast for a 5-0 win, Sioux Falls tacked on a late game-winner for a 1-0 victory over Florida, Shattuck St. Mary's took a back-and-forth win over Seacoast, Meijer slammed Ontario 7-0 and Maryland outlasted Arizona 5-3.
As the second round of games got underway, Northstar added another big win with a 10-1 decision against Everett, New Jersey clobbered Des Moines 6-2, Carshield knocked off 95 Giants 7-1, Philadelphia put up an impressive comeback to top Thunder Bay 6-5 in OT and Esmark battered Northeast 10-3.
Ending the day's play, Colorado Springs picked up another big shutout win 7-0 over Portland, Sioux Falls mirrored that effort with a 7-0 win of their own over Seacoast, Shattuck St. Mary's won a tight one against Florida 2-1, Meijer slammed Maryland 7-0 and Ontario closed out the evening with a tense 1-0 victory over Arizona.
Looking at the standings heading into day 2, Meijer's two wins give them a three-point lead in Division 1, Shattuck St. Mary's and Sioux Falls sit atop Division 2 with six points apiece, as do Colorado Springs and Esmark in Division 3. Carshield owns Division 4 for now with six points, but Thunder Bay sits just two points back, and Northstar's double gives them a three-point lead in Division 5.
16U Division
A pair of OT thrillers highlighted the first day of 16U Dixon Cup action, as New Jersey handled Everett and Meijer ousted Colorado Springs, both by a score of 3-2.
Elsewhere, Sioux Falls picked up a 2-0 win over Esmark and Florida edged out Carshield 3-2.
Ending the day, 95 Giants shut down Madison 3-0, Gentry dominated Des Moines 10-1 and Northeast held off Arizona 3-2.
As it stands, Florida and Sioux Falls top Division 1 with three points apiece, New Jersey owns Division 2 with two points, 95 Giants holds a narrow lead in Division 3 with three points to Meijer's two and Gentry and Northeast hold power in Division 4 with three points apiece.
Colorado Springs' Marcus Ray, Meijer's Vincent Hart and Arizona's Ryan Jim all starred on the day with two-goal efforts in their teams' respective wins.
15U Division
Nine tilts featured on day one of 15U action, as each team in Michigan hit the ice twice.
Florida opened things with a 5-0 dispatching of Tri-State, Arizona took a wild 8-4 win over Colorado Springs, Carshield dominated Meijer 6-0, Thunder Bay handled Everett 4-2 and Meijer dealt Tri-State a second loss, this time 4-3 in OT.
Later on, Thunder Bay dismantled Colorado Springs 9-2, Carshield did the same to Arizona 7-0, Everett dropped Meijer 4-1 and Florida ended the night with a 3-1 decision against Esmark.
At the end of the day, Thunder Bay holds a three-point lead atop Division 1, Carshield maintains the same advantage in Division 2, though they boast an impressive +13 goal differential and Florida boasts a four-point gap between themselves and Esmark in Division 3.
14U Division
There were just three games in the land of 14U NAPHL hockey on Friday.
Meijer throttled Arizona 6-0 to begin the day, then fell to Colorado Springs 4-2. Arizona then went on to knock off Colorado Springs 4-2 to bring things full circle.
Prep Division
Prep play kicked off with five contests between the 10 teams in Troy.
Prairie opened things with a 4-2 victory over Fernie, followed by Pacific Ridge steamrolling Tampa EDP 7-0 and Pilot Mound trouncing Clearwater Prep 6-2.
Later, TRC took home a narrow win over St. Mary's 4-3 in overtime and Tahoe outlasted Fountain Valley 4-1.
After one day, Tahoe owns Division 1 with three points, Prairie's three points give them a narrow lead in Division 2 over TRC's two and Pacific Ridge shares a lead with Pilot Mound in Division 3 with three points apiece.