Esmark 18U goalie Strobel called up to USHL
February 7, 2020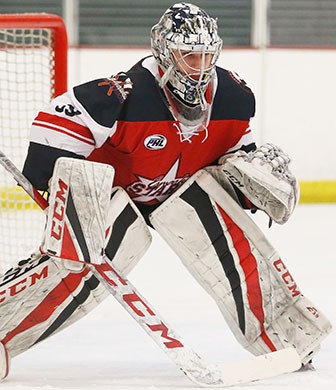 The Esmark Stars AAA Hockey Club of the North American Prospects Hockey League (NAPHL) have announced that 18U goaltender
Connor Strobel
has been called up by the Youngstown Phantoms of the United States Hockey League (USHL).
He will join the Phantoms (16-17-0-6) for a weekend series, Feb. 7 & 8, with the Des Moines Buccaneers (18-17-0-3) at the Mystique Ice Center in Des Moines, IA.
The 17-year old Butler, PA native, a senior at Butler High School who is in his first season with the U18 AAA Stars, has an overall record of 21-1-3-1 in 26 overall appearances, with a .941 save percentage and a goals against average (GAA) of 1.47, with seven shutouts.
In nine North American Prospects Hockey League (NAPHL) appearances this season, Stobel (6'2", 170 lbs.) has a 7-0-0-1 record, with a .940 save percentage, a goals against average (GAA) of 1.50, and has recorded three shutouts.
"What a great opportunity for Connor," said Esmark 18U head coach Dave Kosick. "From the long bus ride, to the crowd, to the entire junior environment. It is an opportunity well earned."
Strobel recently signed a tender for the 2020-2021 season with the Johnstown Tomahawks of the North American Hockey League (NAHL).