NAPHL concludes event in Blaine with 18U action
December 17, 2019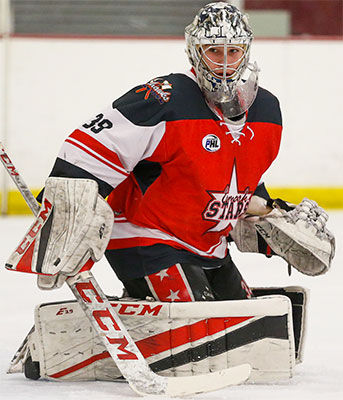 The NAPHL concluded its sixth event on Monday in Blaine as all 18U teams played in one final game. The event was played alongside the second day of the NA3HL Showcase.
Over 150+ scouts from the NHL, NAHL and colleges have checked in during the event.
Affton opened the day with an impressive 4-3 comeback victory in OT, Chesterfield managed to slip past Arizona Mission 3-2 in a shootout, Vernon Hills shut down Hyland Hills 6-0, Littleton dispatched Park City 5-2, Des Moines dropped Everett 8-1 and West Dundee put on a good show in a 6-0 shutout of Clearwater.
Continuing the day's action, Shattuck St. Mary's was in cruise control in a 5-1 win over Florida Alliance, Highland Park dominated against McKinney for a 5-0 victory, Arizona Hockey Union toppled Orland Park by a 6-1 score, Pilot Mound got a late winner in a 3-2 decision over Chicago Bruins, Chicago Hawks outlasted TRC 9-6 in a high-octane affair and Esmark handled CYA 7-1.
Geneva then outlasted Dallas 6-5 in a shootout, Meijer stunned Northstar in a 2-0 shutout, Thunder Bay rode a pair of second-period strikes for a 3-2 win over Colorado Springs, Ontario came out on top of a defensive stalemate with a 1-0 OT win over Arizona, Sioux Falls flexed its muscle with a 7-3 win against Shattuck St. Mary's and Portland ended the weekend with a tight 2-1 comeback win over Tri-State.