Day 2 of NAPHL event in Blaine full of action and scouts
December 15, 2019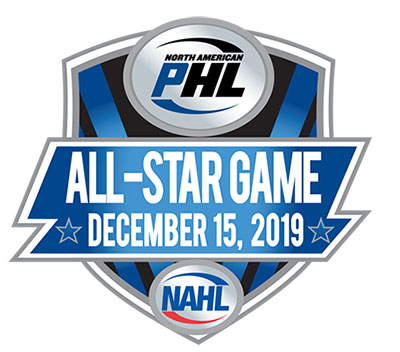 The sixth event of the 2019-20 NAPHL season continued with its second full day of the event on Saturday as the league returned to the NSC Super Rink in Blaine, Minnesota for four days of hockey action.
On Saturday, all NAPHL teams were in action in the High Performance, Elite and Showcase Divisions, with the 18U teams playing in two games and the 16U teams each playing one game.
Over 50 college and junior scouts have checked in through the first two days of the event, including several NAHL head coaches.
All games this weekend will be broadcast live on
HockeyTV
This weekend's event features the 18U and 16U High Performance, Elite, and Showcase Division teams. This weekend also features the 2019-20 NAPHL 18U and 16U All-Star Games, which are scheduled for Sunday, December 15th at 6:30pm (18U) and 8:30pm (16U).
This weekend's event is played in cooperation with the 2019 NA3HL Showcase, which runs from December 15-17 at the Super Rink. All NA3HL teams will play three regular-season games at the Showcase, which is annually one of the most well-attended and scouted events of the entire season for the league, attracting college and junior scouts alike. The NA3HL Showcase brings every NA3HL team under one roof, which allows scouts to see all the great talent the league has to offer. Not only does the showcase see a large presence of NCAA scouts but NAHL Central Scouting is also in attendance, furthering the chances for players to earn a call up to the NAHL.
Download the
NAHL App
to keep up to date with NAPHL score
s
(
iOS
-
Google Play
)
Day 2 recaps:
18U Division
18U play heavily featured on Saturday, as teams hit the ice for 38 games.
Geneva opened the day with a 5-2 win over South Florida, followed by Naperville knocking off Arizona Mission 3-1, Chicago Bruins dropping TRC 8-4, Dallas Penguins rolling over Orland Park 9-4, Littleton handling Clearwater 3-1 and Chicago Hawks outlasting Vernon Hills for a 3-2 OT win.
From there West Dundee shut down Park City 6-0, Chesterfield dropped McKinney 5-2, Affton cruised past Hyland Hills 7-0, Highland Park knocked off Arizona Hockey Union 8-1 and Northstar rolled over Sioux Falls 8-0.
Omaha kicked off the next slate of contests with a 7-0 win over Arizona, followed by Ontario edging out Tri-State 3-2, Thunder Bay knocking off Portland 5-2, Carshield owning Everett 9-0, Shattuck St. Mary's holding off CYA 3-1, Des Moines defeating Florida Alliance 4-1 and Colorado Springs controlling Pilot Mound for a 4-1 win.
Later on, Esmark came out of a tight tussle against Meijer with a 1-0 SO win, Highland Park easily handled Hyland Hills 11-0, Chicago Bruins flattened Arizona Hockey Union 4-0, Dallas Penguins edged Naperville 3-2, West Dundee won a 7-2 scrap against McKinney, Chesterfield dropped South Florida 7-2, Affton beat Littleton 4-1 and Park City took a 5-4 win over Chicago Hawks in a shootout.
Entering the evening, Orland Park outpaced Clearwater 3-0, Carshield upset Northstar 3-2, Sioux Falls topped Everett 3-0, Geneva rode a hot start and held off Arizona Mission 4-2, Ontario knocked off Florida Alliance 3-1 and Meijer toppled Omaha 2-1 in overtime.
To close out the day, Colorado Springs took a barnburner of a win, 5-4 in OT over Portland, Esmark notched a 6-1 win over Thunder Bay, Shattuck St. Mary's eased past Arizona 3-2, Vernon Hills handled TRC 4-2, CYA got past Tri-State 3-2 after an OT penalty shot, and finally, Des Moines closed out Pilot Mound with a 7-0 shutout.
16U Division
The December 16U action kept going strong on Saturday, with 18 games on the slate.
Texas opened the day with a tight 2-1 win over Chicago Hawks, Chesterfield posted a 4-2 win over Lansing, Littleton outlasted McKinney 3-1, Florida Alliance rolled past Everett 8-2, Northern Express turned up the heat in a 6-1 win over Nashville and Sioux Falls overtook Carshield 4-1 with three late goals.
Later, Affton blitzed Clearwater for a 6-1 win, Meijer brought down Madison 8-1, Gentry rolled on with a 10-1 win over Omaha, Arizona dropped Colorado Springs 5-1, Vegas held off Orland Park 4-3 and Highland Park slammed the door on Central Florida 8-0.
Finally, Chicago Jets ended their day with a 4-1 win over Park City, Naperville closed out DYHA 3-0, West Dundee stymied Texas 5-0, Geneva steamrolled Arizona 8-0, Chicago Hawks outgunned Arizona Mission 7-4 and Esmark escaped with a 5-4 win over Des Moines in overtime to end the 16U day.