Bismarck goalie Miller makes NCAA D1 commitment
December 2, 2019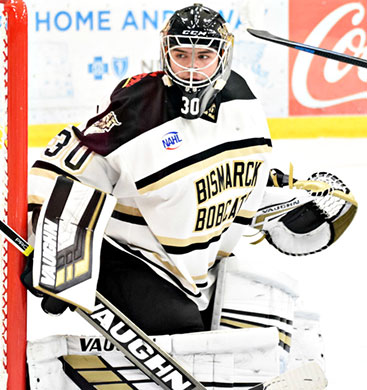 The Bismarck Bobcats of the North American Hockey League (NAHL) are pleased to announce that goalie
Andrew Miller
has committed to play NCAA Division 1 hockey to Minnesota State of the WCHA.
The 5'11/183 lbs. native of Boulder, Colorado ranks in the top 10 of all goaltender stats in the NAHL. His .929 save percentage is good for eighth, while his 1.68 goals against average ranks seventh.
"Andrew has done a tremendous job for us this year," said Bobcats head coach Layne Sedevie. "He is technically sound and square to pucks, his ability to track pucks and his eye-hand coordination are at the forefront of his game. That is going to make him a big time goaltender at the NCAA level."
Miller, 19, is the eighth player on the Bobcats 2019-20 roster who is now committed to an NCAA Division 1 school.
"I really love the program, and the coaching staff is phenomenal. It was an all-around home run for me. When they offered me, I gladly accepted it," Miller said. "With the help of Garrett Roth and Layne Sedevie, Bismarck has been a huge help for me," Miller said. "Even in a short period of time, they've helped develop my game to a spot it's never been at before."
Miller was named the NAHL Goalie of the Month for October, posting a .988 save percentage and a 0.33 goals against average to go along with three wins and two shutouts.
Miller is another great example of the NAPHL to NAHL to NCAA Division 1 hockey ladder of development. Miller played in the NAPHL for four full seasons leading up to his first season this year in the NAHL. That included appearances in the 2018 NAPHL 18U All-Star Game and 2018 NAHL 18U Top Prospects Tournament. He was also named to the All-NAPHL 18U 1st Team during the 2017-18 season and the All-NAPHL 16U 2nd Team during the 2016-17 season.
"I'd like to thank my family for being a huge help for me, ever since I was four-years-old and trying to skate," Miller said. "I'd also like to thank my coaches throughout all of my age levels. They've each helped develop a part of my game that I still hold with me."