Third NAPHL event concludes in Blaine
October 22, 2019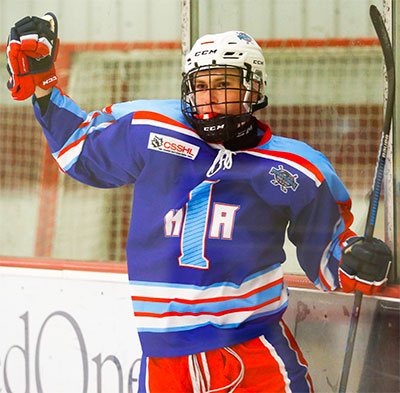 The third NAPHL event of the 2019-20 season came to a close in Blaine, Minnesota, on Monday, October 21st as the 18U and 16U Elite Division and Prep Division teams played in their final games of the event.
The event was another very successful one for the NAPHL and the almost 100 teams that competed in the event, which included the 18U and 16U Elite Division teams, along with the Prep Division and 18U, 16U and 14U Showcase Divisions.
Over 40 scouts checked in during the event to watch and scout the action, which included scouts from the NCAA, NAHL, and USHL. It also included three NAHL head coaches, which included Carter Foguth (Chippewa Steel), Moe Mantha (St. Cloud Blizzard), and Jon Vaillancourt (Minnesota Wilderness).
Day 4 Recaps:
16U Division
The 16U Showcase division closed out the event with four games on Monday.
Gentry finished strong with a 14-0 win, featuring five goals from Bennett Schimek, four goals from Jack Harvey and a shutout from Matthew Bridger. Florida Alliance edged out Sylvania with a pair of third period strikes. MyEdge knocked off Colorado Springs 8-2 as Cody Croal bagged a hat-trick. Finally, Arizona and Des Moines battled in OT before Stephan Kuznetsov potted his second of the game to win it for the Jr. Buccaneers.
18U Division
Monday saw heavy 18U action at the NAPHL showcase. Colorado Springs was the first team to hit the ice, knocking off Prep division Pilot Mound 3-0 in a crossover game.
From there, Ontario slipped past Magicians Elite 3-2 in a shootout, Arizona Bobcats topped POE 3-2 in overtime, Janesville breezed past Florida Alliance 4-1, Wilderness nicked Portland 3-1, Thunder Bay potted four unanswered for a 4–1 win over Des Moines and Shattuck St. Mary's put on a clinic in an 8-0 win over Green Bay.
Prep Division
The Prep division capped off its weekend with seven divisional game and one crossover contest.
Fernie tacked on a 2-1 win over Tahoe, IHA Clearwater took down St. Mary's 4-1, Northstar rolled on with a 6-3 win over IHA Calgary, Pacific Ridge shut down Prairie 4-0, St. Rita surged past Regis Jesuit 4-2, IHA Calgary Varsity knocked off Fountain Valley 5-4 after Nathan MacDonald finished his hat-trick in overtime and Valor dispatched Tampa EDP with a 9-1 decision. Ending the day, Pilot Mound fell to Colorado Springs 3-0 in the crossover matchup.
That's all from Blaine — thanks for following along, and don't miss the next NAPHL event in Danbury, CT from November 8-10!