Showcase Division comes to a close on Sunday at NAPHL event
October 21, 2019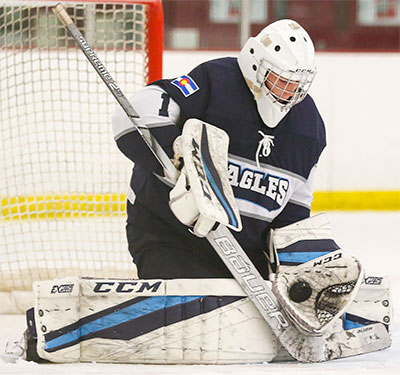 The third event of the 2019-20 NAPHL season continued on Sunday as the Showcase Division teams played in their final games of the event, while the Elite and Prep Division teams continued their play. Scouts from the NCAA, NAHL, and USHL have checked into the event, which has also included two NAHL head coaches. The event wraps up on Monday with Day 4
All games will be broadcast live on
HockeyTV
This weekend's event features the 18U and 16U Elite Division teams, along with the Prep Division and the debut of the 18U, 16U and 14U Showcase Divisions.
Download the
NAHL App
to keep up to date with NAPHL score
s
(
iOS
-
Google Play
)
Day 3 recaps:
14U Division
This weekend's 14U action came to a close on Sunday with five games.
Atlanta — led by Benjamin Weisheyer's hat-trick — kicked things off with a wild 7-5 win over Vegas, Chicago Jets took a 2-1 win over Dallas Penguins, South Florida rolled past Arizona 8-0, Geneva knocked off McKinney 6-3 and Ontario closed out the day with a 2-1 OT win over Nashville, with Steven Macias tallying both Reign goals.
16U Division
The 16U play did not disappoint on Sunday, with results from shutouts to blowouts and everything in between.
Geneva opened the day with a 2-0 win over Lansing, followed by Chicago Jets taking a 6-4 decision against Nashville. Chesterfield followed with a 3-1 win over Park City, Arizona edged Clearwater 2-1, Texas Jr. Brahmas outlasted Affton 4-2, McKinney escaped with a 3-2 SO win over Chicago Hawks, West Dundee lit up the Magicians for a 7-3 victory and Naperville slipped past DYHA 2-1.
Later on, shutouts dominated play, as Littleton, Highland Park, Orland Park, Northern Express, Gentry and Florida Alliance each held opponents to goose eggs. The only game in that block that featured goals from both sides saw Magicians Elite take a 4-1 victory over Colorado Springs.
Capping the Sunday action, Gentry's juggernaut rolled on with a 9-0 win over Colorado Springs, MyEdge picked up a 3-2 win over Des Moines, Sylvania held off a late Arizona comeback for a 4-2 win and Florida Alliance erupted for a 9-2 win over Magicians Elite.
18U Division
It was another loaded day of 18U hockey, including a pair of crossover matchups against Prep teams. Northstar Prep shut down Arizona Bobcats in the first inter-divisional game, while the Thunder Bay Kings took down Tahoe Prep 4-2.
Divisional play kicked off early, with Clearwater managing a 2-1 win over Vernon Hills, Anaheim slamming the door on Affton 3-0, Chesterfield running riot against Arizona Hockey Union in a 7-1 win, Chicago Hawks putting up a lucky seven of their own in a 7-2 win over South Florida, West Dundee topping TRC 3-2 after Ethan Chesney's double and the Dallas Penguins coming away with a 3-2 SO win over the Chicago Bruins.
From there, Naperville opened the later set of games with a 4-0 shutout of Hyland Hills, Magicians found twine in OT for a 5-4 win over Littleton, Highland Park hit double digits in a 10-1 victory over Park City, Geneva dispatched McKinney 6-2 and Arizona Mission put up a 4-1 decision against Orland Park.
Closing out the day, Green Bay held off the Wilderness for a 5-2 win, Colorado Springs and Florida Alliance each took 3-2 OT wins over Des Moines and Magicians Elite, respectively, Janesville nabbed a 3-1 win over Ontario, IHA Calgary potted a half-dozen in a 6-3 win over Portland and Shattuck St. Mary's ended the day by beating POE 5-3.
Prep Division
Prep contests continued on Sunday, including a pair of crossover matchups against 18U Elite teams. Northstar Prep shut down Arizona Bobcats in the first inter-divisional game, while Thunder Bay Kings took down Tahoe Prep 4-2.
In Prep play, IHA Florida edged Fernie 4-3 thanks to a Santeri Husso hat-trick, Pacific Ridge shut out IHA Calgary Varsity 4-0 and Fountain Valley topped St. Rita 5-3.
Later, Valor outlasted Pilot Mound for a 4-3 win, Regis Jesuit steamrolled Tampa EDP for a 9-0 victory and Prairie escaped with a 2-1 win over St. Mary's after Zach Ashworth's regulation goal and shootout winner.
Stay tuned to @NAPHL on Twitter for updates from the final day of the showcase!