Showcase, 14U Divisions make splash on Day 1 of NAPHL event
October 19, 2019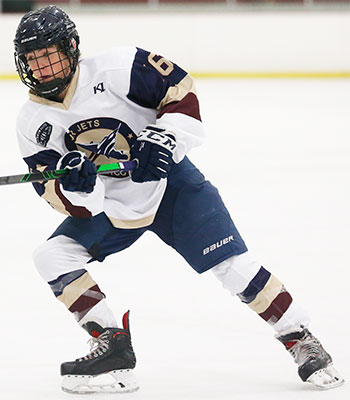 The third event of the 2019-20 NAPHL season got underway on Friday as the Showcase Division teams took center stage. Over 30 scouts checked in on Day 1 to watch the action at the Super Rink in Blaine, Minnesota. The event continues with Day 2 on Saturday as the NAPHL Elite and Prep Division teams make their debuts at the events.
All games will be broadcast live on
HockeyTV
This weekend's event features the 18U and 16U Elite Division teams, along with the Prep Division and the debut of the 18U, 16U and 14U Showcase Divisions.
Download the
NAHL App
to keep up to date with NAPHL score
s
(
iOS
-
Google Play
)
Day 1 recaps:
14U Division
The 14U slate kicked off with shutouts in four of the first five games of the day, as the Chicago Jets blanked the Arizona Bobcats with Michael Hughes between the pipes, Jack Houck backstopped Geneva to a 3-0 win over Ontario, the Dallas Penguins rode Austin Leija's effort to a 7-0 win over South Florida and Janesville's offense erupted for a 14-0 win over Nashville in front of Blake Craven's stone wall in net. Elsewhere in the early portion of games, McKinney slipped past Vegas 2-1 for a comeback win and Atlanta outlasted Arizona in a 6-5 thriller.
Later, South Florida and Chicago Jets kept the shutout vibes rolling by blanking Ontario and Atlanta, while Nashville, Janesville and Dallas Penguins each picked up wins over Vegas, McKinney and Geneva, respectively.
16U Division
16U action opened with 24 games on Friday. Vegas are Northern began the day with 3-2 and 3-1 wins over Affton and Magicians, while Geneva and Chicago Jets took home larger margins of victory as they took down DYHA and Arizona Mission 6-1 and 9-0, respectively. From there, Lansing knocked off Central Florida, Chesterfield slipped past Ontario, Littleton and Orland Park cruised past Clearwater Ice Storm and Texas Jr. Brahmas 4-1 and 8-1, and Highland Park held off Park City for a tight 1-0 win.
Naperville topped McKinney 4-1, Chicago Hawks shut out Arizona 6-0 and West Dundee outlasted Nashville 5-4 in an OT thriller to close out the first round of games.
After that, teams began taking the ice for the second time on Friday. Northern opened up the afternoon slate with a huge 8-0 win over Arizona, joining Geneva and Littleton with shutouts in the first four games of the evening. Chesterfield, Chicago Jets and Chicago Hawks each logged closer wins, respectively toppling Central Florida, Vegas and DYHA by no more than two goals.
Closing out the day, Orland Park dispatched Arizona by a 7-1 final, Park City earned a 3-2 comeback OT win over McKinney, Naperville found a late winner in a 3-2 victory over Nashville, Affton breezed past Magicians 6-1, Highland Park scored early and often in a 6-3 win over Clearwater Ice Storm and West Dundee stayed perfect with an easy 8-1 win over Ontario.
18U Division
Big wins highlighted day 1 of 18U play, as teams came out swinging in a big way. Highland Park dropped South Florida 9-2, Arizona Hockey Union took down Vernon Hills 6-1, Naperville rolled past Clearwater Ice Storm 5-2 and Dallas Penguins strolled past Littleton 8-2 in the first four games of the day.
From there, play began to level out, as Chicago Bruins toppled McKinney 4-2, Arizona Mission put up another outlier with a 7-3 win over Chicago Hawks, Anaheim outlasted West Dundee in a 7-5 thriller and Chesterfield needed a shootout to knock off Park City 4-3.
Closing out the first round of games for the day, Geneva stomped TRC 7-1, Magicians rode a late winning goal to a 4-3 decision against Affton and Orland Park shut out Hyland Hills with Timmy Darche in net.
The second round of games for some teams then opened the way the first ended — with a 3-0 shutout — this time won by Anaheim over Highland Park. Chesterfield picked up a 7-2 win over Hyland Hills, Dallas Penguins stayed unbeaten with a 7-3 win over Wet Dundee and Chicago Bruins found the only goal in a defensive lockdown against Arizona Mission.
Geneva then unloaded against Magicians for a 10-4 win, Arizona Hockey Union grabbed another win with a 3-2 OTW against Naperville and Chicago Hawks and South Florida managed to salvage individual splits on the day after beating Clearwater Ice Storm and Littleton.
In the late games, Orland Park took home a shootout win over TRC, McKinney romped to a 6-1 win over Affton and Park City snagged a 4-2 victory over Vernon Hills after a pair of third-period tallies.
Stay tuned to @NAPHL on Twitter for updates from the rest of the showcase!