NAPHL alumni earn weekly NAHL and NCAA awards
October 17, 2019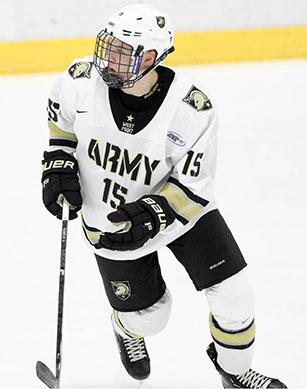 NAHL Midwest Division Star of the Week: Spencer Oyler, D, Chippewa Steel (Meijer AAA 16U/18U, 2016-18)
Chippewa Steel defenseman Spencer Oyler, 19, helped his club widen their lead in the Midwest Division and run their winning streak to six straight games with the home sweep of the Springfield Jr. Blues. The 6'0/176 lbs. native of Howell, Michigan, recorded four points in two games and extending his point streak to four straight games. That included a one goal, two assist effort in a 7-2 win on Saturday. For the season, Oyler has eight points in 10 games played. "Spencer has been a rock for us on the back end to start the season. His poise on the ice has helped our defensive corps become a big part of our early success. He has taken a big step forward with his play and contributes to our team in all situations. Earning a letter this season also shows the amount of respect his teammates have for him," said Steel head coach Carter Foguth.
Atlantic Hockey Defensive Player of the Week: Marshal Plunkett, Army (Madison Capitols 16U, 2014-15)
Marshal Plunkett had the primary assist on the game-winning goal in Army's 2-1 road win over UConn Friday night. The sophomore has now assisted on the game-winning goal of both wins to open the season. He also is part of the penalty kill unit that negated all four UConn power-play opportunities and added one block in the win.
B1G #3 Star: Cole Hults, Penn State (Madison Capitols 18U, 2014-15)
Hults netted the first hat trick by a defenseman in program history and the eighth overall in a season-opening victory against Sacred Heart. He became the first Big Ten defenseman to score a hat trick in more than three years. He also added a shorthanded goal and an assist in the series finale on Saturday. This is his first career weekly award.
NCHC Forward of the Week: Chris Wilkie, Colorado College (Omaha AAA 16U, 2010-12)
Wilkie had a monster opening weekend of the regular season, racking up five points in a split against Minnesota this past weekend Oct. 11-12. In the regular-season opener on Friday, the Florida Panthers draft pick single-handedly rallied CC to a 3-2 win over the Golden Gophers. He scored two goals in the third period, tying the game each time with the first on the power play, while he had the primary assist on the game-winning goal in the closing minutes of regulation. It was his first multi-goal game as a Tiger. Wilkie was +2 with five shots on goal in Friday's win and earned First Star of the Game. The next night in the series finale, Wilkie added two more points, scoring another goal to put CC up 2-0, while assisting on the Tigers' final goal in a 4-3 defeat. He was Third Star of the Game on Saturday. Wilkie finished the series having a hand in five of CC's six goals on the weekend, scoring three goals and assisting on two, while firing eight shots on goal, hitting three posts additionally, and posting a +3 plus/minus.
WCHA Rookie of the Week: Lucas Sowder, Minnesota State (Tampa Scorpions 18U, 2015-16)
Forward Lucas Sowder helped lead the No. 3/3 Mavericks to a home non-conference sweep of Arizona State. Led all WCHA freshman on the weekend with three points on one goal and two assists. The Trinity, Fla., native had two assists in Friday's 4-1 win, including one on a shorthanded goal by Marc Michaelis. Sowder scored his first career goal in Saturday's 5-0 victory.