NAPHL completes second event out East
October 9, 2019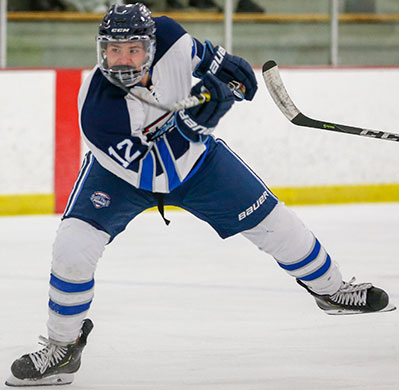 18U Final Day Recaps
Florida 4 vs Philadelphia 7 - Byron Hartley's hat-trick and doubles from Lukas Washco and Cole Soster paced an impressive Jr. Flyers display, as they knocked off Florida Alliance 7-4. Jackson Bennett, Jack Conley, Jack Cohen and Andrew Diaz lit the lamp for Florida, but were stymied by Liam Gross' 17 saves in the Philadelphia net. Blake Valli and Joseph Garrison posted a combined 29 saves in the Florida cage.
Madison 1 vs Northeast 2 (OT) - Braeden Kennedy's extra-time heroics helped the Generals escape with a 2-1 win over Madison. Kyle Brauch put the Capitols ahead early, but Payton Felix's late marker forced overtime. Christopher Meehan took the win with 27 saves, while Mark Moreno was dealt the loss despite 30 saves of his own.
Meijer 8 vs Seacoast 0 - Meijer came out flying in this one, with Mike Morelli posting a 14-save shutout and Evan Burkle nabbing a hat-trick to pace their team to an 8-0 win over the Spartans. Joining Burkle on the scoresheet were Andrea Fleutot, Jakub Hall, Chris Hedden, Owen Devries and Connor Williams. Austin Sequera put in a solid shift for Seacoast despite the loss, turning aside 35 of 43 shots between the pipes.
Sioux Falls 5 vs Team Maryland 3 - Down 3-2 late in the second period, the Power rattled off three unanswered tallies to snatch a 5-3 comeback win over Maryland. Brett Reed set the pace with a pair of goals, while Joseph Quast, Joe Prouty and Keith Schenkel each netted once. For Maryland, Farrell Dinn, Avvi Tanasiyenko and Michael Greene found twine to lead their offensive efforts. Christopher Jackson took the win in the Power net with 21 saves, while Daniel Crowe stopped 28 for Maryland.
95 Giants 1 vs Everett 3 - Ethan Ranger opened the scoring for the Giants, but the Silvertips roared back to take a 3-1 win. Tobias Robinson, Keiton Klein and Cole Dubicki led the Everett resurgence with goals, while Henry Bleasdale backstopped the win with 14 saves. Giants goalie AJ Cohen made 34 saves in the loss.
New Jersey 2 vs Esmark 1 (SO) - Nick Ostbloom tallied the shootout winner to seal a 2-1 win for New Jersey over Esmark. Miles Harrington tallied for the Titans in regulation time, while Ryder Brophy answered for the Stars. Ty Franchi snagged the win with 23 saves, outdueling Danny Mitchell of Esmark, who stopped 37.
Carshield 8 vs New England 2 - Coby Webber, Chase Cochran and Adam Rischbieter each tallied twice and Joseph Quick stopped 11 pucks as Carshield knocked off New England 8-2 to close out 18U action at the East showcase. Kyle Juhala and Chase McClellan also lit the lamp once for Carshield, while Will Halecki and Alex Chaconas provided the Generals' offense. Matt Pierce made 34 saves for New England.
16U Final Day Recaps
Meijer 4 vs Esmark 2 - Owen Petersmark led Meijer to a 4-2 victory over Esmark with a pair of goals in the contest, joining Justin Lang and Jacob Gray on his team's side of the scoresheet. Alexander Keller starred for the Stars with a pair of his own, as Nathan Dickey and Logan Marnik combined for 22 saves in Esmark's net. Logan Verpoort took the win, though, with 21 saves for Meijer.
Carshield 0 vs Everett 4 - Logan Givens posted a shutout and four different skaters found twine as the Silvertips breezed past Carshield 4-0. Asher Lajiness, Eric Kelly, Miles Berg and Cade Bradley provided the offense in this one, as Carshield netminder Sam Schmidt faced down a barrage between the pipes.
Gentry 10 vs Northeast 3 - Gentry's juggernaut rolled on in this one, as Cruz Lucius and Jack Harvey highlighted a 10-3 win over the Generals with hat-tricks apiece. Bennett Schimek put on a show as well with two goals, as Nick Sajevic and Gavin Frack each netted once. Tyler Ramm starred for Northeast with a couple goals of his own, and Nick Ramm rounded out the Northeast attack with an individual marker. Matthew Bridger made 16 saves for the win, while Kai Taylor stopped 28 for Northeast.
Sioux Falls 1 vs New Jersey 0 - A tight-checking affair went the way of the Power after Adler Johnston's second period goal, guiding Sioux Falls to a 1-0 win over the Titans. Hobie Hedquist earned the shutout win, outmatching Dimitrii Kapranov in the New Jersey net.
Madison 1 vs New England 0 - Nick Summers put up a wall in front of the Capitols' net, stopping 25 of 25 as Joshua Miller bagged the game's only goal to guide Madison to a 1-0 win over the Generals. New England netminders Adam Costley and Matthew Cusolito combined for 22 saves in the game.