Competition much tighter on Day 2 of NAPHL East event
October 6, 2019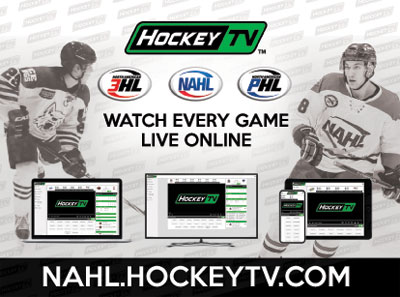 The second event of the 2019-20 NAPHL season continued on Saturday, October 5th with Day 2 of the new event out East at the NAPHL East Showcase, being played from October 4-6 in Attleboro, MA and Cranston, RI.
Day 2 featured plenty of scoring and offense, but also tighter and more competitive games. The event continues on Sunday with Day 3 with the finall slate of games.
This weekend's event features the 18U and 16U High Performance teams and NAPHL East teams. It will also be played in cooperation with the new NA3HL East Showcase, which runs from October 5-8 at the New England Sports Village in Attleboro, MA. All the teams from the NA3HL's Coastal and Northeast Divisions will be in attendance in addition to the St. Louis Jr. Blues, Atlanta Capitals, and Texas RoadRunners.
Day 2 18U recaps
Carshield 1 vs New Jersey 6 - Joshua Burke bagged a hat-trick and Luke Jaspen made 23 saves to help the Jr. Titans to a 6-1 win over Carshield AAA. Derek Cagle put Carshield ahead in the first, but six straight New Jersey markers including Burke's triple and individual tallies from John Buffington, Nick Ostbloom and Dylan Miller sealed the Titans' win. Teddy Stevens made 27 saves in the loss.
Meijer 6 vs Philadelphia 2 - Meijer AAA jumped out to a 3-0 advantage in the opening two periods and held on from there for a 6-2 win over the Little Flyers. Five different Meijer skaters hit the back of the net, including Owen Devries twice, Evan Burkle, Brendan Dicker, Carter Schram and Logan Furstenau. Lukas Washco and Byron Hartley netted for Philadelphia, in front of 27 saves from Harris Brotman. Hunter Garvey earned the win between the pipes, making 16 saves for Meijer.
Everett 4 vs Northeast 1 - Keiton Klein lit the lamp twice and Carson VanWinkle stopped 31 pucks to guide the Silvertips to a 4-1 win over Northeast on Saturday. Joining Klein on the scoresheet were Christian Stucky and Noah Christiana for Everett, while Payton Felix nabbed the lone Generals goal. Jake Essensa stopped 20 in the loss.
Florida 2 vs Seacoast 4 - Nick Humaran struck twice for Florida, but his efforts fell short as the Spartans overwhelmed the Alliance for a 4-2 win. Jameson Bakke led with a pair of goals for Seacoast, as Arturs Tomsons and Joe Mendozza netted as well. Ethan Kavanagh stopped 22 for the victory between the pipes, while Blake Valli suffered the loss despite a 31-save performance for Florida.
Sioux Falls 11 vs 95 Giants 1 - Sioux Falls' offense ran rampant in this one, highlighted by Braden Husby's stunning five-goal showing en route to an 11-1 victory over 95 Giants. Joey Prouty also starred with a pair, joining Conner Willard, Nate Mohr, Riley McAlese and Jake Galvin in the offensive onslaught. Nicholas Pineo took the win with nine saves in net, conceding only to Ryan O'Donnell of the Giants. Mason Matthew stopped 28 pucks in the Giants' net.
Madison 3 vs New England Generals 2 (SO) - A tense, back-and-forth contest ultimately went the way of Madison 3-2, thanks to Austin Buck's shootout heroics. Will Halecki nabbed a pair for the Generals in regulation time, but Jonathan Hippen and Joe O'Reilly canceled him out to force extra time. Luigi Pugsliese took the 27-save win, while Matt Cusolito stopped 29 for New England.
Esmark 2 vs Team Maryland 1 (OT) - Alex Walker lit the lamp just under two minutes into overtime to lift the Stars to a 2-1 win over Team Maryland to close out Saturday's 18U action. Corbin Ragno started the scoring for Esmark, but Zak Mbereko leveled the contest with a Maryland marker late in the game. Connor Strobel turned aside 25 pucks for the victory, while Collin Berke faced down 33 in the Maryland cage.
Day 2 16U Recaps
New England Generals 3 vs Madison 1 - Matt Mahoney and Jack Letendre tallied late goals to help the Generals pull away with a 3-1 win over Madison to start the day. Alex Giuliano put New England ahead early, but Dalton Swensen leveled the affair later in the contest, before the late Generals goals. Max Cote stopped 26 pucks in the win, outdueling Nick Summers' 21 saves in the Capitols' cage.
New Hampshire 1 vs Meijer 4 - A balanced effort pushed Meijer to a 4-1 win over New Hampshire, as four different skaters hit the scoresheet in the victory. Owen Petersmark, Parker Anderson, Sutter Muzzatti and Dylan Glinski each lit the lamp for Meijer as Logan Verpoort made 17 saves.
95 Giants 0 vs Carshield 6 - A trio of doubles led the way, as Carshield cruised to a 6-0 win. Sam Schmidt earned the shutout. with Eli Baumstark, Walt Baumstark and Gavun Delfosse each lighting the lamp twice for the win. Carson Mielnik put forth a valiant effort in the Giant's crease in the loss.
Northeast 2 vs Esmark 8 - Justin Mettrick and Adis Ultanbekov each starred with two goals apiece in an impressive 8-2 win for the Stars over the Generals. Alexander Keller, Hunter Fairmain, Grant Parshall and Keith Smilowitz also found twine for Esmark, while Michael Locke and Tyler Ramm put Northeast on the board. Logan Marnik's 19 saves earned the victory, while Aiden Tibbetts and Kai Taylor combined for 37 saves in the Northeast net.
Gentry 4 vs Sioux Falls 2 - The second period held all the goals in this one, as Gentry and Sioux Falls butted heads in an eventual 4-2 win for the Galaxy. Jack Harvey started the middle frame frenzy for Gentry, before Drew Montgomery leveled things up for the Power. Bennett Schimek then potted a pair for a 3-1 Gentry lead, cut into almost immediately by Davis Borozinskis of Sioux Falls. But Schimek finished off his hat-trick to seal the Galaxy victory before the period came to a close. Matthew Bridger took the win between the Galaxy pipes, outdueling Michael Habbe in the Power cage.
New Jersey 4 vs Everett 2 - The Titans built up a 3-0 advantage that proved too difficult for Everett to overcome, despite a late comeback bid, as they knocked off the Silvertips 4-2. Luke Riley, Peter Vallebuona, Alexander Sech and Nick Gallo provided the offense for New Jersey, while Liam Fraser and Cade Bradly mounted a late attack for Everett. Dimitrii Kapranov stopped 26 pucks for the win, while Logan Givens and Andrew Tworkowski put up a shared 28 stops for Everett.
Carshield 4 vs New Hampshire 5 (SO) - A thrilling matchup between Carshield AAA and the Avalanche went more than the distance, as Carshield came back to tie the contest three separate times but fell just short, losing 5-4 in a shootout. Gavun Delfosse, Eli Baumstark, Ryan Spinner and Daniel Rudman scored for Carshield in the tug-of-war that saw four goals in the third period alone. Jordan Behnen stopped 21 pucks in the loss.
Everett 2 vs Esmark 9 - The Stars collectively flexed their muscle once more, putting up at least eight goals for the second time on the day in a 9-2 win over Everett. Alexander Keller had a hat-trick, Adis Ultanbekov and Keith Smilowitz each potted another pair, and Hunter Fairmain and Ethan Zupanc rounded out the Stars' strikes in front of Nathan Dickey's win between the pipes. Max Mudge and Johnny Singer scored for the Silvertips, while Andrew Tworkowski suffered the defeat despite a strong effort in goal.
Madison 2 vs 95 Giants 5 - Madison's Dalton Swensen scored twice late in the second period to cut the Giants' lead to 3-2, but they pulled away in the third to take a 5-2 victory over the Capitols. Brayden Deschamps, Jack Lamothe, Ayden Attungana, Matt Pedersen and Earl Gretzinger provided the Giants' offense, overpowering Swensen's markers for Madison. Carson Mielnik earned the win with 14 saves in net, while Jake Agoglia put on quite a show in the Capitols' crease despite the loss with 45 saves.
Sioux Falls 1 vs Northeast 0 - A tense goalie battle through regulation time eventually gave way to a shootout, where Jacob Vockler was the only one to light the lamp and help the Power to a 1-0 shootout win over the Generals. Jack Stark stood tall in net for Sioux Falls, while Aiden Tibbetts put up a strong effort of his own in the opposite crease.
Gentry 4 vs New Jersey 1 - Jack Harvey's two goals provided the boost needed as Gentry outlasted the Jr. Titans and pulled away late for a 4-1 win. Cruz Lucius and Bailey McGraw added Galaxy goals as well, while Jeremy Shandel nabbed the lone New Jersey marker. Cole Wheaton took the win between the Gentry pipes, outdueling New Jersey's John Donohoe.
Meijer 2 vs New England Generals 0 - Logan Sarrazin posted a shutout effort to push Meijer past New England 2-0 to close out the day's action. Owen Petersmark again found twine, joining Connor McAleer on the scoresheet. Adam Costley stood tall in net for New England despite the loss.