Offense shines on Day 1 of NAPHL event out East
October 5, 2019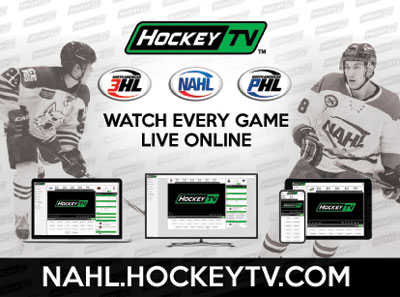 The second event of the 2019-20 NAPHL season got underway on Friday with a new event out East at the NAPHL East Showcase, being played from October 4-6 in Attleboro, MA and Cranston, RI.
Day 1 featured plenty of scoring and offense. The event continues on Saturday with Day 2 with another full slate of games.
This weekend's event features the 18U and 16U High Performance teams and NAPHL East teams. It will also be played in cooperation with the new NA3HL East Showcase, which runs from October 5-8 at the New England Sports Village in Attleboro, MA. All the teams from the NA3HL's Coastal and Northeast Divisions will be in attendance in addition to the St. Louis Jr. Blues, Atlanta Capitals, and Texas RoadRunners.
18U Recaps
Florida Alliance 10 vs 95 Giants 1 - Jackson Bennett set the pace with four goals, Andrew Diaz added a double and the Alliance dominated the shorthanded Giants en route to a 10-1 win on Friday. Noah Gabryluk, Nick Humaran, Jared Parks and Máté Imre found the Florida side of the scoresheet as Joseph Garrison stopped 13 of 14 for the win. AJ Cohen and Mason Matthew combined for 41 saves for the Giants.
Carshield 5 vs Seacoast 1 - Five different players found the scoresheet and Teddy Stevens made 21 saves to pace a 5-1 victory for Carshield AAA over the Seacoast Spartans. Tony Andrews, Jack Kerich, Kyle Juhala, Adam Rischbieter and Austin Meers lit the lamp for Carshield, while Kevin McGuire nabbed the lone Spartans strike. Ethan Kavanagh turned aside 30 pucks in the loss.
Sioux Falls 4 vs Philadelphia 2 - Two third-period tallies and a 28-save effort from Nicholas Pineo pushed the Power to a 4-2 win over the Little Flyers. Brett Reed, Joseph Quast, Nate Mohr and Jake Galvin bagged goals for Sioux Falls, while Koby Howat and Lukas Washco provided the Philadelphia offense. Liam Gross made 29 saves for the Little Flyers.
Esmark 15 vs New England Generals 0 - Six players bagged at least two goals as the Stars coasted to a 15-0 shutout of New England on Friday. Connor Strobel got credit for the goose egg in net, as Dominic Dezort starred with four tallies. Joining Dezort on the scoresheet were Alex Walker, Ryder Brophy, Edward Pazo, Brayden Morgan and Corbin Ragno with a pair apiece, as well as Dalton Swartz with a single goal of his own. Matt Pierce stopped 35 pucks in the loss.
Everett 4 vs Team Maryland 6 - It was a banner outing for Farrell Dinn, who bagged four goals to guide Team Maryland to a 6-4 win over Everett. Sean Jones also starred with two goals of his own to round out the Maryland offense in front of 24 saves from Collin Berke. Keiton Klein led the Silvertips with two goals, joining Trevor Mertel and Kaleb Kwiatkowski on the scoresheet. Carson VanWinkle and Henry Bleasdale combined for 26 saves in the Everett crease.
Madison 1 vs New Jersey 8 - Domenick Migliorato potted a hat-trick and Colin Driscoll scored twice as the Jr. Titans erupted for an 8-1 victory over the Capitols. Thomas Stone, Nicholas Skliarenko and Michael Frattaroli rounded out the New Jersey markers, while Jonathan Hippen posted Madison's only goal. Cole Jackson took the win between the New Jersey pipes, while Luigi Pugsliese suffered the loss for Madison.
Meijer 5 vs Northeast 1 - Three unanswered third-period tallies saw Meijer ease past the Generals with a 5-1 win. Andrea Fleutot struck twice in the victory, as Carter Schram, Logan Furstenau and Spencer Allen also contributed to the Meijer tally in front of Hunter Garvey's 13 saves. Preston Phelps potted the lone Northeast goal, with Jake Essensa stopping 35 pucks between the Generals' pipes.
Northeast 1 vs Sioux Falls 8 - Two goals apiece from Keith Schenkel and Braden Husby fueled a potent Power attack as they topped the Generals 8-1. Riley McAlese, Joseph Quast, Logan Lee and Scott Jiskra added goals as well, with Christopher Jackson backstopping the win with 16 saves. Braeden Kennedy netted the lone Northeast goal, while Christopher Meehan turned aside 32 of 40 shots in net.
New England Generals 3 vs Florida Alliance 11 - Two-goal efforts from Jackson Bennett, Pyry Taskila and Andrew Diaz propelled the Alliance to their second win of the day, this time 11-3 over the New England Generals. Nick Humaran, Noah Gabryluk, Jack Cohen, Jack Conley and Máté Imre lit the lamp as well as Blake Valli backstopped the effort between the pipes. New England's Alex Chaconas put on a show despite the defeat, netting a hat-trick to account for his team's offense, as Matt Pierce performed admirably in the crease.
Seacoast 1 vs Esmark 3 - Corbin Ragno and Dominic Dezort pushed the Stars out to a 2-0 lead through the first two periods, and managed to hang on for a 3-1 win on Friday. Noah Staten put the Spartans on the board in the third, but Ryder Brophy netted an insurance tally to seal the win. Danny Mitchell's 16 saves backed the victory, while Austin Sequera turned aside 19 in the loss.
Team Maryland 5 vs Madison 2 - Maryland struck thrice late in the third to pull away in a back-and-forth affair and take a 5-2 win over the Capitols. Farrell Dinn led with two goals, joining Christopher Dorrer, Scott Cremen and Sean Jones in the lamplighting action. Noah Yancey and Joe O'Reilly potted the Madison markers. In net, Collin Berke saved 24 pucks for the win, while Mark Moreno made 36 stops in the Capitols' cage.
95 Giants 0 vs Carshield 5 - Joseph Quick earned a shutout and Cody Webber scored twice as Carshield took down 95 Giants 5-0. Tyler Culleton, Tony Andrews and Chase Cochran rounded out the offense as Carshield forced Mason Matthew to make a whopping 63 saves in the Giants' net.
New Jersey 4 vs Meijer 1 - Aiden Westin and Dylan Miller opened up a 2-0 lead for New Jersey in the first period, ultimately fueling their team to a 4-1 victory. Chris Hedden put Meijer on the board in the sandwich stanza, but Christopher Repmann and Parker Lockwood capped off the win with another two goals in the final period. Derek Vastola notched the win in New Jersey's net, outdueling Mike Morelli in Meijer's crease.
Philadelphia 6 vs Everett 0 - Two goals apiece from Jack Costible and David Matousek, a four-point performance (1g, 3a) by Kyle Patton and a 15-save shutout from Harris Brotman pushed the Little Flyers to a 6-0 romp against Everett. Byron Hartley added Philadelphia's fifth goal in a free-flowing offensive game. Henry Bleasdale put up 23 saves in the Everett net in the loss.
16U Recaps
Madison 0 vs Northeast 6 - Connor Doherty netted a hat-trick, Aiden Tibbets posted a 15-save shutout and the Generals breezed past Madison 6-0. Owen Locke, Michael Locke and Tyler Ramm fueled the offense, as Northeast forced Jake Agoglia of Madison into 26 saves.
Esmark 4 vs New Jersey 0 - A 21-save shutout from Nathan Dickey coupled with a pair of goals from Adis Ultanbekov pushed the Stars to a 4-0 win over the Jr. Titans. Keith Smilowitz and Alexander Keller potted a goal apiece as well. John Donohoe stopped 33 pucks for New Jersey.
Everett 6 vs New England Generals 0 - The Silvertips' offense rolled and Logan Givens stopped all 15 shots as they knocked off New England 6-0. Reese Mills and Asher Lajiness led with two goals apiece, while Jake Knoles and Cade Bradley each lit the lamp once. Matthew Cusolito turned aside 30 pucks in the loss.
Gentry 14 vs 95 Giants 1 - The Gentry juggernaut kept rolling on, as Jack Harvey and Gavin Frack led the way with hat-tricks to push their team to a 14-1 win over 95 Giants. Nick Sajevic, Cruz Lucius, Connor Kurth and Bennett Schimek rounded out the scoring with two goals apiece, while Brayden Deschamps netted the lone Giants' goal. Cole Wheaton's 12 saves earned the win, while Carson Mielnik stopped 37 in the loss.
Carshield 0 vs Meijer 4 - Dylan Glinski put Meijer ahead 2-0 early and they never looked back, relying on Logan Sarrazin's 15-save shutout for a 4-0 win over Carshield. Owen Petersmark and Asher Smith put up the remaining goals for Meijer, as Jordan Behnen stopped 24 pucks for Carshield.
Sioux Falls 4 vs 95 Giants 0 - Four different players hit the scoresheet and Jack Stark recorded a shutout as the Power breezed by 95 Giants 4-0. Zach Vockler, Jacob Rude, Marcus Miller and Casey Winders put up the offense, as Carson Mielnik put in a valiant effort in the Giants' cage despite the loss.