NAPHL players have significant presence in NAHL Draft
June 7, 2019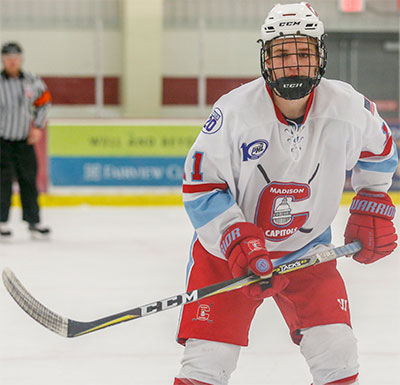 The North American Prospects Hockey League (NAPHL) is pleased to announce 22 current or former players were selected in the 2019 North American Hockey League (NAHL) Draft, which was held earlier this week on Tuesday, June 4th.
On top of the 22 players who were drafted, 49 players who played in the league during the 2018-19 season signed NAHL tenders for the upcoming 2019-20 season.
In total, a record number of 71 NAPHL players were either drafted or tendered by NAHL teams for the 2019-20 season.
The NAPHL has proved over the years that the league is a great stepping-stone for development and training for young hockey players looking to gain experience and knowledge to work their way up to the National level. No other USA Hockey Midget Tier I league has had more players play in the NAHL over the course of the last three seasons than the NAPHL, which included over 80+ NAPHL alumni playing in the NAHL during the 2018-19 season.
"What we are seeing with the 71 NAPHL players that were either tendered or drafted by NAHL teams are the direct benefits of the ladder of development exposure model that is exclusive to the NAPHL. NAHL teams and scouts have watched and evaluated these players in multiple occasions during our events," said NAPHL Director Tony Zasowski. "In addition, the NAPHL players have benefitted from the multiple evaluations of NAHL Central Scouting. No other youth league in USA Hockey has a model like it and these results are one of the byproducts of the system."
Back in May, the NAPHL had 29 current or former players who played in the league that were selected in Phase I and II of the 2019 United States Hockey League (USHL) Draft, which was held on May 6 and 7.
NAPHL players selected in NAHL Draft (in order of selection)
Aden Bruich, F, Maryland Black Bears (Esmark Stars, 2017-18)
Kent Lee, F, Chippewa Steel (Shattuck-St. Mary's, 2016-18)
Jake Sibell, G, Aberdeen Wings (Omaha AAA, 2016-17)
Jackson Decker, D, Odessa Jackalopes (Omaha AAA, 2015-16)
Kyle Kawamura, F, Corpus Christi IceRays (Omaha AAA, 2015-16)
Brendan Blair, D, St. Cloud Blizzard (St. Louis Selects, 2015-17)
Alec Cokley, F, Minnesota Wilderness (Rocky Mountain RoughRiders, 2015-18)
Fletcher Anderson, F, Aberdeen Wings (Thunder Bay Kings, 2015-17)
Avery Smith, F, Odessa Jackalopes (HC Dallas, 2015-16)
Logan Bellar, F, New Mexico Ice Wolves (Arizona Bobcats, 2016-17)
Noah Kiemel, D, Aberdeen Wings (Rocky Mountain RoughRiders/Pikes Peak Miners, 2014-17)
William Frye, D, Amarillo Bulls (Dallas Hawks Elite, 2017-18)
Colton Sipperley, F, Corpus Christi IceRays (Tampa Scorpions, 2017-18)
Quintin Loon-Stewardson, F, Shreveport Mudbugs (Thunder Bay Kings, 2015-17)
Joseph Demers, F, Lone Star Brahmas (HC Dallas, 2016-17)
Brennan McDonnell, D, Johnstown Tomahawks (Tampa Scorpions, 2017-18)
Luke Beerman, F, New Mexico Ice Wolves (Shattuck-St. Mary's, 2017-18)
Simon Ellingson, F, Maine Nordiques (Madison Capitols, 2016-19)
Huston Karpman, F, Corpus Christi IceRays (Shattuck-St. Mary's, 2017-18)
Tod Philibert, D, Corpus Christi IceRays (Meijer AAA, 2016-17)
Victor Ouellet-Massicotte, F, Springfield Jr. Blues (Colorado Springs Tigers, 2016-17)
Joshua Linn, F, Jamestown Rebels (Madison Capitols, 2017-18)