NAPHL has significant presence in USHL Draft
May 9, 2019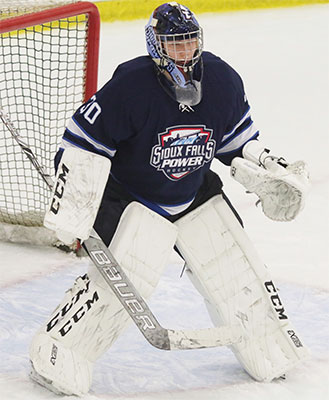 The North American Prospects Hockey League (NAPHL) is pleased to announce that 29 current or former players who played in the NAPHL were selected in Phase I and II of the 2019 United States Hockey League (USHL) Draft, which was held on May 6 and 7.
Phase I of the USHL Draft consists of 10 rounds for the "Futures" age players, which are all 2003 birth year players only. This phase of the draft gives teams a chance to draft these younger players who may not necessarily be ready for the league that following season. This gives the players that have been drafted an opportunity to grow and develop while their respective USHL team still owns their rights as a player.
Phase II of the Draft is open to players of all ages eligible to play junior hockey and are not currently protected by another USHL team. Teams will fill their roster to a total of 45 players on this date; this includes players that were previously on a team's Affiliate List. The total number of players that a team will draft will vary depending on the number of Affiliate players a team may have. All veteran rostered players are automatically protected by their current team until July 10.
The NAPHL has enjoyed a record-breaking amount of advancement, which is highlighted by a large amount of advancement of players to the North American Hockey League (NAHL). No other USA Hockey Midget Tier I league has had more players play in the NAHL over the course of the last three seasons than the NAPHL, which included over 80+ NAPHL alumni playing in the NAHL during the 2018-19 season.
That advancement success also extends to the USHL. The last three seasons has seen over 50+ NAPHL players selected in the USHL Drafts and over 40+ NAPHL alumni played in the USHL during the 2018-19 season.
"We saw a great response from USHL scouts this past season at NAPHL events and they were very complimentary as to the level of competition that our 16U and 15U teams are playing at," said NAPHL Director Tony Zasowski. "We have some great young talent that will be the next wave of future stars in junior hockey. This is a great first step for them and we hope to see even more draft picks and scouts at NAPHL events in 2019-20.
NAPHL Players Selected in Phase I
Bennett Schimek, F, Gentry Academy 15U (Omaha Lancers, Rd. 1, #4)
Jack Harvey, F, Gentry Academy 15U (Chicago Steel, Rd. 2, #19
Hobie Hedquist, G, Sioux Falls Power 16U (Dubuque Fighting Saints, Rd. 2, #20)
Sutter Muzzatti, F, Meijer AAA 15U (Muskegon Lumberjacks, Rd. 3, #45)
Jacob Vockler, F, Sioux Falls Power 16U (Lincoln Stars, Rd. 5, #62
Calvin Osterberger, F, Rocky Mountain RoughRiders 15U (Cedar Rapids RoughRiders, Rd. 5, #70)
Blake Stafford, F, Madison Capitols 16U (Madison Capitols, Rd. 7, #92)
Aiden VanRooyan, D, Sioux Falls Power 15U (Fargo Force, Rd. 8, #106)
Connor Kurth, F, Gentry Academy 15U (Dubuque Fighting Saints, Rd. 8, #110)
Matt Bryant, G, Madison Capitols 16U (Madison Capitols, Rd. 9, #122)
Anton Castro, G, Gentry Academy 15U (Fargo Force, Rd. 9, #131)
Alex Pineau, D, Thunder Bay Kings 16U (Lincoln Stars, Rd. 10, #136)
Zak Kruszewski, D, Meijer AAA 16U (Youngstown Phantoms, Rd. 10, #145)
NAPHL Players Selected in Phase II
Stepan Pokorny, F, Aberdeen Wings (Tampa Scorpions, 2016-18) (Madison Capitols, Rd. 2, #17)
Tanner Edwards, F, Fairbanks Ice Dogs (Alaska Oilers, 2015-16) (Muskegon Lumberjacks, Rd. 4, #51)
Aaron Bohlinger, D, Alberni Valley Bulldogs (Omaha AAA, 2016-17) (Waterloo Blackhawks, Rd. 4, #57)
Kyle McClellan, G, Austin Bruins (CarShield AAA, 2014-18) (Sioux Falls Stampede, Rd. 5, #72)
Killian Kiecker-Olson, F, Chippewa Steel (Sioux Falls Power, 2017-18) (Lincoln Stars, Rd. 7, #95)
Colton Huard, D, Aberdeen Wings (Pursuit of Excellence, 2016-18) (Fargo Force, Rd. 7, #101)
Coltan Wilkie, D, Corpus Christi IceRays (Omaha AAA, 2015-17) (Madison Capitols, Rd. 7, #105)
Luke Ciolli, D, Fairbanks Ice Dogs (Pikes Peaks Miners, 2015-16) (Green Bay Gamblers, Rd. 8, #111)
Jackson Howell, F, Rocky Mountain RoughRiders 15U (Cedar Rapids RoughRiders, Rd. 12, #178)
Jacob Felker, F, Jamestown Rebels (Omaha AAA, 2016-17) (Youngstown Phantoms, Rd. 12, #179)
Jonny Hippen, F, Madison Capitols 16U (Madison Capitols, Rd. 14, #201)
Nathan Reid, G, Fairbanks Ice Dogs (Madison Capitols, 2015-16) (Sioux Falls Stampede, Rd. 16, #241)
Max Tobin, D, Sioux Falls Power 16U (Waterloo Blackhawks, Rd. 17, #257)
Andrew Miller, G, Rocky Mountain RoughRiders 18U (Omaha AAA, Rd. 18, #263)
Conner Brown, F, Gentry Academy 15U (Chicago Steel, Rd. 21 #315)
Yusaku Ando, F, Pursuit of Excellence 15U (Youngstown Phantoms, Rd. 22, #329)