Fairbanks forward Brown makes NCAA DI commitment
April 22, 2019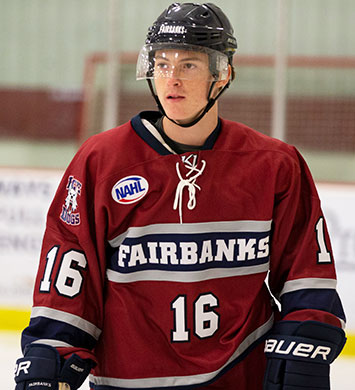 By Danny Martin, News-Miner
When
Parker Brown
was 5 years old, he told his mother he wanted to go to the Air Force Academy.
Fourteen years later and as a right wing for the Fairbanks Ice Dogs of the North American Hockey League, Brown told his mother that he committed to the Air Force Academy.
The native of Hanahan, South Carolina, and NAPHL grad (Esmark Stars, 2017-18) is the eighth player on this season's Ice Dogs roster to commit to an NCAA Division I hockey program. The Air Force Academy Falcons, of Air Force Academy, Colorado, are members of Atlantic Hockey.
Brown started corresponding with the Falcons coaching staff about three months ago.
"It's really hard to put it into words," Brown said by phone Saturday.
"From the start, it's what I wanted to do. To be able to accomplish it through hard work and dedication and having all my friends and family around and everybody supporting me throughout the way, it's honestly unbelievable. And it's even hard to fathom that it came true."
Brown said he hasn't decided on a major at the Air Force Academy but he's been looking into pilot training. He will have a commitment to serve in the Air Force after he graduates from the academy.
Ice Dogs head coach Trevor Stewart isn't surprised that Brown committed to the school he's wanted to attend since he was 5.
"He's a guy that just stays with it. He's the type of player we love to recruit,'' Stewart said by phone Saturday. "He was under the radar (recruiting wise), but he just keeps going. He responds 'yes, sir' all the time and he wants to get better.
"He tries to learn every single day, and I think that can be attributed to his family. Him going to Air Force is just fantastic."
Brown is in his first seaso in the NAHL, and he finished the regular season as the Ice Dogs' fourth-leading scorer with 41 points from 16 goals and 25 assists in 57 games.
Last season, he played for the Esmark Stars 18U team in the NAPHL where he recorded 24 points in 18 games played in NAPHL action and was also named to the 2018 NAPHL All-Star Game. Overall in 61 games with the Stars he recorded 57 points.
The 5-foot-10, 160-pound winger provided an assist and an empty-net goal Friday night to help the Ice Dogs beat the Janesville Jets 4-1 in Janesville, Wisconsin, for a sweep of their Midwest Division best-of-five semifinal series.
They were Brown's first points in his first NAHL postseason.
"For me, personally, it was playing with all the boys around,'' said Brown, who played in all three games of the semifinal series. "We know we have (goaltender Mattias) Sholl in net, stopping everything that's coming at him. We have our strong 'D' corps that's been tremendous lately. And once we get the puck in our 'O' zone, there's really no stopping us once we start to shoot pucks and all click together.
"So really, it's just the boys around, everybody jelling and playing as one solid unit."
The other Ice Dogs from this season to commit to Division I programs are Luke Mobley (Clarkson), Dylan Abbott (Minnesota State); Jonny Sorenson (Minnesota); Jax Murray (Arizona State); John Stampohar (Canisius); and Luke Ciolli and Noah Wilson, both to Army. Ty Proffitt commited to Wisconsin, a NCAA Division III program.