Fairbanks forward Proffitt makes NCAA commitment
April 5, 2019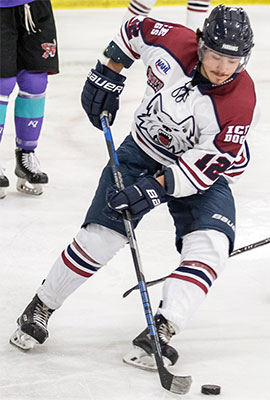 By Danny Martin, News-Miner
Ty Proffitt
grew up around the Fairbanks Ice Dogs. His father, Rob, is the general manager, founder and former head coach of the program in the North American Hockey League.
The younger Proffitt also saw many Ice Dogs players commit to college hockey programs. He recently became the latest Ice Dog to take that step. The 20-year-old left wing committed to the NCAA Division III program at the University of Wisconsin-Superior.
"Coach McKenna was super involved in communicating with me over the first half of the year," Ty Proffitt said by phone Wednesday of Yellowjackets head coach Rich McKenna.
"I visited over the summer and it reminds me of home — small-town feel and good quality people that live in the area there."
Proffitt is the seventh Ice Dogs player from this season's roster to make a college-hockey commitment. Four others committed to Division I programs — Jonny Sorenson (Minnesota), Dylan Abbott (Minnesota State), Jax Murray (Arizona State) and John Stampohar (Canisius). Luke Ciolli and Noah Wilson committed to Army.
The 6-foot, 190-pound wing is scheduled to experience more of a connection to Fairbanks than just the small-town atmosphere of Superior, Wisconsin.
Yellowjackets assistant coach Rodney Graham grew up in Fairbanks and Logan Parsley, a sophomore defenseman this past season for the team, graduated from Lathrop High School.
Proffitt described the connection to Graham and Parsley as "pretty cool."
"Parsley, especially," Proffitt said. "I've grown up playing against him and with him since I was young kid, and communicating with him about what it's like to go to school and live in the area, and what the coach is like and what to expect coming in for next year."
Playing with the Ice Dogs helped prepare Proffitt for playing with the Yellowjackets, of the Wisconsin Intercollegiate Athletic Conference.
"The mindset coming into the locker room each and every day is to get better, and to never get worse," he said.
"That mindset, just bringing it into everyday life, whether it's going to the rink or doing community service," Proffitt added, "they just breed excellence here."
Proffitt divided the 2017-18 season between the Ice Dogs and the Yellowstone Quake, of Cody, Wyoming, and the NA3HL, a development league of the NAHL.
He had a goal in 14 games for the Ice Dogs. He contributed a goal and seven assists for eight points in 11 games for the Quake, who qualified for the NA3HL Fraser Cup Championship that season.
During the 2015-16 season, Proffitt played in the NAPHL, recording 14 points in 25 games for the California Titans 18U team.
Proffitt has 16 points from eight goals and eight assists in 53 games this season for the Ice Dogs, who captured the Midwest Division regular-season title at 37-16-3-4 for 81 points in the standings.
"He's a smart player. That's what they (Wisconsin Superior coaches) like most about him," Ice Dogs head coach Trevor Stewart said by phone Wednesday. "He's got good hands. He's a guy who knows what should be done and he's going to do whatever they ask for him to carry out."