Amarillo defenseman Helsen makes NCAA DI commitment
April 3, 2019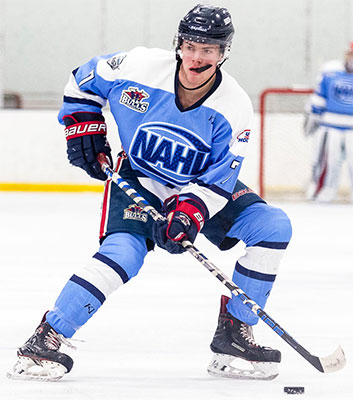 The Amarillo Bulls, proud members of the North American Hockey League (NAHL), have announced that Top Prospects defenseman
Louis Helsen
has committed to play NCAA Division I hockey to Rensselaer Polytechnic Institute (RPI) in ECAC Hockey.
Helsen, 20, has had an incredible journey the past three seasons in junior hockey from Odessa and Wichita Falls, Texas, recovering from a major injury, to moving up to the Coulee Region in Wisconsin, to coming back to Texas – and being named Team Captain of the Amarillo Bulls. Now the Dallas, Texas native will begin a new path as an NCAA Athlete.
"It just shows that everyone's path is different," Helsen said. "You can write a book about it, and it's been pretty crazy the path I have taken. But God has a plan."
Helsen has appeared in every Bulls' game this season, 58 of the team's 60, and has notched three goals and 15 assists for 18 points, and 20 penalty minutes. Helsen was also selected to and played in the 2019 NAHL Top Prospects Tournament for the South Division team.
Helsen began his junior career with the Odessa Jackalopes and the Wichita Falls Wildcats before suffering a major lower body injury. Last season, he appeared in 48 games with the former Coulee Region Chill.
"We are extremely proud to announce Louis' commitment to RPI, and excited for him and his family," said Bulls Head Coach Rocky Russo. "He is the Captain of our team and a true example of what we hope our Amarillo Bulls player to be. His leadership, work ethic and commitment to the excellence of the entire organization is what makes him such an important part of our success all season. Louis will be a tremendous addition to Coach Smith's team as well as an excellent student at RPI."
Helsen is also another great example of the NAPHL to NAHL Ladder of Development success story. Prior to his arrival in the NAHL, Helsen played two full seasons in the NAPHL for HC Dallas during the 2014-15 and 2015-16 seasons, appearing in 45 games in his NAPHL career. He also appeared in multiple NAPHL Top Prospects events.
Helsen said it's an incredible opportunity to go to a prestigious school like RPI, and couldn't have done it without his teammates. "To play Division I hockey was a plan of mine since I was a little kid and to fulfil my dream is amazing," he said. "I'm excited about the academics, hockey has brought me into this. I get a great education and it's going to be fun."
Helsen said he owes the opportunity at RPI so many different people. "God, my family, mom and dad, they have supported me since day one," he said. "I owe this opportunity to this team, my teammates and the city of Amarillo."
Louis Helsen (RPI) joins Logan Jenuwine (Arizona State), Gabriel Seger (Union College), Brett Abdelnour (Army-West Point), Jason Grande (Bentley), Justin Evenson (Army-West Point), Nick Anderson (Colgate), Alex Peterson (Holy Cross), Brenden Datema (Michigan Tech), Jason Brancheau (Ferris State) and John Pesek (St. Thomas) as Bulls player on the 2019-20 roster to make their NCAA College Commitments.