NAPHL tender Bure already making impact in NAHL
February 5, 2019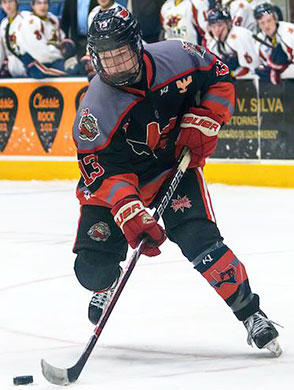 In just his third NAHL game, Colorado Springs Tigers and NAPHL 18U forward Lev Bure was the hero as his goal in the shootout won the game for the Odessa Jackalopes over the Amarillo Bulls, 4-3 this past Saturday night. Bure who is currently playing for the Colorado Springs Tigers in the NAPHL and tendered with Odessa in November received his second call up of the season Saturday night.
The Jackalopes coaching staff likes the progression in his game. "Lev has made some great strides in his game in the last few months. His compete level and consistency have become two of his best qualities," stated associate head coach Cody Campbell. "Saturday night he used his speed to create offense and obviously to execute in a high pressure situation like a shootout after a very emotional game was impressive. We are excited to have him as part of our group for the future."
Bure has posted 35 points (18 goals and 17 assists) in 40 games for the Tigers as they prepare for the stretch run and NAPHL finals in Troy, MI Feb 15-17. Bure signed an NAHL tender agreement with the Jackalopes back on November 15th.
Bure reflected on his time with the Tigers and the opportunity this past weekend, "My time with the Tigers has helped me improve tremendously on and off the ice with their outstanding resources and facilities. The entire atmosphere within the Tigers organization has made me a better player overall and ultimately prepared me for my time with Odessa."
On Saturday nights game that went to a shootout and Bure ending the game he had these comments, "As soon as the overtime ended I was more nervous that coach Gatto wouldn't pick me than I was to actually shoot. I wanted to shoot so much that when it was my time and he asked if I wanted it, I shouted Yes with pure excitement. I knew the Lord had blessed me with such a amazing opportunity and I made sure to make the best of it."