Esmark 18U forward Yerameichyk signs NAHL tender
January 28, 2019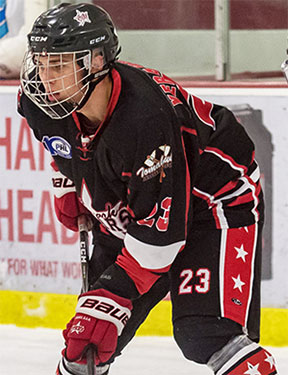 The Esmark Stars of the North American Prospects Hockey League (NAPHL) are pleased to announce that 18U forward
Raman Yerameichyk
has signed a North American Hockey League (NAHL) tender agreement with the Chippewa Steel of the NAHL's Midwest Division.
A native of Minsk, Belarus, the 18-year old senior at Westmont Hilltop High School in Johnstown, PA, is in his second season with the U18 AAA Stars. Prior to joining the U18 Stars squad, Yerameichyk skated one season for the U16 AAA Esmark Stars.
During the 2018-19 NAPHL regular-season NAPHL, Yerameichyk (6'0", 175 lbs.) registered 14 points (6 goals, 8 assists), in 16 NAPHL games. Last season, 2017-18, Yerameichyk registered 9 points (7 goals, 2 assists), including one power play goal, in 18 NAPHL games. And during the 2016-17 season as a member of the U16 Esmark Stars, Yerameichyk recorded 11 points (4 goals and 7 assists) in 18 games.
He helped lead Esmark to their first 16U Dixon Cup as Playoff Champions of the NAPHL's 16U Division in 2016-17 and then the 18U Stars to their first 18U Dixon Cup as Playoff Champions of the NAPHL's 18U Division in 2017-18.
Overall this season, Yerameichyk has recorded 46 points (23 goals, 23 assists), including one power play goal, and a +/- rating of +24 in 42 overall games, helping pace the Stars to a 32-9-1-1 record to date. During the 2017-18 season, he recorded 22 points (10 goals, 12 assists), including two power play goals, in 61 games played, helping the Stars to a 36-17-2-6 record. And during the 2016-17 U16 campaign, Yerameichyk recorded 27 points (16 goals and 11 assists), including two power play goals and one short-handed goal, in 51 games as the Stars amassed a 56-13-5-3 record.
"Raman has worked hard to integrate the North American style of the game with his world-class skill set," said Esmark 18U head coach Dave Kosick. "And this is a great reward for that hard work and sweat equity."
Yerameichyk joins teammates Tyler Stewart and Jackson Dobbs, both of whom had previously signed tenders with the Johnstown Tomahawks, of the NAHL's East Division.
A tender is a contract, of sorts, a player signs announcing his intentions to play for that particular NAHL team and that NAHL team only. Once a player signs a tender with an NAHL team, his playing rights belong to that team within the NAHL and he may not be recruited by any other NAHL team. Each team is granted ten (10) tenders, which include two (2) tenders exclusively used on players from the NAPHL - plus or minus any trades - which became active on Nov. 1. Tendered players are not eligible for the NAHL draft, which will be held on June 4, 2019.