Fairbanks forward Ciolli makes NCAA DI commitment
January 3, 2019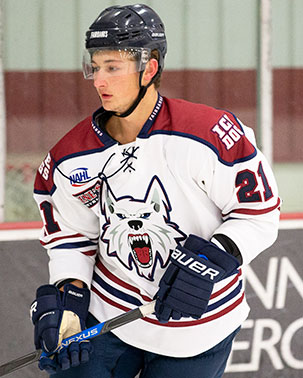 The Fairbanks Ice Dogs of the North American Hockey League (NAHL) are pleased to announce that forward Luke Ciolli has joined a growing list of Ice Dogs players that not only committed to further their hockey career at the NCAA Division I level, but to also serve their country in the armed forces, as he has committed to Army West Point of Atlantic Hockey.
The 18-year old hails from Colorado Springs, Colorado, and has registered 17 points, off eight goals and nine assists in 32 games as a rookie forward for the Ice Dogs.
"He's a strong kid, a strong skater, and he's just a quiet hard worker that goes about his business," said Ice Dogs head coach Trevor Stewart. "You like coaching guys like that."
Ciolli joins current Ice Dogs defenseman Noah Wilson as a West Point commit, and Ice Dogs alum Daniel Haider is skating in his first season at West Point. Haider played in Fairbanks from 2016-2018, registering 71 points in two season as an Ice Dog.
"We're very excited for him to follow in the footsteps of Daniel and his current teammate Noah Wilson," Stewart said. "It's cool for Luke to have that distinction of playing division one hockey, and being able to serve his country at the same time."
Ciolli is an NAPHL to NAHL Ladder of Development success story as he played in the NAPHL during the 2015-16 season for the Pikes Peak Miners 16U team, recording nine points in 25 games played that season.
Located in the Fairbanks North Star Borough, which encompasses Fort Wainwright Army Post, and Eielson Air Force Base, Fairbanks is without a doubt a military community. About 30 percent of Ice Dogs season ticket holders are either active duty, retired, or former military members that have served their country. There is a strong bond between the Ice Dogs hockey and the military community.
"You could hear it during the last jersey auction, when I announced Wilson as an Army commit," said Ice Dog General Manager Rob Proffitt. "The crowd just goes to another level."
In addition to Ciolli, Wilson and Haider, several other Ice Dogs have committed to and eventually played for either West Point or the Air Force Academy. The late Rob Ross, who skated for the Dogs from 2002-2003, played for Army, as did Alex McRae, who skated for the Dogs from 2005-2008. Mike Phillipich (03-05), Michael Johnson (05-08) and George Michalke (09-10) played division one hockey for the Air Force Academy.
"The commitment they make to not only the game, but to their country and their careers is significant," Proffitt said. "It's just a privilege to have had those type of, not only elite players, but elite people of character be a part of our organization."