Teams make final playoff push during last day in Blaine
December 4, 2018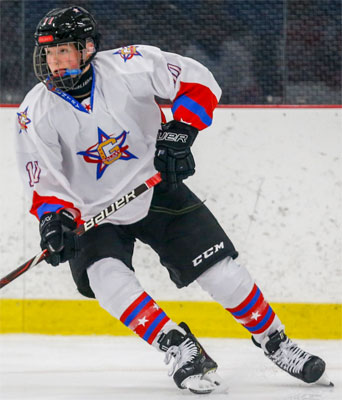 The fourth NAPHL event of the 2018-19 season wrapped up on Monday, December 3rd in Blaine, Minnesota, with the final games of the four-day event.
Teams made their final push before the playoffs are set to begin in January (Showcase/Prep Divisions) and February (High Performance/Elite Divisions) in Michigan.
The next event takes place in Troy and Rochester, Michigan, from January 18-21, 2019.
Here are the standings after the last event:
18U Division
The 18U Elite and Prep divisions rounded out the NAPHL's December showcase on Monday, playing four games apiece to close the weekend.
Florida used a 28-save Jake Romney effort to drop Thunder Bay 4-1. Jazz Krivstov and Colin Beilstein each tallied twice for Shattuck St. Mary's in their comfortable 6-1 win over Nashville. The Arizona Bobcats rode a Josh Brown hat-trick to a 4-2 comeback win over Wenatchee. Finally, Colorado Springs knocked off POE 5-3 on the back of 20 saves from Adam Bublitz and a four-point showing by Cody Mastay.
On the Prep side of things, Northstar continued its impressive run of play with an 11-1 win over Pilot Mound that saw Joey Dosan pot a hat-trick and Camdyn Barber stop 11 of 12 shots. Lake Tahoe Academy won big as well, riding a hat-trick of their own from Brett MacNicoll to an 8-1 victory over St. Mary's. Samson Leifer struck twice in the final frame to pace Fountain Valley's impressive comeback 2-1 win over Prairie Academy. West Ranch and St. Rita faced off in the final Prep action of the day, an eventual 4-3 win for West Ranch thanks to two late goals from Tristan Warr to eclipse St. Rita's earlier advantage and complete the hat-trick with under 10 minutes to play.
16U Division
Like their 18U counterparts, the 16U Elite teams were also out in force on Monday to end the showcase with a bang as Thunder Bay, Arizona and Florida picked up wins on the last day.
Thunder Bay netminder Julien Lefebvre stopped 19 pucks and Jack Michaelis scored twice as the Kings plowed past POE 4-1. Brayden Vanmeter lit the lamp back-to-back in the first period and Cameron Langston netted the eventual game-winner as the Bobcats held off a late Jr. Predators comeback bid for a 3-2 win. Florida posted three goals before Colorado Springs could get on the board and never looked back, holding on for a 5-2 win thanks to two goals by Spencer Rubin and Blake Valli's 17 saves between the pipes.
15U Division
The 15U age bracket provided the only OT action of the day, as Nashville topped Colorado Springs in a thriller to match wins from Gentry Academy and Florida Alliance.
Jr. Predators goalie Logan Verpoort faced down 33 shots as each team team scored once in each period, setting up Ryan Meagher's OT winner for Nashville over the Tigers, 4-3. Gentry's high-flying scorers were in fine form Monday morning, as 12 different skaters recorded a point in their 19-1 victory over Everett. And finally, Florida notched a pair of second-period tallies to break a 1-1 deadlock and take a 3-1 win over Arizona to end the day's action.