NAPHL enters final day of event in Blaine
December 3, 2018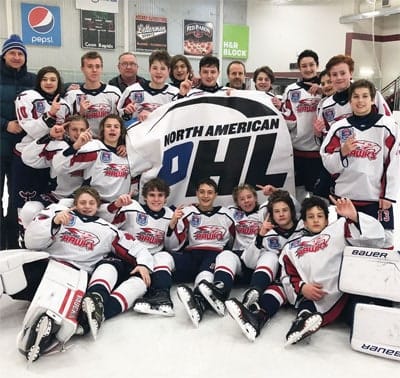 The 10th anniversary season of NAPHL hockey continues this weekend with the fourth event of the 2018-19 season at the Super Rink in Blaine, Minnesota.
Sunday's action featured the crowning of a new 14U Champion, as the Chicago Hawks edged the Madison Capitols, 2-1. It also featured a full slate of action in the Elite, Showcase and 15U Divisions. Over two dozen scouts, including those from NAHL Central Scouting, have checked in to the first two days.
The action continues on Day 4 on Monday, December 3rd as all teams will complete their final games of the event.
All games will be broadcast live through
HockeyTV
, the official broadcast provider of the NAPHL.
To check NAPHL scores from your mobile device, download the
NAHL App
(
iOS
-
Google Play
)
Helpful Showcase Links:
18U Division
Saturday's 18U action saw a wide array of scorelines, including five shutouts, five one-goal games and two teams finding twine at least 10 times in their games.
Highland Park started strong with a 6-0 win over Fernie, thanks to a pair of goals from Brett Candra and contributions from a solid supporting cast. Cole Shane picked up four saves on four shots in the win. Geneva kept the dominant performances rolling with a 10-0 romp past the Chicago Hawks, featuring two goals by Mateuse Sak, Tommy Purton and reigning Peak Performer Zach Pearce. Reid Peterson faced down all 10 shots he faced.
Later in the day, Nikolas Campbell scored twice to lead Thunder Bay to a 3-0 victory over Shattuck St. Mary's, Northstar Academy featured nine different scorers in a 10-0 win over St. Mary's and Lake Tahoe's Tyler McNeil potted a hat-trick to pace his team's 5-0 win over Pilot Mound.
Prairie Academy and St. Rita were the only teams to play overtime on Saturday, with Alec Nieman nabbing the winner midway through the extra frame to help Prairie edge the Mustangs. Fountain Valley, Wenatchee, Arizona and West Dundee bagged narrow victories as well. Connor Edwards backstopped Fountain Valley to a 2-1 win with 15 saves, as Samson Leifer and Tommy Bittner provided the offense. Wenatchee piggybacked two Tate Stanfield goals to a 3-2 decision over Nashville, while Arizona did the same with a pair of Connor Bottrill tallies to drop POE 3-2 as well. The West Dundee Leafs fended off a late McKinney comeback bid to eke out a 5-4 win, thanks to two goals by Remi Mueller and the GWG from Matthew England.
In the remaining 18U action, Mission Arizona notched a 4-1 comeback win over the Texas Tigers with three third-period goals, Affton rode a 3-2—5 performance from Henry Kasten to a 9-3 win over Valley Forge, the Chicago Bruins potted a pair of goals in the final frame to bag a 3-1 decision over the Tampa Lightning, Kenosha found twine thrice in the middle stanza and held off Romeoville in the final 20 for a 3-1 and Colorado Springs used Joe Bertolini's two-goal effort to win 4-2 over the Florida Alliance.
16U Division
Both the Showcase and Elite divisions featured in Blaine on day 3 of the NAPHL's December showcase and the action couldn't have been hotter, as nine of the 16 games throughout the day were decided by one goal or fewer, with five of those requiring extra time to find a winner.
The Chicago Hawks snatched a narrow win over Anaheim with a game-winning goal by Joseph Swiderski. Conor Handley played hero for the Chicago Bruins, netting the lone goal of their game against Highland Park in overtime. The Naperville Sabres struck twice in the opening period and hung on tight for a 2-1 win over Vernon Hills. West Dundee and Orland Park went all the way to a shootout after 60 minutes saw them mired in a 2-2 draw, with Ethan Chesney notching the winner for the Leafs. POE topped Arizona 3-2 in the second of three shootouts on Sunday, thanks to Yusaku Ando's regulation time and shootout heroics.
The Jr. Predators took care of Colorado Springs as well, thanks to Landry Schmuck's second goal of the game in overtime. Florida and Thunder Bay went 43 minutes without a goal, but saw three between them in a span of just over seven minutes as the Alliance picked up the 2-1 win over the Kings. To add insult to injury, the Kings fell short by a goal once again in their following matchup against the Jr. Predators, who again received two goals from Landry Schmuck. Colorado Springs made sure to rebound well as the Tigers took a 2-1 SO win over Arizona to close out their Sunday action.
POE, Affton and the aforementioned Bruins each shut the door in a big way to post Sunday shutouts. Yusaku Ando was again the star of the show, netting two goals alongside Noah Cameron's brace as Aaron Kaner stopped all 20 pucks against in POE's 4-0 win over Florida. Affton picked up a win in the early contest, receiving 10 saves from Graham Gunn to drop the Texas Tigers 2-0.
Four teams put forth dominant showings on Saturday, winning by at least three goals in their respective matchups. Joe O'Reilly netted a hat-trick as Green Bay cut down Peoria 5-2; Chesterfield knocked off Ventura 6-1 on the back of two goals from Gage Vierzba; Five different skaters lit the lamp in Littleton's 5-1 win over the Scorpions; McKinney received a pair of goals from Ethan Beaumont and 31 saves from Max Perov as they clipped Geneva 5-2.
15U Division
The six 15U teams in action at December's event each took the ice twice on Sunday.
Only Gentry came out victorious in both contests on the day, dropping Arizona and Florida by a combined 23-0 to stay perfect this season. NAPHL 15U leading scorer Chaz Lucius continued his torrid pace with 7-4—11 in just two outings on Sunday, stretching his remarkable points total to 33-20—53 through 12 games. Bennett Schimek also starred, picking up a hat-trick and another two-goal effort on the day.
Two 15U matchups required extra time — Nashville's Seth Oden netted the OT winner as the Jr. Predators eclipsed Jack Lambert's hat-trick for Everett to top the Silvertips 4-3 in extra time, and Colorado Springs used two goals by Maguire Lind and a GWG from Devon Mastay to knock off Florida 4-3 in OT.
Arizona fared better against Nashville than it did in the earlier contest against Gentry, striking twice in the third period to erase a 1-0 deficit and earn a 2-1 over the Preds. Everett also managed to bounce back from its morning defeat, as Johnny Singer netted both goals in a 2-1 win over Colorado Springs.
14U Division
With the 14U division set to be decided on Sunday, four teams faced off in semi-final action in the morning. The Chicago Hawks dropped Thunder Bay 2-0 in the first semi-final with goals from Noah Rich and Zack Devine and six saves by Ryan Diaz. The Madison Capitols then got revenge for Friday's loss to Gentry, knocking them off 8-3 in the rematch. Jake Schaffner starred with two goals, while Jay Fairchild stood tall to stop 33 shots.
The subsequent final between Madison and Chicago was a tense contest marked by a pair of Hawks' goals in the first period from Cory Kashul and Nathan Isoniemi. After Madison survived a penalty-laden middle frame, Nick McCann put the Caps on the board in the final 20, but it was too little, too late as the Hawks took the NAPHL's 14U crown. Ryan Diaz again backstopped the win.
Elsewhere, Arizona toppled Nashville 4-3 thanks to two goals apiece by Tristian Korn and Noah Moyer; Sioux Falls blitzed Alaska in a 4-1 win fueled by Cooper Fredericks, Holden Saumweber, Zach Vockler and Logan Bortnem; Everett earned a 4-2 decision over Carshield on the back of 31 saves from Noah Norton; and Wenatchee went out with a bang, notching just over a half-dozen goals in an 8-1 skate past West Coast to close out the weekend. Cade Littler tallied a hat-trick and Connor Jensen scored twice in the Wolverines' win.